2017 Award Winner: Rev. Ralph Williamson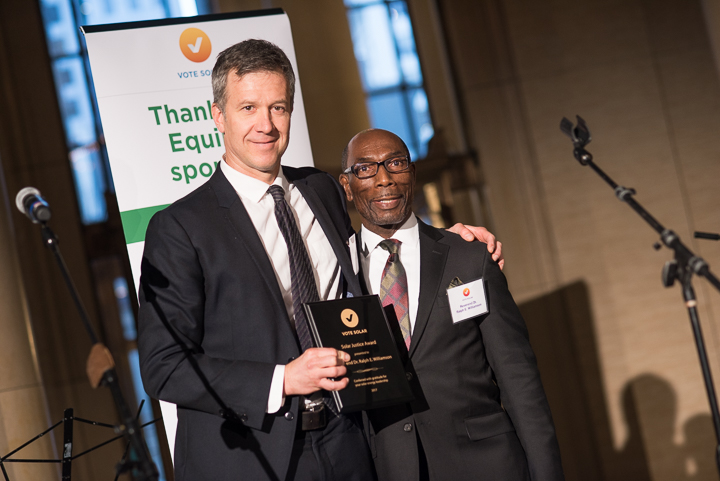 Solar for 100% of our communities: Rev. Ralph Williamson, Nevada
2017 Award Winner – Dr. Espanola Jackson Solar Justice Award
Learn more about the Solar Justice Award »
Reverend Dr. Ralph Williamson is a community leader and Pastor of the First African Methodist Episcopal Church in North Las Vegas.  He's been working hard to reverse a devastating 2015 decision that crushed the state's once-burgeoning rooftop solar industry and to further expand solar access in Nevada. He's represented his community regularly at hearings in support of the many clean energy policies now under discussion at the Nevada legislature. Foremost among those policies is a new community solar program with strong provisions that would ensure that low-income families have the opportunity to directly participate in and benefit from Nevada's solar economy.
We were proud to recently partner with Reverend Williamson on an energy justice training hosted at his church to help other community stakeholders engage in the policy process themselves and help shape Nevada's clean energy future.
We are proud to honor Dr. Williamson with the 2017 Espanola Jackson Solar Justice Award, which celebrates the legacy of a tireless community and environmental justice leader, Dr. Espanola Jackson, who was dedicated to improving health and well-being in their community through solar power. His environmental justice leadership should inspire us all to work toward a just clean energy transition. In giving this award, we honor the critically important role of community-based activism in driving environmental progress.