Relief then Recovery
Let's talk about solar in the time of Covid-19. We believe the path out of this crisis is twofold:
Help those most impacted and most vulnerable now.
Over the longer term, catalyze a green recovery to make our communities stronger and more resilient.
The economic collapse is devastating communities across the country. Electricity is the lifeblood of our way of life, and in this time of crisis, solar and the clean energy community has an opportunity — indeed, the responsibility! — to lean in and be of service.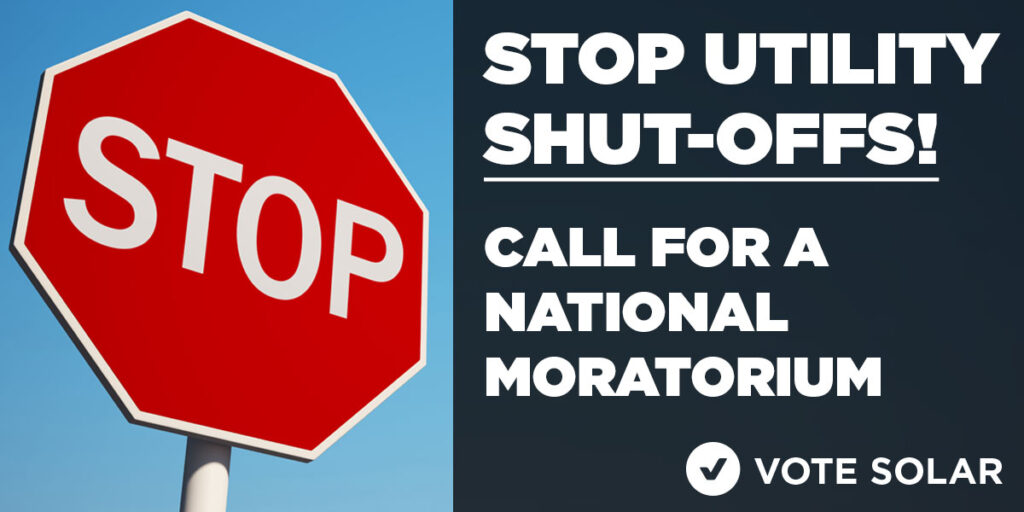 As states began implementing stay-at-home orders, we immediately identified the threat of utility shut-offs along with the compounding misery of mounting debt burdens as an urgent issue. In addition to pushing for a national moratorium on shutoffs, our regulatory manager Tyler Fitch authored a white paper projecting $26 billion in utility debt (electricity, water, gas, broadband) may accumulate over four months.
Then thousands lent their voice and called on Congress to protect vulnerable families. Now, as part of the Heroes Act, a nationwide moratorium on utility shut-offs has passed the House of Representatives.
But the astounding scope of this problem begs the question: Why are so many living so close to economic disaster, and how can we help?
Vote Solar believes we should address the root causes of utility unaffordability by lowering energy burdens through clean energy solutions ranging from smart-plugs in your home to solar + storage on your roof.
We'll be working around the country to help implement the clean energy solutions this crisis demands. To help make this work possible, we hope you'll consider supporting Vote Solar with a donation if you're in a position to do so.
Meanwhile, as the world has been focused on the pandemic, a secretive special interest group filed a petition with the Federal Energy Regulatory Commission to invalidate pro-solar policies in 49 states – with direct consequences for the 2.2 million solar customers across the U.S. The legal principle is clear: states, not the federal government in Washington, D.C., have jurisdiction over how local solar systems earn value.
If there's a fight that Vote Solar has been training all our lives for, it's this one.
We're directly intervening, and working to ensure state governments are aware of this attempted hijacking of state's rights and are properly engaged. With Solar United Neighbors, we launched an action portal, urging solar owners, workers and supporters to contact their Governors with requests to oppose this federal power grab.
There have also been some bright spots for solar progress over the last month:
Don't forget about these Upcoming Events
Midwest Solar Expo (June 15-17)
Virtual | For the first time ever the Midwest Solar Expo will be holding a totally immersive virtual reality event. The first ever in the solar industry. Attendees will create and control a digital avatar within a virtual conference venue made up of indoor and outdoor spaces. Register Here
Community Solar Power Summit (July 9-10)
Philadelphia, Pennsylvania | Join us to hear from industry leaders who are advocating to keep our industry strong and resilient and the importance of boosting solar programs in communities across the country. Register Here
Grid Evolution Summit (July 27-29)
Washington, DC (virtual) | Join a diverse community of stakeholders from across the industry in a neutral environment including regulators, ISOs, utilities, technology providers and academics dedicated to building a game plan to reach a carbon-free future by 2050. Register Here