2019 Award Winner: Cheryl Johnson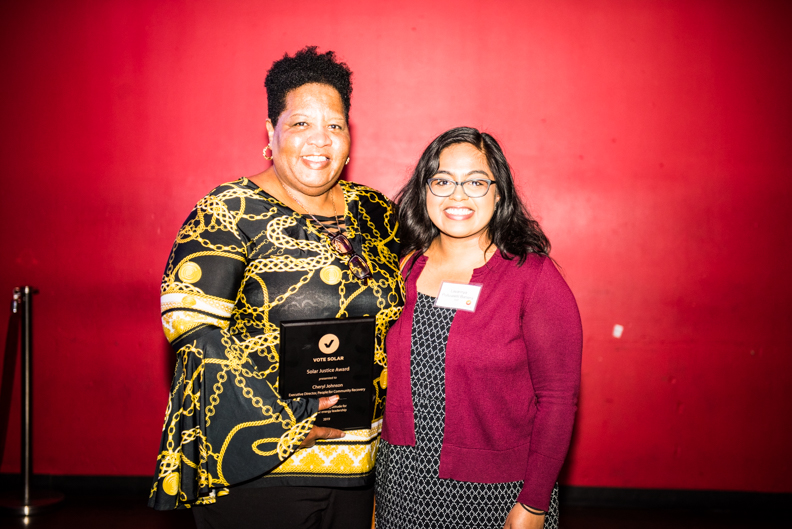 Centering frontline leadership in Chicago, Illinois: Cheryl Johnson
2019 Dr. Espanola Jackson Solar Justice Award Winner
Learn more about the Solar Justice Award »
Cheryl Johnson, Executive Director of People for Community Recovery, accepted Vote Solar's Dr. Espanola Jackson's Solar Justice Award, which honors extraordinary leaders in environmental justice. People for Community Recovery was founded by Cheryl's mother, Hazel Johnson, widely-recognized as the "Mother of Environmental Justice," to fight environmental racism on Chicago's heavily polluted southeast side.
Under Cheryl's leadership, People for Community Recovery remains a leading advocate in campaigns to mitigate environmental and economic burdens disproportionately borne by underserved communities in Chicago. Cheryl's advocacy has had a wide-reaching impact across the city, including the recent establishment of a successful solar workforce training program and brownfield solar project, both designed to create jobs and clean energy savings for the residents of a frontline public housing complex.
Learn more about how Cheryl's organizing for solar power in Altgeld Gardens and read her op-ed on why bringing a solar farm to Altgeld Gardens is a call for racial justice.
"Bringing renewable energy to public and low-income housings are great opportunities in jobs and savings to families," said Johnson. "We have been advocating for alternative energy usages for a very long time and we are excited that we were able to convince our housing authority to build a solar farm in my community and to train residents to be part of the development of this opportunity."