Voting Open!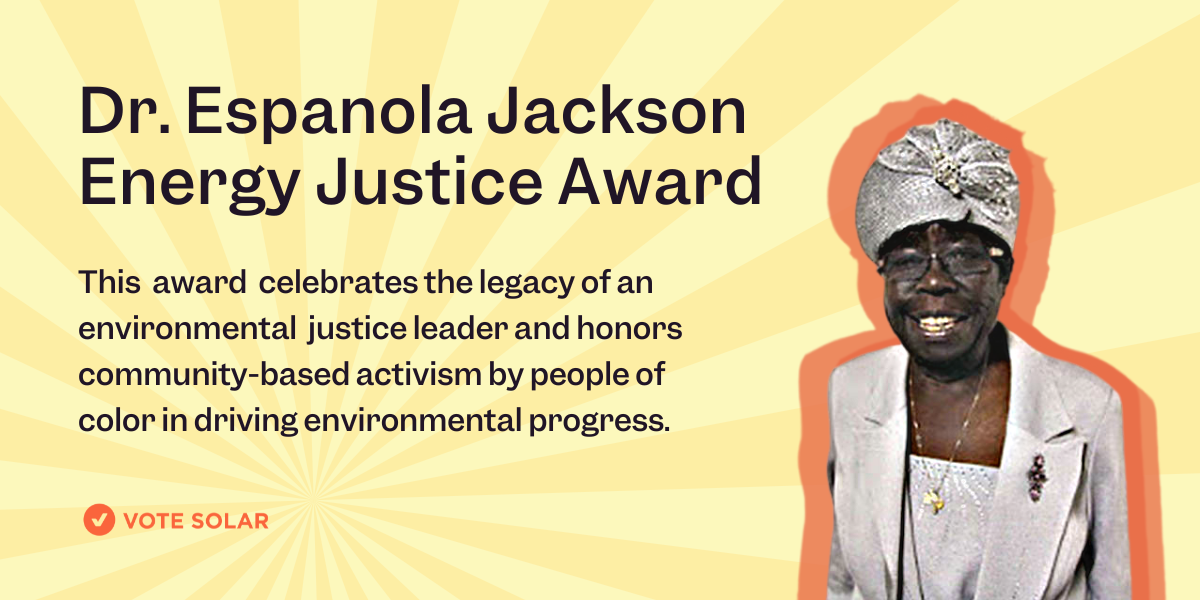 Vote Solar is proud to honor outstanding energy justice heroes with the Dr. Espanola Jackson Energy Justice Award (formerly the Solar Justice Award). The award celebrates the legacy of a tireless community and environmental justice leader, Dr. Espanola Jackson, by recognizing individuals of color who are:
Long-time leaders in their communities (may be located anywhere in the U.S.)

Dedicated to improving health and well-being in their community through clean energy

Strong coalition builders– able to mobilize support both within and around their community 

Working at the intersection of racial justice & clean energy access 

Working both to stop the extractive polluting energy economy and bring health, jobs, and savings to their community via clean energy opportunities  

Influencing the state or local energy policy agenda through direct grassroots advocacy
These award recipients serve as a model of environmental justice leadership and inspire us all to work toward a just clean energy transition. In giving this award, Vote Solar aims to honor the critically important role of community-based activism by people of color in driving environmental progress and to increase visibility for the remarkable work of individual leaders.

The awardee will:
Be featured in a short film to highlight their story, work, and accomplishments; 

Receive

$10,000

to the awardee's organization from Vote Solar

Have the option to receive up to 10 hours of support from Vote Solar's philanthropy team to build their fundraising capacity and connections
Nomination for the 2022 Dr. Espanola Jackson Energy Justice Award will were open from August 17th thru September 21st, 2022 but are now closed. We will be announcing the top three for public voting in October.
Vote Now on the Energy Justice Award Top 3 Nominees
Yesenia Rivera
Charles Callaway
Kristel Porter
Honorable Mentions
Shimekia Y. Nichols
Mari Rose
Masavi Parea
Johana Vicente
Ean Thomas Tafoya
Nicole Horseherder
Arturo Massol Deyá

2022 Award Process Timeline:
August 17: Nominations Open
September 21: Nominations Close
September to October: Nominees spotlighted on our platforms
Mid-November: Winner Announced
Late-November: Video of Awardee
Learn more about the life and legacy of Dr. Espanola Jackson:
WATCH the virtual event held Wed. July 14, 2021, where we celebrated Joseph Franklin Hernandez, the 2021 Solar Justice Award Honoree.