2023 Energy Justice Award Nominees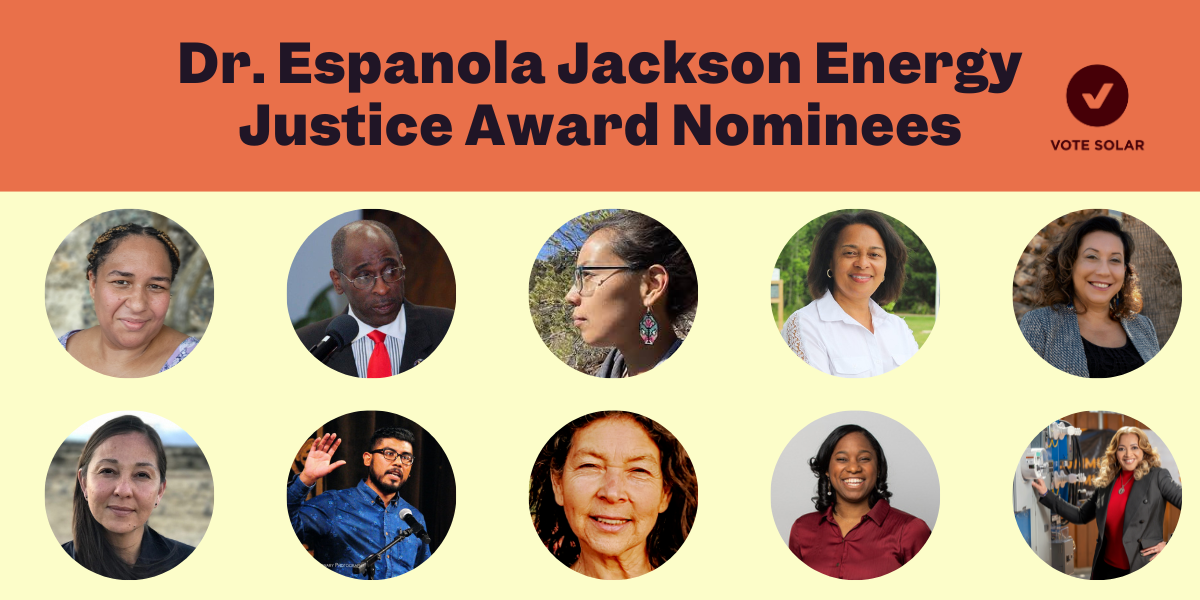 Vote Solar is proud to announce the 10 nominees for the Dr. Espanola Jackson Energy Justice Award (formerly the Solar Justice Award). The award celebrates the legacy of a tireless community and environmental justice leader, Dr. Espanola Jackson, by recognizing leaders of color who are:
Long-time leaders in their communities (10+ years), may be located anywhere in the U.S. or territories
Dedicated to improving health and well-being in their community through clean energy
Strong coalition builders– able to mobilize support both within and around their community
Working at the intersection of racial justice & clean energy access
Working both to stop the extractive polluting energy economy and bring health, jobs, and savings to their community via clean energy opportunities
Influencing the state or local energy policy agenda through direct grassroots advocacy
Meet our nominees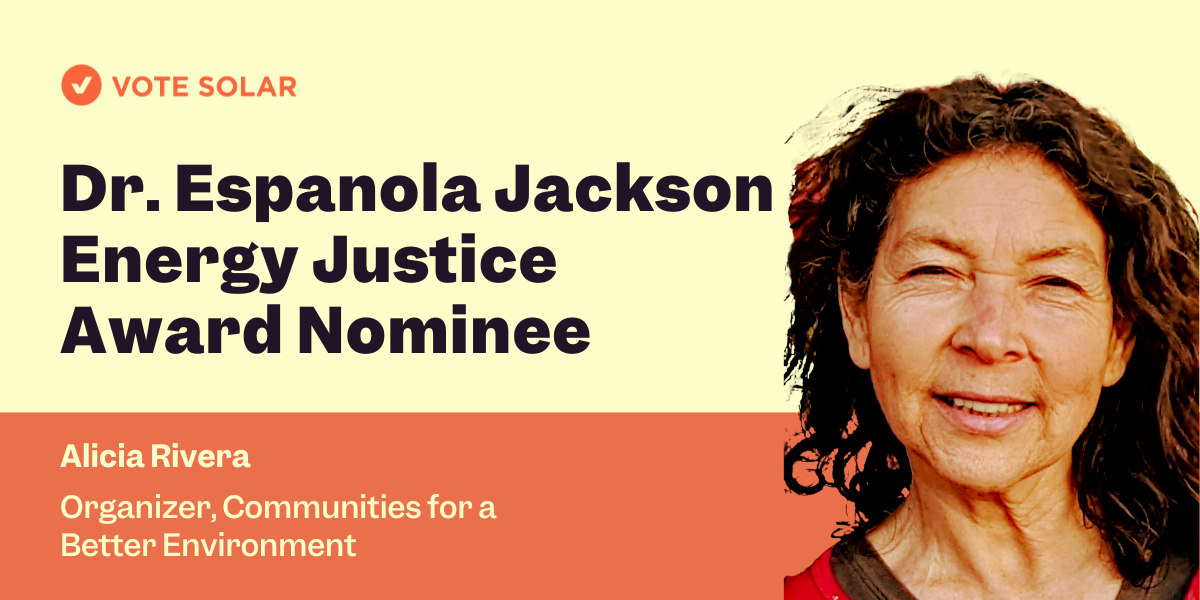 Alicia Rivera
Organizer, Communities for a Better Environment
Alicia is a Community Organizer with Communities for a Better Environment, CBE, focusing her work in Wilmington, CA, helping Wilmington residents to make local refineries safer, cleaner, and accountable for their emissions. Alicia first started organizing around oil-related issues in Wilmington in an accountability campaign against the former Texaco refinery, now Andeavor, after it exploded, causing health and environmental harm to many Wilmington residents. Alicia has been an organizer for many years and has also worked on economic justice issues in Los Angeles related to Port truck drivers and getting community benefits agreements for local commercial projects.
Alicia has been organizing in low-income communities and communities of color such as Wilmington for over twenty years educating and empowering the most impacted by pollution to use their voice to demand changes from the power structure. She has been able to organize a strong group of Wilmington residents who meet regularly to learn and participate in pushing the South Coast Air Quality Management District (SCAQMD) to do its job and make refineries accountable for their pollution.
As a member of the AB617 Community Steering Committee, Rivera pushed the Air District to commit to reducing 50% of refinery toxic emissions through regulations to address obsolete refinery burners and heaters, storage tanks, and flaring. Alicia's ongoing efforts focus on the phasing out of refineries and fossil fuels to embrace a just transition and ensure those who have been overburdened by the extractive economy and polluters can benefit from clean energy.
Ensuring community voices are heard, Alicia has organized and collaborated with other environmental justice organizations to bring residents to Los Angeles Department of Water and Power (LADWP) commission hearings to demand 100% clean energy, support for community solar programs, and rebates and incentives that are equitable. She has also organized workshops around the electrification of buildings and transportation in collaboration with the RePowerLA and Latina Economic Advancement Program (LEAP) coalitions. Alicia successfully pushed LADWP to offer free rooftop solar in low-income areas in Wilmington as well as paid training and jobs in renewable energy.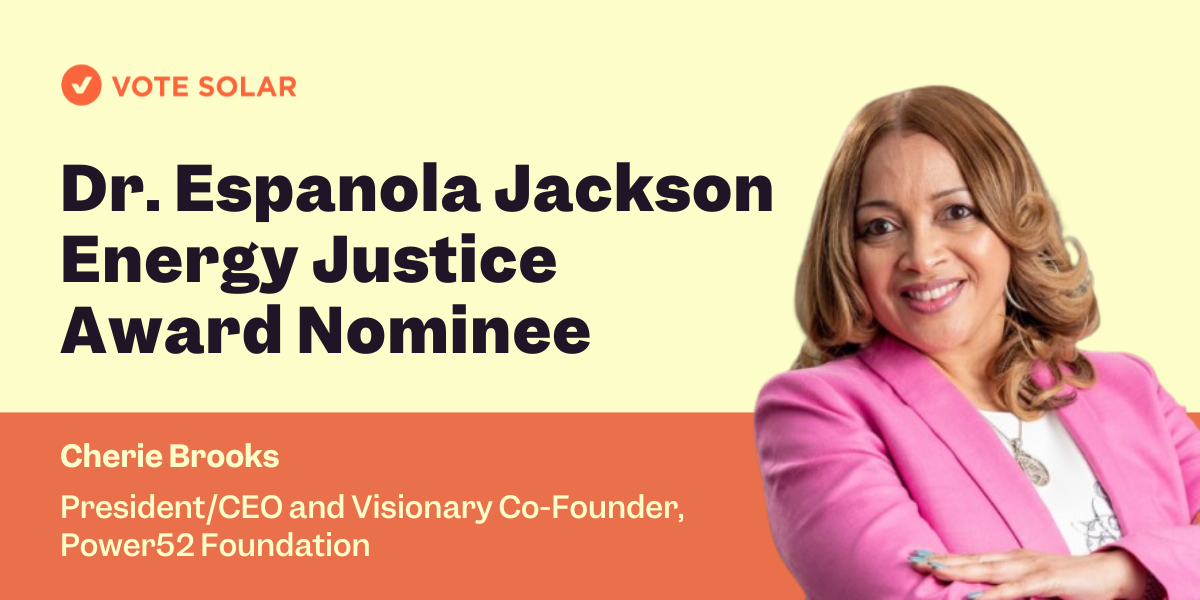 Cherie Brooks
President/CEO and Visionary Co-Founder, Power52 Foundation
Cherie Brooks Wallace, a native Baltimorean, is the Visionary Co-Founder, President & CEO of Power52 Foundation (Power52, Inc) a 501c3 non-profit. As CEO, Cherie brings clean energy access and economic empowerment to historically marginalized communities by way of resiliency hubs, clean energy resources, education, training, and sustainable jobs. Cherie serves on the frontlines of the intersection of environmental and economic justice.
Ms. Brooks' flagship accomplishments have been the development and oversight of Power52 Energy Institute, the first Clean Energy focused Private Career School in the State of Maryland. Power52 Foundation is one of two non-profits to ever receive approval from the Maryland Higher Education Commission to own and operate a private career school in the State's history. Cherie also managed the development to convert Living Classrooms' community center, POWER House, into a Resiliency Hub, serving a public housing community in East Baltimore, whose residents are commonly at the highest risk during emergencies. The POWER House is the first solar-powered, community-based resiliency hub in the nation.
Before launching into the 501(c)(3) world, Cherie worked as a Site Acquisition Manager in the wireless industry leading a team of consultants, contractors, and legal counsel through the build process. This included managing subcontractors, site acquisition specialists on all project phases (leasing, zoning, compliance, A&E, and Regulatory) on AT&T's LTE Project as well as Verizon's New Site/Raw Land Builds. Ms. Brooks developed over 200+ telecom sites, oversaw each site through leasing to construction milestones.
Cherie's greatest strengths are her creativity, drive, and leadership. She thrives on challenges, particularly those that expand the company's reach. Philanthropy and ministry are Cherie's passions and one of her visions for Power52 Foundation is that it will become the primary on-ramp to careers in solar and renewable energy addressing under-employment and climate justice nationally, for persons from marginalized communities.
Ms. Brooks, a recent graduate of Goldman Sachs 10KSB Executive Program, attended Bowie State University for undergrad and has obtained her Master Trainer credentials from the National Center for Construction and Research (NCCER) as well. Cherie is a member of Alpha Nu Omega Sorority, Inc. as well as an active member of Jack & Jill of America, Columbia, MD Chapter where she has held various chair positions during her ten-year tenure. Cherie lives in Maryland with her four kids and adorable dog, Snickerdoodle Hudson Wallace.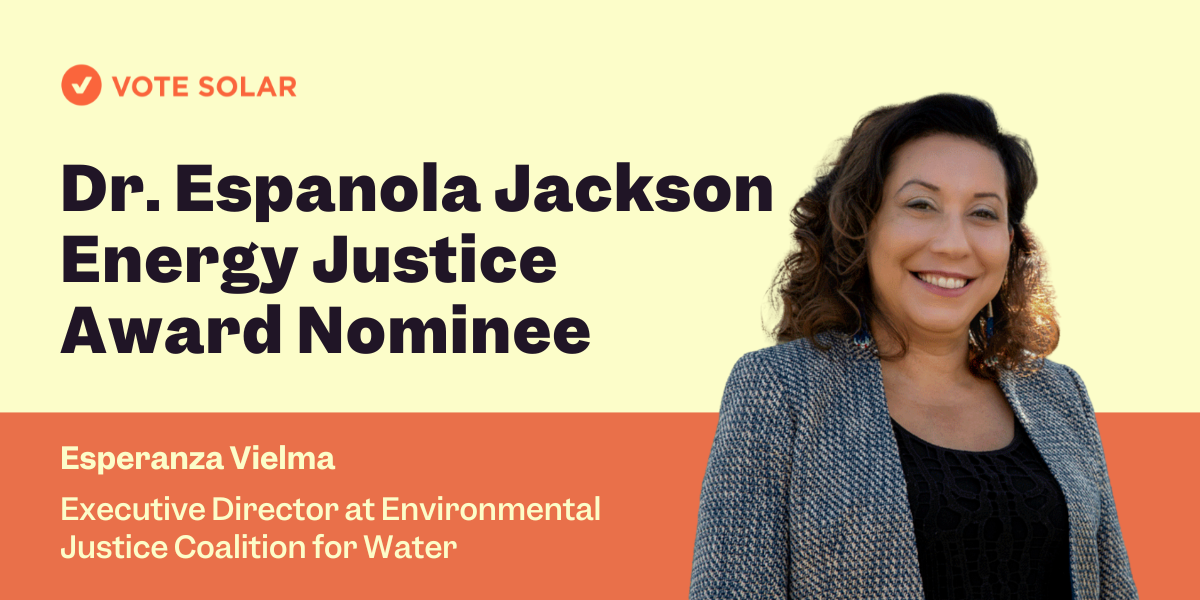 Esperanza Vielma
Executive Director, Environmental Justice Coalition for Water
Esperanza Vielma is deeply rooted in serving underrepresented communities in the San Joaquin Valley. She has experienced the inequities and injustices faced by people who reside in disadvantaged communities, especially communities of color.
From a young age, she advocated for underserved communities in Southside Stockton, to create access to information and programs that improve the quality of life. The vision to serve led Vielma to transfer from San Joaquin Delta College to attend the University of California, Berkeley where she honed her skills for EJ advocacy. She served on the UC Berkeley Chicanx Latinx Alumni Association board as Vice-President served on the Cal Alumni Association (CAA) Board of Directors and is serving on the Advisory Board for UC Berkeley's Latinx and the Environment. Esperanza is part of the inaugural Class of 2016 of the Delta Leadership Program for the State of California's Delta Protection Commission and serves as an advisory board member for the Central Valley New Market Tax Credit (CVNMTC). She is also a member of the San Joaquin Valley Rail Committee representing San Joaquin County.
Vielma is a founder/Executive Director of Café Coop, the first incubator in the county to serve marginalized communities. Café Coop assists micro-businesses, and start-ups in the incubation of their ideas and specializes in socially conscious and emerging technologies. In addition, Café Coop seeks to mentor start-ups that are owned by women of color. Esperanza, as ED of Café Coop, served as the community partner to transform the largest Frito-Lay manufacturing facility in the U.S. in Modesto CA to a first-of-its-kind showcase of sustainability benefits of zero-emission (ZE) and near zero-emission (NZE) technologies. The facility implemented site-wide alternative fuel vehicles, on-site renewable energy generation, energy storage equipment, and employee electric vehicle charging stations. The project started in 2019 and was supported by the California Climate Investments (CCI) initiative in conjunction with the San Joaquin Valley Air Pollution Control District (SJVAPCD) and the California Air Resources Board (CARB). The Modesto Site Fleet Operations' Greenhouse Gas Emissions cut by more than 90 percent thanks to ZE and NZE technologies. She's a founding board member and currently serving on the iHub San Joaquin Board. Vielma co-founded the Annual H2O Hackathon which is now in its 6th year. She also created the first Agricultural and Technology Summit in San Joaquin County which is now going on its 3rd year.
Esperanza co-founded the Coalition for Equity and Economics (CEEE) in 2021, a statewide Environmental Justice Coalition to ensure equitable access to rooftop solar to the most vulnerable communities.
As the Executive Director of the Environmental Justice Coalition for Water (EJCW), Vielma recruited community stakeholders to establish the first Disadvantaged Community (DAC) Task Force for the Greater San Joaquin County Integrated Regional Water Management (IRWM) Region. Additionally, Vielma served as chair of the Environmental Justice Advisory Group for the San Joaquin Valley Air Pollution Control District (SJVAPCD) where she is now a stakeholder in the AB 617 Stockton Steering Committee. In May 2023, Esperanza was selected as a community expert for the California Air Resources Board Community Engagement Model.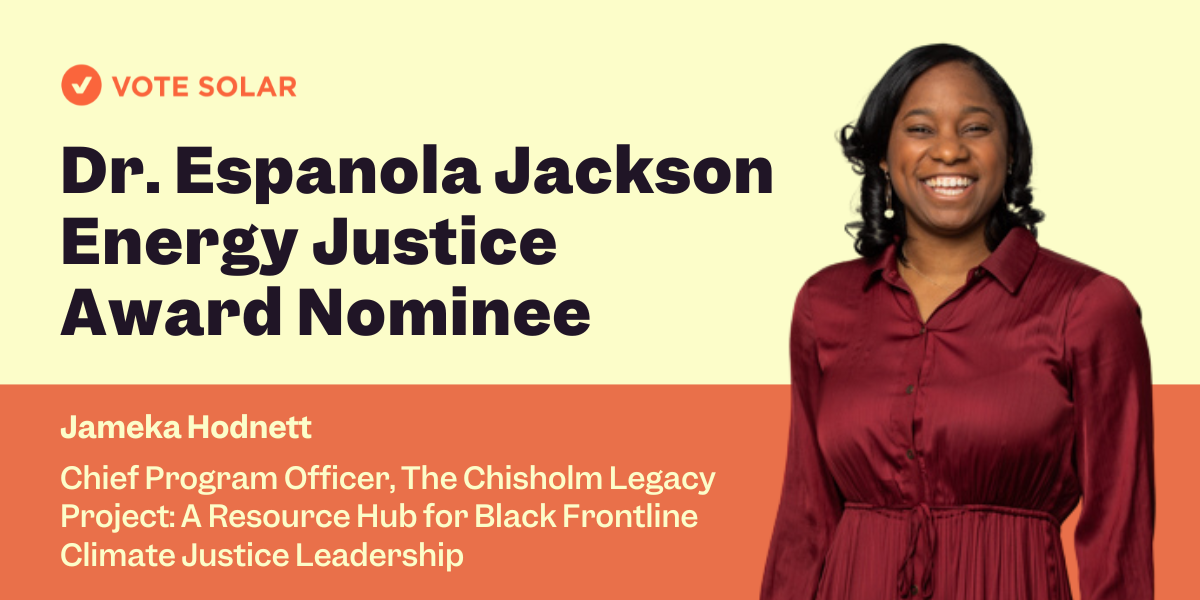 Jameka Hodnett
Chief Program Officer, The Chisholm Legacy Project: A Resource Hub for Black Frontline Climate Justice Leadership
Jameka is a seasoned climate justice policy advocate. She combines her skills of campaigning and lobbying to fight for policies that reduce carbon pollution and create green jobs. She is passionate about ensuring all communities have access to a clean energy economy. Most recently, Jameka has been working to ensure that the benefits of the Inflation Reduction Act and Justice40 reach historically underinvested-in communities. Currently, she is leading state and federal IRA implementation at Dream.org as the National Director of Campaigns. She is also ensuring that a cohort of African American Mayors can access IRA, IIJA, and Justice40 funding as a Local Climate Action Policy fellow with Elemental Excelerator.
Previously, she served as Executive Director of Climate Equity with A/B Partners where she led a multimillion-dollar climate disinformation war room campaign for the Climate and Clean Energy Equity Funds 60 grantee partners. She has also served as Deputy National Organizing Director at ACLU where she led the organizing team to mobilize ACLU's 4 million members to pass legislation across multiple states; Head of Field Organizing & Campaigns at 350.org where she worked with 350s 150 local groups to pressure legislators to phase-out fossil fuels at the federal and state level; Deputy Director of Civic Engagement at the League of Conservation Voters where she restored access to the vote for over 1.4 million people, and Director of Programs at DC Solar United Neighborhoods where she implemented DC's Solar for All Program which aims to bring the benefits of solar energy to 100,000 low to moderate-income families in the District of Columbia She has a J.D. from the University of District of Columbia David A. Clarke School of Law and a B.A. in International Affairs and Climate Policy from Trinity University.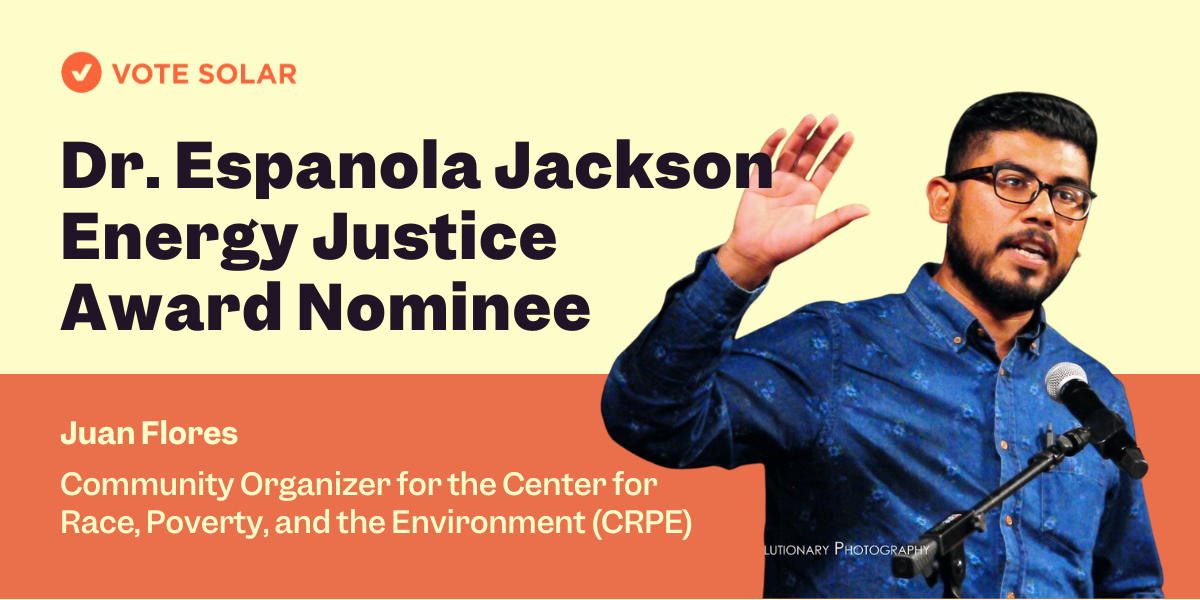 Juan Flores
Community Organizer, Center for Race, Poverty, and the Environment (CRPE)
Juan Flores is a Community Organizer for the Center for Race, Poverty, and the Environment (CRPE). Juan was born in Colima, Mexico, and raised in Mexicali, Mexico. He is the proud son of parents who are farmworkers in the Central Valley. In 1999, Juan and his parents and siblings immigrated to Delano, CA. At the age of fourteen, Juan worked as a farm laborer in the grape fields during the summer months of vacation from Delano High School.
Prior to joining CRPE Juan was a Family Advocate in Delano where he was a childcare advocate for low-income families. As an organizer, he has worked on the Climate Justice Campaign in the Central Valley where he has advocated for an end to extreme methods of oil extraction. Juan's primary role at CRPE is to advocate on behalf of communities that are disproportionately affected by air and water pollution in Kern County.
Juan's work is rooted in California's San Joaquin Valley with low-income and Latino communities because it is one of the poorest and most environmentally unhealthy regions of the country, and also because what happens there affects the nation. He focuses less on organizing people, and more on developing leaders. He is a firm believer in holding everyone accountable and ensuring the members of his community are heard. If CRPE one day disappears because of funding or anything else, these communities will be continuing with the same mission and onwards. And it's not just work, as he puts it: "We're compadres, and comadres because of weddings and quinceañeras."
Juan is focused on working in coalition, especially as a core member of the California Environmental Justice Alliance (CEJA), to advance policies that protect low-income communities and communities of color during times of crisis and lift up community-led climate solutions that will help California transition to 100% equitable, renewable energy. He has been working towards a swift just transition that involves workers, communities, and protecting the environment."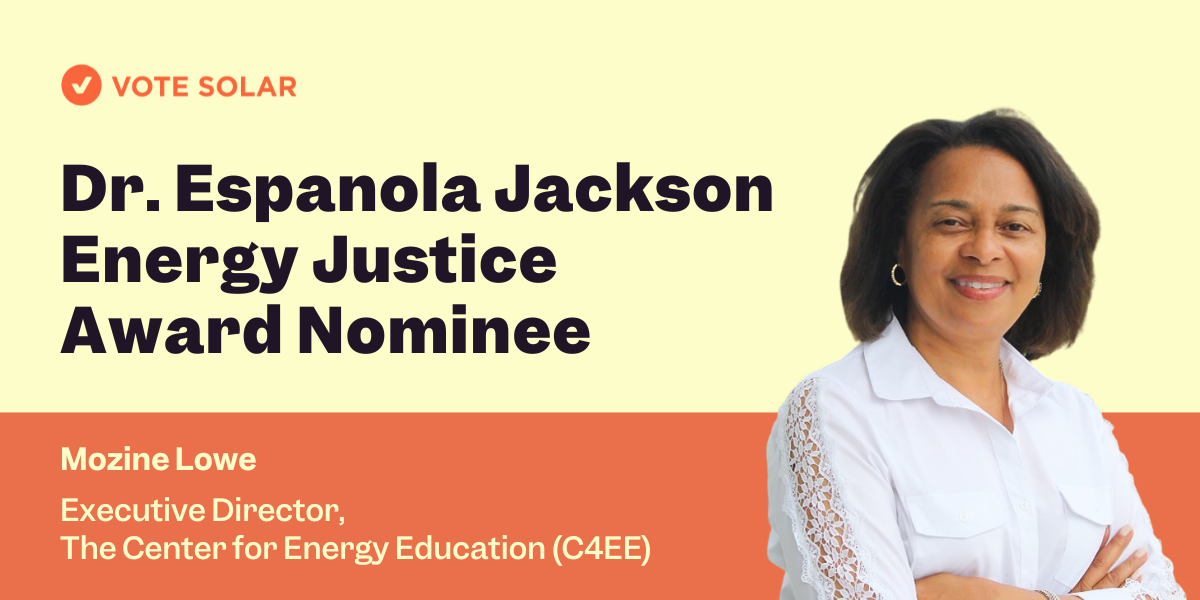 Mozine Lowe
Executive Director, The Center for Energy Education (C4EE)
In 2017 Mozine Lowe was appointed Executive Director of The Center for Energy Education (C4EE). The Center for Energy Education is a nonprofit organization that provides education and training to support the growth of renewable energy in communities. Under her leadership, C4EE has become a recognized organization for its strong focus on rural communities in providing several programs including community engagement, K-12 educational programs, and workforce development training. Mozine was also instrumental in developing programs for government officials to prepare them for the growth of renewable energy in their communities. A vast number of these programs focused on the economic benefits of renewable energy, as well as the disadvantages rural communities suffer from dealing with climate change. Additionally, C4EE has become a hub for providing climate change programs for these communities in Eastern North Carolina. Under her leadership, the Center has not only expanded its growth to three midwestern states, Indiana, Kentucky, and Ohio. Also, the Center has been nominated as a finalist to receive the RTCC Cleantech Innovation Award in Diversity in CleanTech.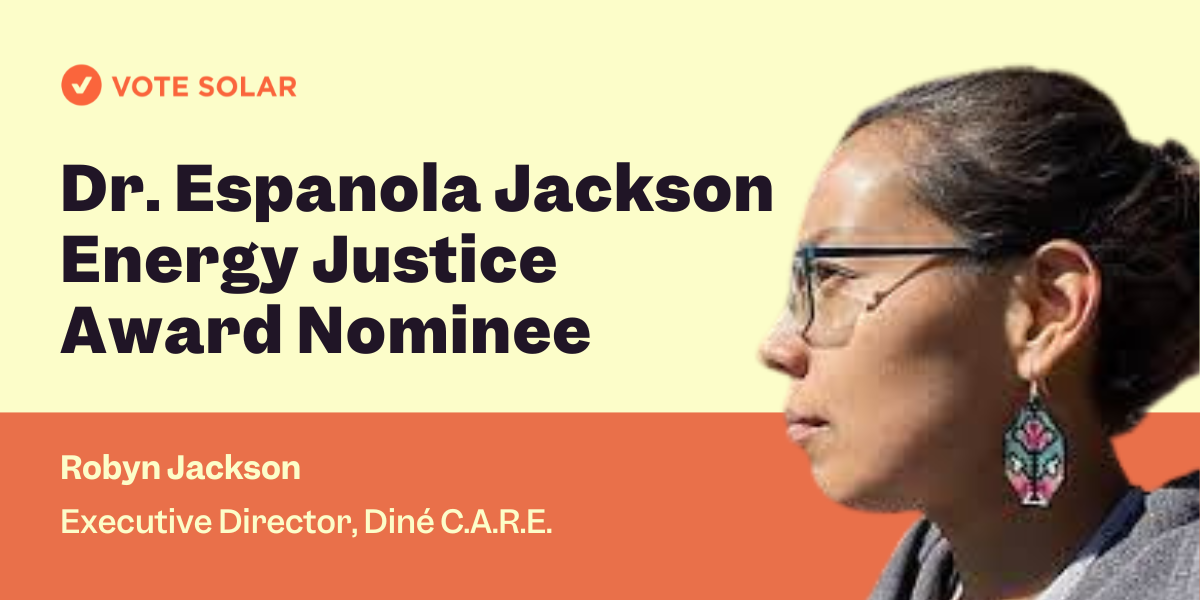 Robyn Jackson
Executive Director, Diné C.A.R.E.
Robyn Jackson, Executive Director, is Diné and Tó'áhaní (Near the Water Clan) and is from the Chuska Mountains on the Navajo Nation. She grew up among the environmental justice leaders of Diné C.A.R.E. Her parents led local sustainable forestry efforts in the 1990s, and this continues to serve as inspiration for her. She has experience in research, community organizing, public education, and organizational management in social and environmental justice campaigns related to forestry, sustainable food systems, and energy and renewable technologies in the Navajo Nation and Southwest. In 2013, Robyn was part of the research team at the Diné Policy Institute and contributed to the Diné Food Sovereignty Report. In 2017, she started full-time with Diné C.A.R.E. By 2018, Robyn initiated coordination with Earthworks to regularly bring technical staff to the community of Red Valley, generating national media attention to the problem of heavy polluting, aged oil wells, and documenting the expansion of helium drilling, as well as the long-term health harms of oil and gas operations. Prior to her current role as Executive Director, she was Diné C.A.R.E.'s lead coordinator on oil, gas, helium, coal retirement and a just and equitable transition for coal impacted communities in Arizona, organizing citizen groups to intervene within regulatory spaces in the Four Corners region. Her advocacy has expanded to include protection of the Greater Chaco Region. Robyn's leadership ensures the continuation of community empowerment and Indigenous values, which center on reverence for land and the sacred. These values and practices are essential for environmental justice on Diné homelands. She has a B.A. in Sociology from Fort Lewis College. Robyn is completing a graduate certificate in Indigenous Nation-Building and pursuing a Master's Degree in Public Administration from Northern Arizona University.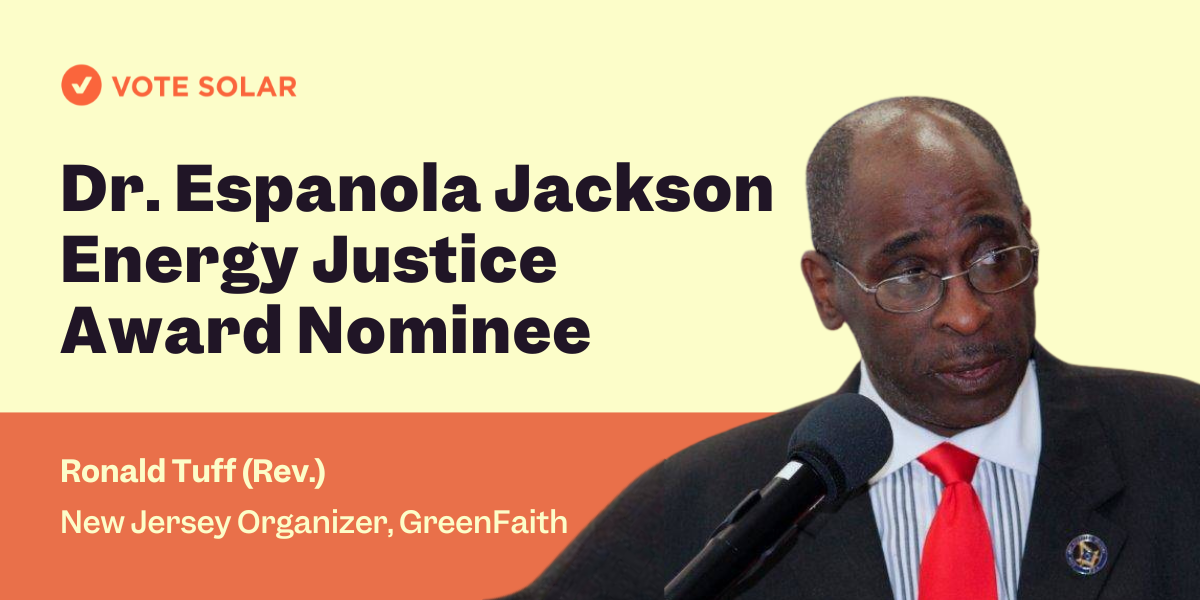 Ronald Tuff (Rev.)
New Jersey Organizer, GreenFaith
Reverend Ronald Tuff was born and raised in Newark N.J. He is a graduate of West Side High School. He is also a graduate of Wilberforce University. He has two children and two grandchildren. He currently resides in Belleville N.J. and has been working in the not-for-profit sector for 30 years. His personal goal has been to advance the community and develop jobs as well as bring funding. Ronald believes in educating and supporting families to further promote their economic as well as personal growth. As Associate Pastor of First Bethel Baptist Church of Irvington, Ronald reported to the senior pastor and provided spiritual and ministry guidance as well as development and training. Ronald helped church employees and volunteers to carry out the mission and directives of the church as well as promote and encourage growth in membership and spirituality. He also managed the day-to-day operations of the church including budgets and organizing programs.
As the former Executive Director of the Patterson task force for Community Action, he provided executive leadership and management of a multifaceted Community Action agency. He collaborated with the community and government. He instituted new programs and policies instituted new programs, policies and directors works manually projects. He was a liaison between funding sources and provided strategic planning. In 1986, Ronald became an associate pastor at First Hopewell Baptist Church in Newark NJ. He planned organized and supervised the youth ministry activities including spiritual training and mentoring.
Ronald has served as the former president of the NAACP, Patterson branch, Patterson Great Fall Lions Club, and Associate Ministers Association of New Jersey. He is an active member of the Paterson Rotary Club as well as the National Community Action Association. He is a member of the Executive Directors Association and 2nd vice president of the New Jersey Black Issues Convention. He is an active member of the County Emergency Association of Social Services and a member of Omega Psi- Phi fraternity Upsilon Phi Omega Chapter in Newark N.J. Ronald is the Grand Assistant Chaplain for the Master Mason Prince Hall Affiliate.
Reverend Ronald Tuff is an avid fighter against climate change. He is the coordinator of Black Church development in the New Green Economy as it relates to Offshore Wind, electric vehicles, and solar installation for Greenfaith Inc. He believes the low and moderate income as well as the black and brown community has a say so and right to jobs in this New Green Economy program. He also believes a cleaner climate will increase better health in those communities affected by climate change.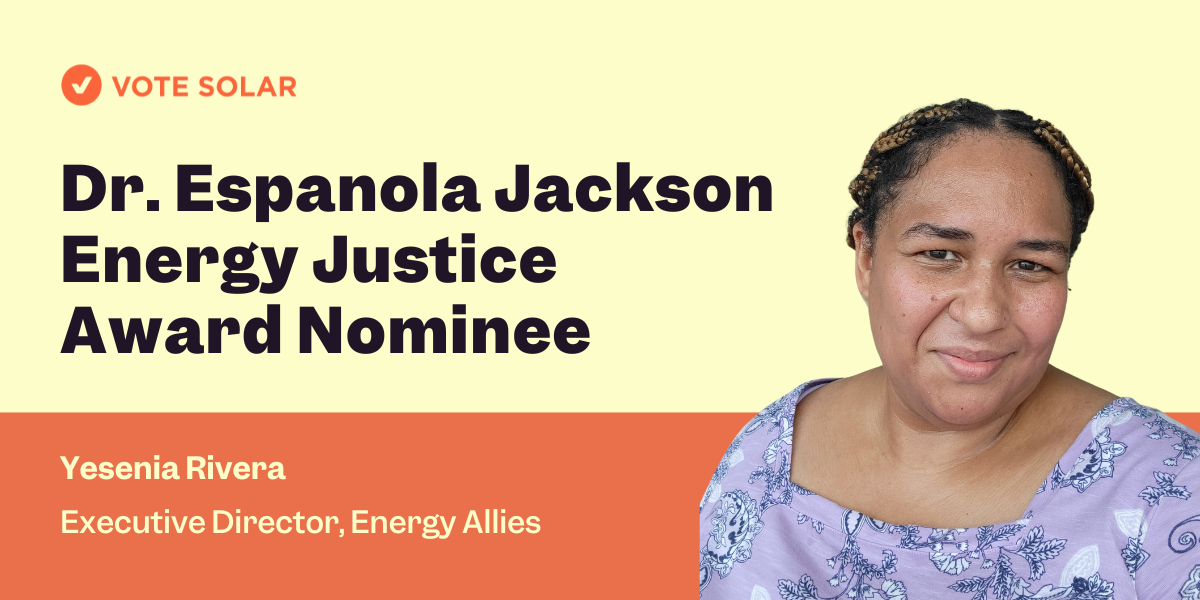 Yesenia Rivera
Executive Director, Energy Allies
Yesenia has been a community organizer from the start working with frontline and under-resourced communities throughout her career. As a tenant organizer at the Latino Economic Development Center, she worked with tenants across Washington DC and helped them assert their rights under DC law.
For Yesenia, energy and environmental justice are personal. She grew up in Puerto Rico and felt the impact of energy burdens and insecurity. She has seen the difference that having access to renewable energy can have on families, especially those struggling to pay their utility bills. She continues to advocate for the people of Puerto Rico and the need to build a new, more resilient grid focused on equity and renewable energy.
In her most recent role as Executive Director for Solstice Initiative, she continues to be an outspoken advocate for a just transition and eliminating barriers to clean energy. She leads a team working on innovative community-led energy solutions that will increase access to clean energy for traditionally excluded communities through research, policy and community-led solar projects.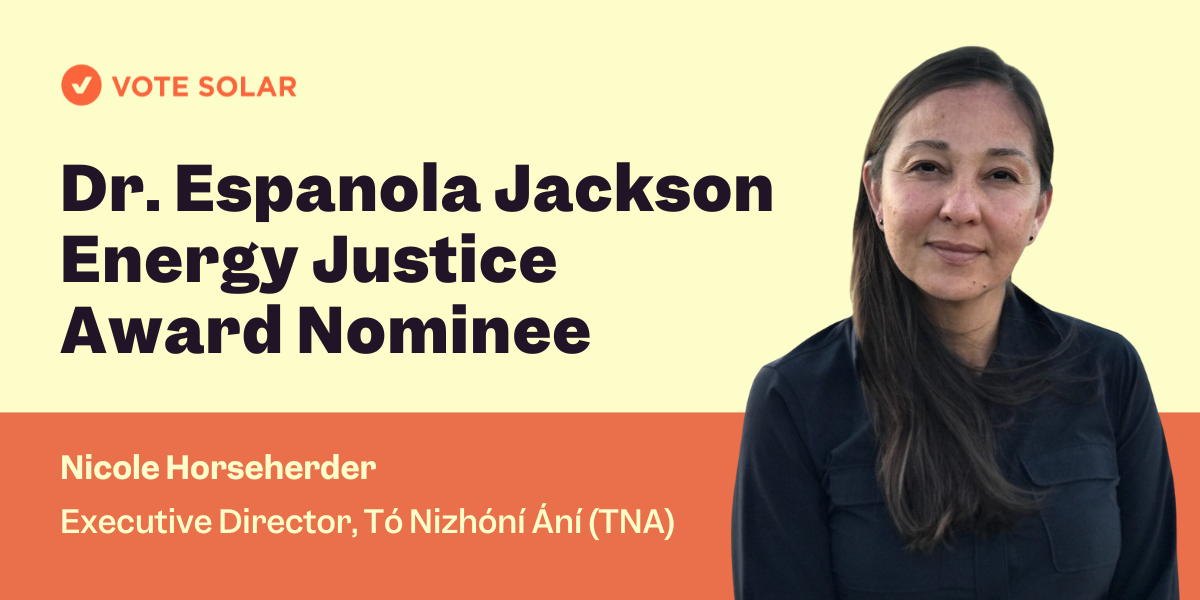 Nicole Horseherder
Executive Director, Tó Nizhóní Ání (TNA)
Nicole Horseherder, Diné, is from the Black Mesa region of the Navajo Nation. Nicole is one of the original founding members of Tó Nizhóní Ání and has been an active member since its establishment. Nicole began her work with Tó Nizhóní Ání as an outreach coordinator and interpreting hydrology and legal documents for Diné communities fighting coal-mine impacts. Today Nicole is leading efforts toward a transition away from fossil fuel development in the Navajo Nation. She leads work within rate cases at the Arizona Corporation Commission– not only combatting inequitable policies that directly impact her community– but she has become a mentor and teacher while actively navigating the nexus of energy, water, and policy in the Navajo Nation. She has over 20 years of experience. She is an aunty, grandmother, and strong leader. Her long connection to the land and water in her community. An excerpt from Grist on her work, "…At the end of the day, I don't want any of our children to say, you know, why didn't you do something about it when you could? But, more than anything, if you love the life that you live, that your ancestors gave you, then you certainly want to work to protect it and preserve it for future generations. I would love for my children to be able to taste Navajo aquifer water – how very nourishing the water is. I want them to be able to carry on the offerings to the springs that give life. Those are all reasons to do this work. Protecting the life that sustains all, because you have this understanding that you don't exist here on your own. You are alive here because everything else that supports your existence, the wildlife, the plants nation, the bird nation, the medicine and tobacco is thriving. That's the way the world works. And why we haven't figured that out yet, I don't know."