Dr. Espanola Jackson Energy Justice Award 2023 Finalists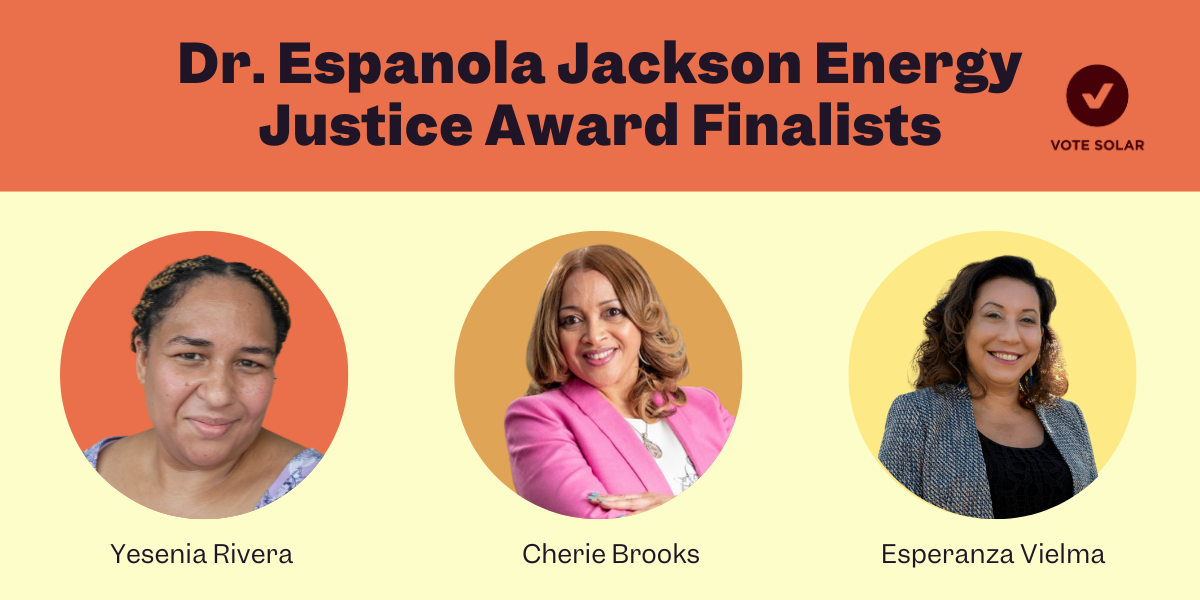 Vote Solar is proud to announce the finalists for the Dr. Espanola Jackson Energy Justice Award (formerly the Solar Justice Award). The award celebrates the legacy of a tireless community and environmental justice leader, Dr. Espanola Jackson, by recognizing leaders of color who are:
Long-time leaders in their communities (10+ years), may be located anywhere in the U.S. or territories
Dedicated to improving health and well-being in their community through clean energy
Strong coalition builders– able to mobilize support both within and around their community
Working at the intersection of racial justice & clean energy access
Working both to stop the extractive polluting energy economy and bring health, jobs, and savings to their community via clean energy opportunities
Influencing the state or local energy policy agenda through direct grassroots advocacy
Our finalists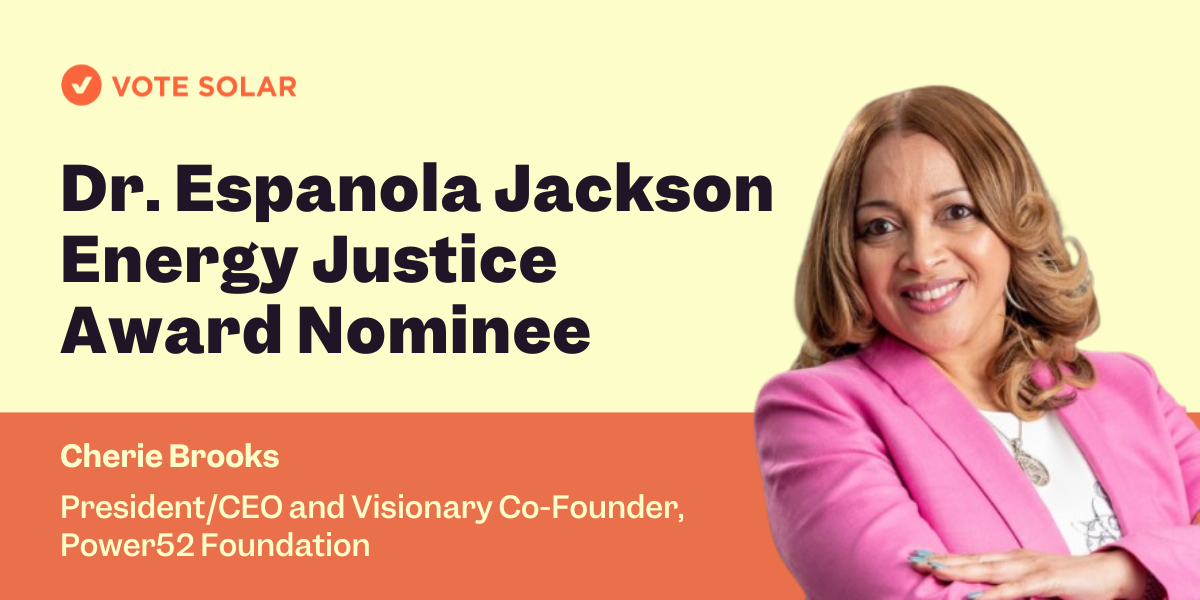 Cherie Brooks
President/CEO and Visionary Co-Founder, Power52 Foundation
Cherie Brooks Wallace, a native Baltimorean, is the Visionary Co-Founder, President & CEO of Power52 Foundation (Power52, Inc) a 501c3 non-profit. As CEO, Cherie brings clean energy access and economic empowerment to historically marginalized communities by way of resiliency hubs, clean energy resources, education, training, and sustainable jobs. Cherie serves on the frontlines of the intersection of environmental and economic justice.
Ms. Brooks' flagship accomplishments have been the development and oversight of Power52 Energy Institute, the first Clean Energy focused Private Career School in the State of Maryland. Power52 Foundation is one of two non-profits to ever receive approval from the Maryland Higher Education Commission to own and operate a private career school in the State's history. Cherie also managed the development to convert Living Classrooms' community center, POWER House, into a Resiliency Hub, serving a public housing community in East Baltimore, whose residents are commonly at the highest risk during emergencies. The POWER House is the first solar-powered, community-based resiliency hub in the nation.
Before launching into the 501(c)(3) world, Cherie worked as a Site Acquisition Manager in the wireless industry leading a team of consultants, contractors, and legal counsel through the build process. This included managing subcontractors, site acquisition specialists on all project phases (leasing, zoning, compliance, A&E, and Regulatory) on AT&T's LTE Project as well as Verizon's New Site/Raw Land Builds. Ms. Brooks developed over 200+ telecom sites, oversaw each site through leasing to construction milestones.
Cherie's greatest strengths are her creativity, drive, and leadership. She thrives on challenges, particularly those that expand the company's reach. Philanthropy and ministry are Cherie's passions and one of her visions for Power52 Foundation is that it will become the primary on-ramp to careers in solar and renewable energy addressing under-employment and climate justice nationally, for persons from marginalized communities.
Ms. Brooks, a recent graduate of Goldman Sachs 10KSB Executive Program, attended Bowie State University for undergrad and has obtained her Master Trainer credentials from the National Center for Construction and Research (NCCER) as well. Cherie is a member of Alpha Nu Omega Sorority, Inc. as well as an active member of Jack & Jill of America, Columbia, MD Chapter where she has held various chair positions during her ten-year tenure. Cherie lives in Maryland with her four kids and adorable dog, Snickerdoodle Hudson Wallace.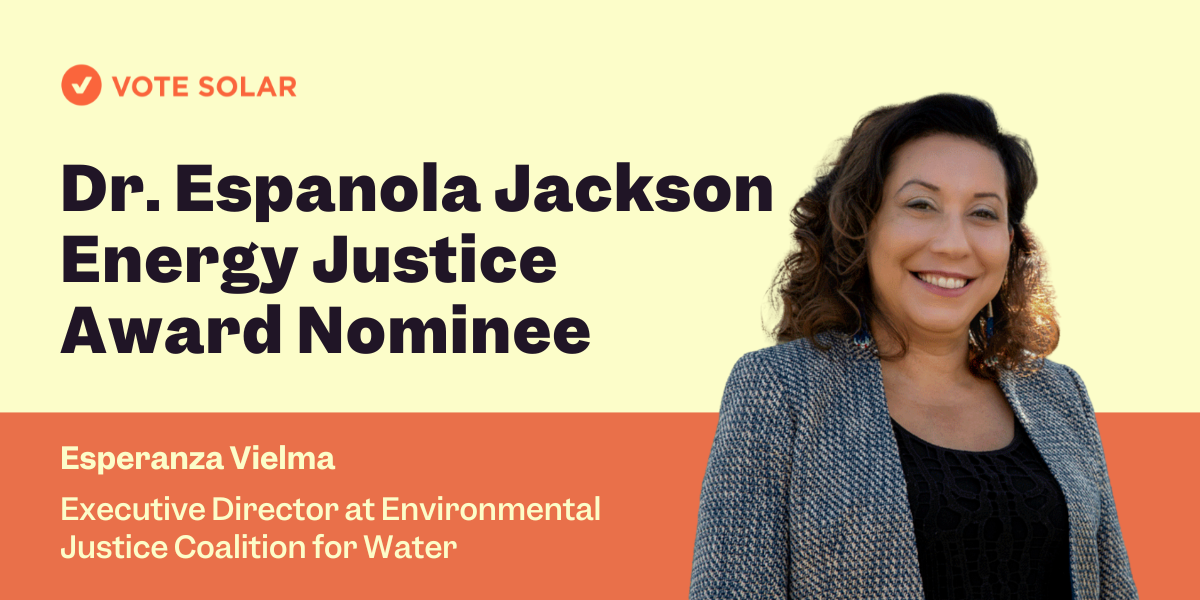 Esperanza Vielma
Executive Director, Environmental Justice Coalition for Water
Esperanza Vielma is deeply rooted in serving underrepresented communities in the San Joaquin Valley. She has experienced the inequities and injustices faced by people who reside in disadvantaged communities, especially communities of color.
From a young age, she advocated for underserved communities in Southside Stockton, to create access to information and programs that improve the quality of life. The vision to serve led Vielma to transfer from San Joaquin Delta College to attend the University of California, Berkeley where she honed her skills for EJ advocacy. She served on the UC Berkeley Chicanx Latinx Alumni Association board as Vice-President served on the Cal Alumni Association (CAA) Board of Directors and is serving on the Advisory Board for UC Berkeley's Latinx and the Environment. Esperanza is part of the inaugural Class of 2016 of the Delta Leadership Program for the State of California's Delta Protection Commission and serves as an advisory board member for the Central Valley New Market Tax Credit (CVNMTC). She is also a member of the San Joaquin Valley Rail Committee representing San Joaquin County.
Vielma is a founder/Executive Director of Café Coop, the first incubator in the county to serve marginalized communities. Café Coop assists micro-businesses, and start-ups in the incubation of their ideas and specializes in socially conscious and emerging technologies. In addition, Café Coop seeks to mentor start-ups that are owned by women of color. Esperanza, as ED of Café Coop, served as the community partner to transform the largest Frito-Lay manufacturing facility in the U.S. in Modesto CA to a first-of-its-kind showcase of sustainability benefits of zero-emission (ZE) and near zero-emission (NZE) technologies. The facility implemented site-wide alternative fuel vehicles, on-site renewable energy generation, energy storage equipment, and employee electric vehicle charging stations. The project started in 2019 and was supported by the California Climate Investments (CCI) initiative in conjunction with the San Joaquin Valley Air Pollution Control District (SJVAPCD) and the California Air Resources Board (CARB). The Modesto Site Fleet Operations' Greenhouse Gas Emissions cut by more than 90 percent thanks to ZE and NZE technologies. She's a founding board member and currently serving on the iHub San Joaquin Board. Vielma co-founded the Annual H2O Hackathon which is now in its 6th year. She also created the first Agricultural and Technology Summit in San Joaquin County which is now going on its 3rd year.
Esperanza co-founded the Coalition for Equity and Economics (CEEE) in 2021, a statewide Environmental Justice Coalition to ensure equitable access to rooftop solar to the most vulnerable communities.
As the Executive Director of the Environmental Justice Coalition for Water (EJCW), Vielma recruited community stakeholders to establish the first Disadvantaged Community (DAC) Task Force for the Greater San Joaquin County Integrated Regional Water Management (IRWM) Region. Additionally, Vielma served as chair of the Environmental Justice Advisory Group for the San Joaquin Valley Air Pollution Control District (SJVAPCD) where she is now a stakeholder in the AB 617 Stockton Steering Committee. In May 2023, Esperanza was selected as a community expert for the California Air Resources Board Community Engagement Model.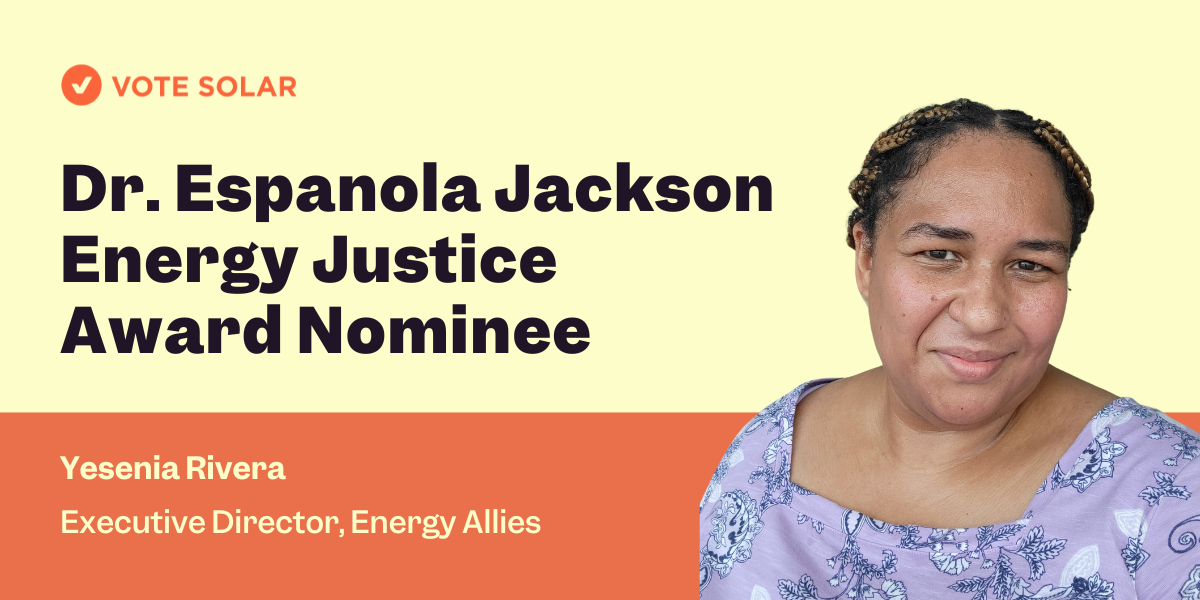 Yesenia Rivera
Executive Director, Energy Allies
Yesenia has been a community organizer from the start working with frontline and under-resourced communities throughout her career. As a tenant organizer at the Latino Economic Development Center, she worked with tenants across Washington DC and helped them assert their rights under DC law.
For Yesenia, energy and environmental justice are personal. She grew up in Puerto Rico and felt the impact of energy burdens and insecurity. She has seen the difference that having access to renewable energy can have on families, especially those struggling to pay their utility bills. She continues to advocate for the people of Puerto Rico and the need to build a new, more resilient grid focused on equity and renewable energy.
In her most recent role as Executive Director for Solstice Initiative, she continues to be an outspoken advocate for a just transition and eliminating barriers to clean energy. She leads a team working on innovative community-led energy solutions that will increase access to clean energy for traditionally excluded communities through research, policy and community-led solar projects.