Alicia Rivera – 2023 Dr. Espanola Jackson Energy Justice Award Finalist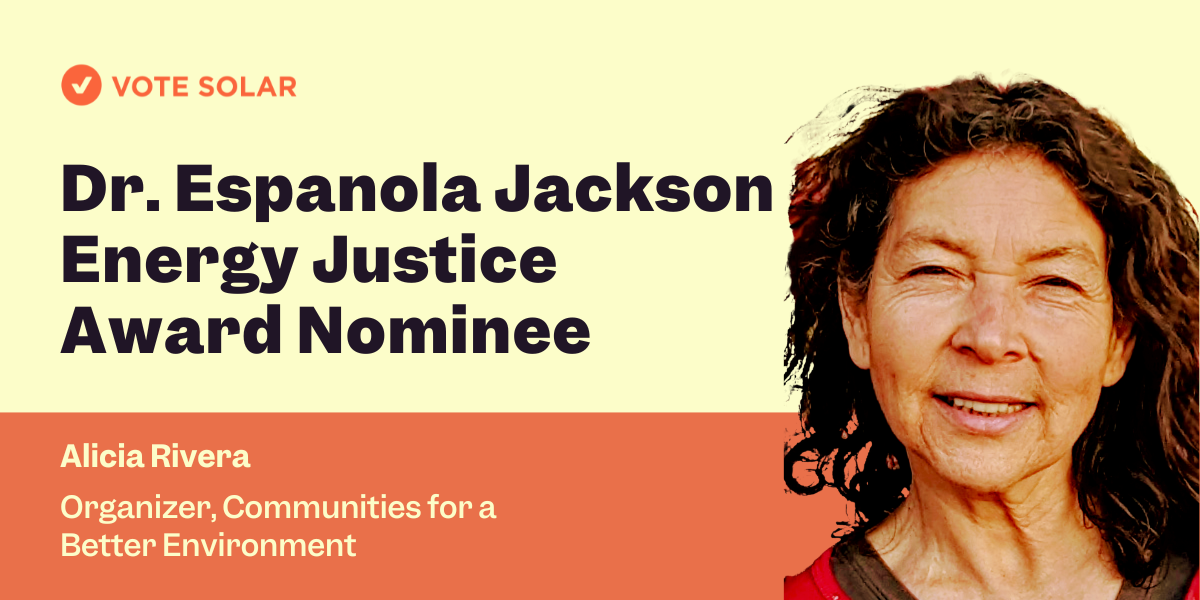 In the dynamic world of environmental justice, there are remarkable individuals whose unwavering dedication drives positive change within their communities. Alicia Rivera, a passionate and experienced Community Organizer with Communities for a Better Environment (CBE), is a shining example of such individuals. Her transformative work in Wilmington, CA, has earned her recognition as a top 10 finalist for the Dr. Espanola Jackson Energy Justice Award.
Background and Biography:
Alicia Rivera's passion for environmental justice was ignited in the aftermath of a catastrophic event that left its mark on Wilmington. After the explosion at the former Texaco refinery, now known as Andeavor, Alicia took it upon herself to hold the refinery accountable for its emissions and the adverse health and environmental effects on Wilmington residents. Her educational and professional background laid the foundation for her impactful work in this field. Over the years, she has been an advocate for economic justice, supporting port truck drivers and securing community benefits agreements for local commercial projects in Los Angeles.
Environmental Justice Work:
Alicia's commitment to improving the lives of low-income communities and communities of color in Wilmington spans over two decades. As an organizer, she has been encouraging the most impacted by pollution to raise their voices and demand change from those in power. Through CBE, Alicia has spearheaded efforts to make refineries in the area accountable for their pollution. She has engaged Wilmington residents, educating and organizing them to pressure the South Coast Air Quality Management District (SCAQMD) to take action against pollution caused by refineries. Her work on the AB617 Community Steering Committee resulted in a commitment from the Air District to reduce 50% of refinery toxic emissions, addressing critical issues like obsolete refinery burners, heaters, storage tanks, and flaring.
Her ability to rally communities and collaborate with environmental justice organizations has been instrumental in raising awareness about energy justice issues. At Los Angeles Department of Water and Power (LADWP) commission hearings, Alicia has championed the cause for 100% clean energy, equitable support for community solar programs, and rebates and incentives that benefit all. She has also facilitated workshops on building and transportation electrification, working closely with the RePowerLA and Latina Economic Advancement Program (LEAP) coalitions. Thanks to Alicia's advocacy, LADWP now offers free rooftop solar in low-income areas in Wilmington and provides training and job opportunities in renewable energy.
Impact and Legacy:
The impact of Alicia Rivera's work reverberates far beyond Wilmington. Her advocacy has led to tangible changes in regulations, addressing refinery emissions, and fostering a cleaner environment. Through her tireless efforts, Alicia is leaving a lasting legacy of empowered communities and a strengthened environmental justice movement. Her work has served as an inspiration for others, motivating them to join the fight for energy justice.
Achievements and Awards:
Throughout her illustrious career, Alicia Rivera has garnered numerous accolades for her unwavering commitment to environmental justice. Being named a finalist for the Dr. Espanola Jackson Energy Justice Award is a testament to her outstanding contributions to the field. Alicia's advocacy and leadership have not only earned her recognition but have also brought tangible improvements to the lives of countless individuals in Wilmington. As she stands as a finalist for the esteemed Dr. Espanola Jackson Energy Justice Award, we express our gratitude for her remarkable contributions.