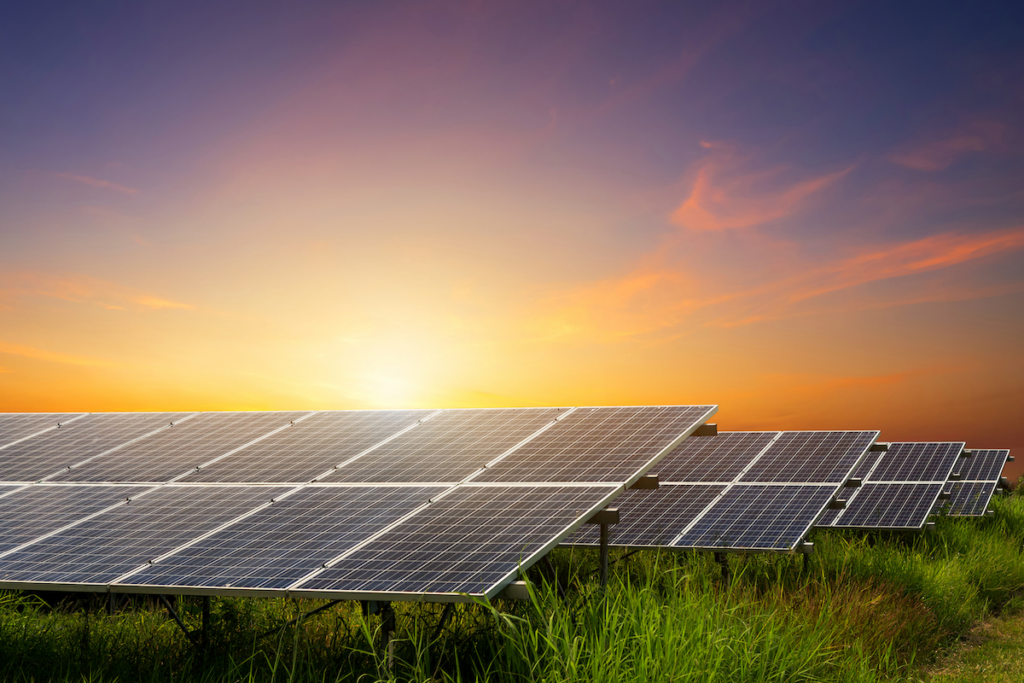 ABOUT VOTE SOLAR
Vote Solar's mission is to realize a 100% clean energy future through a solutions-driven, people first approach. Founded in 2002, Vote Solar advances just and equitable clean energy policy in state legislatures and public commissions across the United States. Our expertise comes from a deep understanding of the legislative process, regulatory interventions, and the ability to identify and accelerate solar solutions. We are adept at bridging communities and bringing diverse stakeholders together to forge inclusive coalitions and winning campaigns.
Our goal is to effect real, tangible change. And we have the track-record to prove we can do it: Twenty years in, our work has made it so that one in three people live in a state with a 100% clean energy commitment. We'll not only expand that number, but ensure that more people can participate in holding utilities and decision makers accountable for greater equity and justice in our energy system.
OUR COMMITMENT TO DIVERSITY, EQUITY, INCLUSION AND JUSTICE
Vote Solar is an equal opportunity employer committed to diversity, equity, inclusion and justice in the workplace and in the communities with which we partner. We strongly encourage and seek applications from women, people of color, including multilingual and multicultural individuals, as well as members of the lesbian, gay, bisexual, and transgender communities. Applicants shall not be discriminated against because of race, religion, sex, national origin, ethnicity, age, disability, political affiliation, sexual orientation, gender identity, color, marital status, or medical conditions. Reasonable accommodations will be made so that qualified disabled applicants may participate in the application process. Please advise in writing of special needs at the time of application.
THE ROLE
Vote Solar is looking to fill a key role on our national Talent + Culture team. Reporting to the Managing Director, Talent + Culture, the Senior Director, DEIJ Learning + Development is critical to the design and implementation of Vote Solar's DEIJ work. The Sr. Director will work closely with various stakeholders to ensure the implementation of meaningful and sustained organizational change, and will also work in partnership with staff across the organization. The Sr. Director has experience and proven success in leading the development and implementation of DEIJ learning initiatives across complex organizations. The Sr. Director will lead the execution of the organization's DEIJ training and development program. The Sr. Director will be a partner and a resource for teams and individuals across the organization in creating and implementing adaptive and relevant DEIJ learning opportunities.
RESPONSIBILITIES
The Sr. Director, DEIJ Learning + Development's primary responsibilities will include, but not limited to:
DIVERSITY, EQUITY, INCLUSION + JUSTICE LEARNING (70%)
Develop and implement a training plan for staff learning and professional growth centered on DEIJ and core competencies
Create and organize internal education around core competencies; metrics around DEIJ; oversight/review of hiring language (e.g. job descriptions)
Identify barriers to implementing the organization's DEIJ vision and provide solutions to address them
With the Managing Director, Talent + Culture co-create and implement a system for regular monitoring of progress against DEIJ metrics
Manage engagements with external DEIJ consultants
STRATEGIC CONSULTATION (15%)
In consultation with the Managing Director, Talent + Culture, work to identify organizational problems and solutions for DEIJ and when to prioritize them
Work to imbed DEIJ core competencies into performance evaluations
Provide input into internal communication strategies
Collaborate with Vote Solar's Access and Equity team to ensure alignment between our internal work and external priorities
INTERNAL FACILITATION (15%)
Develop conflict resolution strategies centered on justice, equity and inclusion and train people managers in implementation
Identify the most important questions and discussions around DEIJ priorities and facilitate effective, inclusive conversation
Design and facilitate a DEIJ working group to help address some of the organization's priorities around DEIJ
Support and create spaces for internal affinity groups
REQUIREMENTS
WHAT YOU'VE ACCOMPLISHED
7+ years experience in a related position. Of those seven, candidates should have 1-3 years designing and implementing DEIJ focused trainings
Ability to collect, interpret and persuasively utilize data
Experience with performance management systems and best practices
Advanced knowledge of current diversity, equity, and inclusion theories, practices, and pedagogies
Experience in training and development required, ideally experience designing and/or leading DEI training and development programs
Ability to manage work effectively across multiple teams in a dispersed team environment
Strong written and verbal communication skills and effective virtual facilitation skills
OTHER THINGS YOU MIGHT HAVE ACCOMPLISHED OR WOULD BE EXCITED TO LEARN HERE
Knowledge of the intersection between clean energy and social justice
Ability to build capacity and create buy-in for a new body of work at a growing organization
Experience working to influence senior leaders around DEIJ learning and priorities
Autonomy in designing and implementing a learning program with support from your manager as needed
MINDSETS
A personal commitment to being a part of an inclusive and just workplace, including a commitment to being on a journey with Vote Solar to develop personal, and inter-personal core competencies related to diversity, equity, inclusion and justice
Passion for building new capacity at a growing organization
Understanding that how we work (in collaborative, authentic partnership), is as important as what we work on
LOCATION
Remote, within the United States
Vote Solar has team members across the United States. This position is a remote role. During the COVID-19 pandemic, all Vote Solar staff have been working from home and have ceased work travel. When it is safe to do so, this position will require some national travel (upwards of 4x per year).
SALARY AND BENEFITS
The salary range for this position is $105,000 – $110,250. At Vote Solar, we work hard to ensure that our compensation is equitable internally and aligned with our compensation philosophy and defined job levels. In order to ensure equitable compensation across roles in the organization, we do not negotiate new hire offers.
Vote Solar provides full-time staff with a competitive benefits package, including 4 weeks of paid vacation in year one, 12 days of sick leave, and 4 days of personal leave. We also offer 100% employer-provided health, dental and vision care for both the employee and dependents; a retirement savings plan and an employer match of up to 3.5%; and a paid parental and medical leave policy for full-time staff who have worked for Vote Solar for at least one year.
APPLICATION PROCES
Vote Solar is partnering with RCG Talent Solutions to find our Senior Director, DEIJ Learning + Development. Please submit your application here. You can direct all questions to RCG Talent Solutions at openroles@rcgtalent.com. Reasonable accommodations will be made so that qualified disabled applicants may participate in the application process. Please advise in writing of special needs at the time of application.