#CEJACantWait: Illinois legislators must pass the Clean Energy Jobs Act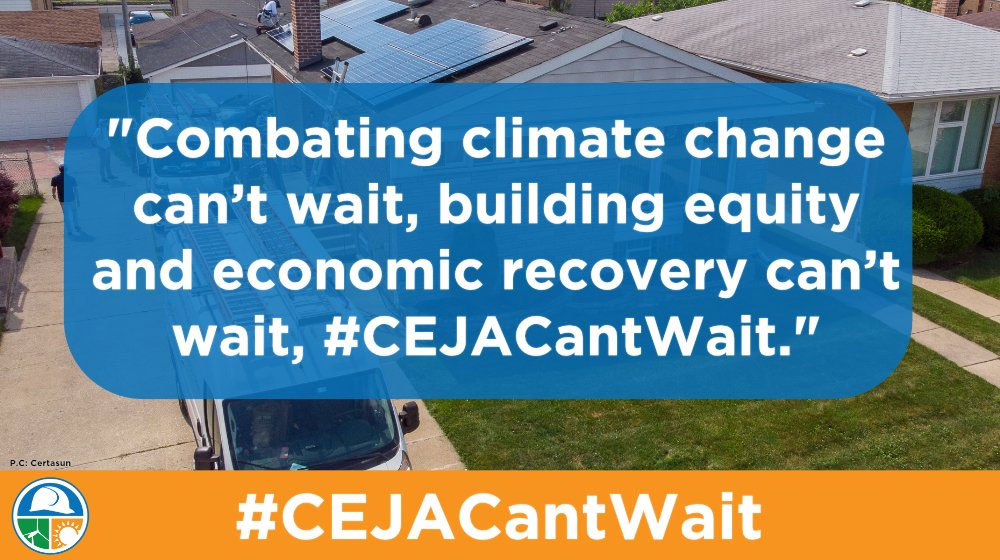 We have less than two months before the legislative session ends, and profit-hungry companies like Ameren will keep trying to get in the way of progress and accountability. The Clean Energy Jobs Act can't wait. Illinois legislators must pass CEJA before May 31st!
As Illinois faces an economic and public health crisis, a racial and economic justice crisis, and a crisis of utility corruption, leaders of the Illinois General Assembly and the Illinois Clean Jobs Coalition reintroduced the Clean Energy Jobs Act (CEJA) to a packed hearing this session with a pledge to pass this gamechanging, comprehensive legislation in by May 2021.
Over 1,500 people submitted "witness slips" in support of the Clean Energy Jobs Act (CEJA) last week. I was in the virtual "room" where it happened and saw the effect that those slips — those 1,500 voices demanding climate and energy justice — had on legislators. It's no wonder that it was voted on and passed out of committee. We're one big step closer to passing CEJA through the House.
We're proud to be part of the Illinois Clean Jobs Coalition (ILCJC), made up of more than 200 consumer, business, environmental, environmental justice, health care, faith-based and student organizations. Follow the coalition for updates on Twitter.
ILCJC played a central role in the passage of the Future Energy Jobs Act in 2016, and led hundreds of community listening sessions to craft comprehensive legislation through CEJA. This transformative bill addresses structural, historical, and institutional barriers faced by marginalized communities, and is designed to ensure that the benefits of a thriving clean energy economy are shared by all Illinoisians.
Thousands of people have been hired for local employment after passage of the Future Energy Jobs Act in 2016, who are now at risk of losing their jobs. CEJA will protect these vulnerable workers while setting Illinois on a path towards 100% clean energy. It will provide direct benefit to Illinoisans throughout the state, ranging from farmers securing long-term solar lease payments to returning citizens who are having difficulty finding employment. This legislation would solidify Illinois as the Midwestern leader in renewable energy. Vote Solar will be working hard to make sure it passes this session.
While we're celebrating the good news that CEJA's on the move, we're also keeping close watch on two bad energy bills in the legislature, brought by two huge energy companies, Ameren Illinois and Vistra. It should come as no surprise that these bills would be a big step in the wrong direction in our pursuit of 100% renewable energy.
What's more, Ameren is funding a shadowy group to try to stop CEJA. ILCJC brings the receipts: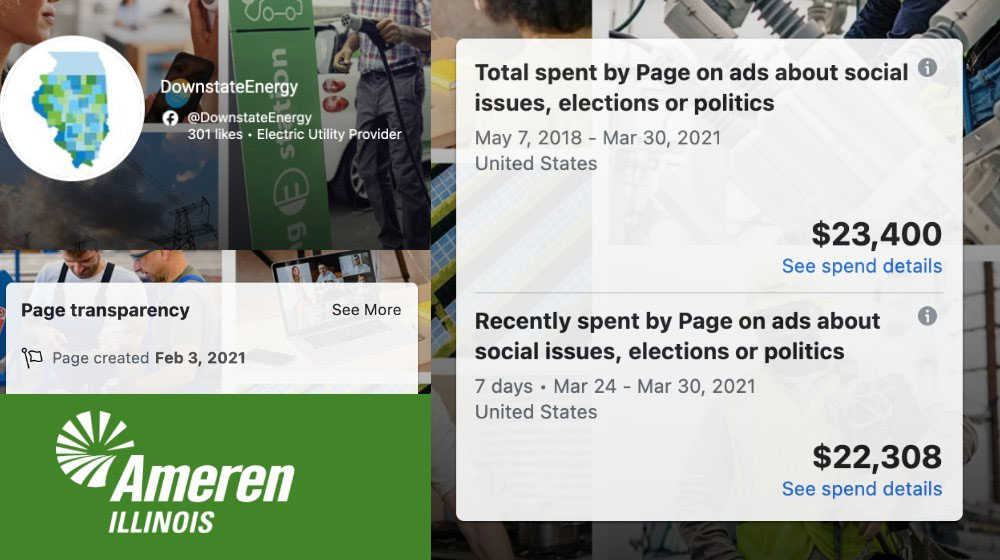 NEW: A shadowy fossil-fuel aligned group funded by Ameren is trying to stop CEJA and instead pass a bailout for themselves, spending more than $22,000 on ads in just one week. This is an obvious attempt to raise rates & push a false, self-serving narrative. #CEJACantWait #twill pic.twitter.com/VQlFCzwsMw

— Illinois Clean Jobs (@ILCleanJobs) April 5, 2021
Illinoisans: Your legislators need to hear from you. The state Senate Energy & Public Utilities Committee is hosting a hearing on Thursday, April 8. Tell them #CEJACantWait by filing a witness slip!