Celebrating Indigenous Peoples Day and Working For Community Solar For All
Mayane Barudin joined the Vote Solar team as Interior West Manager in 2019, and is now our Interior West Director. A Tribal member of Santo Dominigo (Kewa) Pueblo, New Mexico, Mayane also serves as Vote Solar's Tribal Liason. She works to ensure that Indigenous peoples, protectors of the Earth since time immemorial, are engaged as key stakeholders in a just transition away from the extractive practices that have caused centuries of harm to their communities.
In celebration of Indigenous People's Day in 2019, Mayane reflected on Indigenous renewable energy leadership, and her determination to break down barriers to solar adoption. Part of a series: Vote Solar Staff Voices
I am honored to say that I am the most recent addition to Vote Solar's amazing team as Interior West Manager. I am a Tribal member of Kewa Pueblo, New Mexico, and I am proud to kick off my role here by saying a loud and proud "Happy Indigenous Peoples Day!"
Not only am I glad to join an organization that is steadfast in making solar accessible across the United States through lowering costs and minimizing socioeconomic barriers, but I appreciate being part of an organization that acknowledges the plights of Tribal Nations and embraces the importance of Indigenous Peoples Day.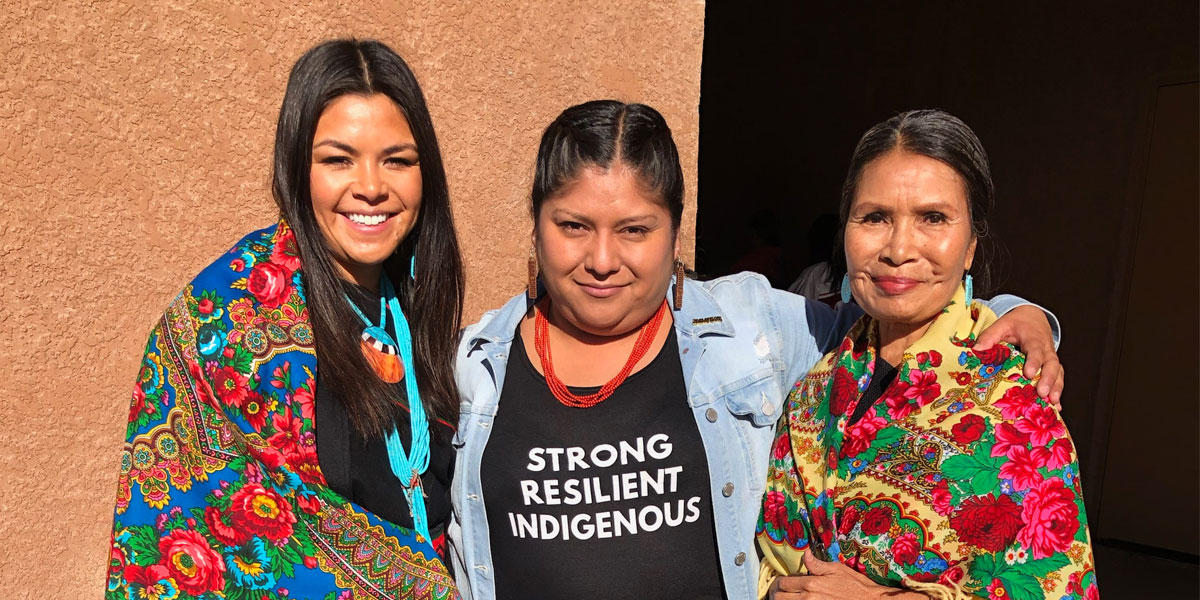 Today I observed Indigenous Peoples' Day on traditional Pueblo territory at the Indian Pueblo Cultural Center in Albuquerque, New Mexico. Last year, Governor Michelle Lujan Grisham signed HB100 to formally recognize Indigenous Peoples Day as a state holiday in New Mexico. The endorsement of this celebration is monumental for reframing the narrative script of discovery and colonization and also carries much more weight than that. Alongside Indigenous dignitaries, artists, dancers, singers, activists, Tribal members, and those showing respect for the cause, we celebrated Indigenous perseverance, resilience, and the beauty of our people and culture.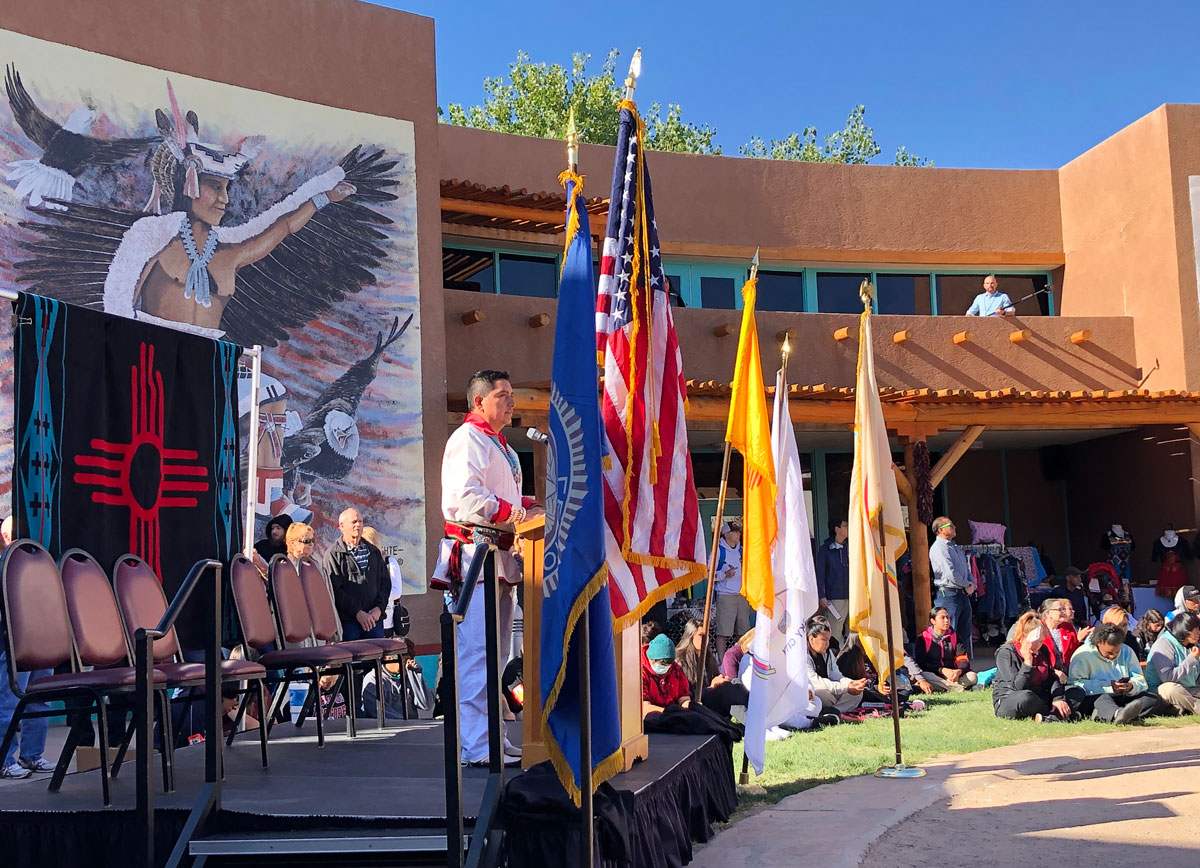 I came to Vote Solar because of a long-lived dream to see the day when the homes on my Tribal reservation are solar-powered alongside the other Tribal nations across the United States.
Since time immemorial, Indigenous peoples have protected our sacred elements and Mother Earth. With the rise of environmental degradation, extractive activity, and climate change, the methods through which Indigenous peoples engage in the protection of our Mother have rapidly evolved in response to increased stressors.
As such issues intensify, Indigenous peoples have also embraced modern technologies, such as renewable energy development, that adhere to our traditional cultural values and systems of reciprocity.
Despite strengthening desires to pursue renewables, Tribes are often unable to do so due to obstacles in state energy policy. At the same time, Tribal nations hold 2 percent of the United States landmass, but harness 5 percent of potential renewable energy generation.
Current solar energy policy in New Mexico only permits rooftop solar development, which is not feasible for renters, low to moderate-income or fixed-income families, or rooftops that do not meet the physical standards to support solar panels. Such restraints offer little to no opportunity or benefit to the state's 23 Tribal Nations and a majority of the New Mexican population.
Notwithstanding, Picuris Pueblo, the smallest Tribal nation in New Mexico, successfully developed a 1-megawatt solar array with the help of Kit Carson Electric Cooperative, Inc. The solar array now generates enough electricity to power 600 homes of the surrounding Peñasco Valley, including the homes within the reservation.
Watch the inspiring story of Picuris Pueblo and how they're powering Peñasco Valley with solar — lowering bills for families while building resilience and combating climate change:
While writing my Master's dissertation on how renewable energy development impacts the resilience of Indigenous communities, I was lucky enough to spend several months in Picuris Pueblo to learn more about how solar energy development has transformed the community. From working with Tribal staff and interviewing Tribal members, it became clear that the tribally-owned solar array provides a number of positive benefits.
The Tribe is now able to subsidize Tribal members monthly utility bills and fund various community programs, which opens a number of financial and heartening opportunities for the Pueblo.
However, in my time there, I realized that solar energy development can offer even more than financial promise. Upon visiting the Tiwa language class, the traditional language of Picuris Pueblo, and hearing the children recite the newly-invented phrase for "solar panel," I realized that the power in solar development extends far beyond the literal.
For Tribes and Pueblos, community solar development can be a means through which to promote Tribal sovereignty, decrease fossil fuel emissions, revitalize language and cultural programs, and ultimately protect our people and way of life for future generations. It was enchanting to witness firsthand the pride that Picuris had as the leaders of solar energy development in New Mexico and the many unforeseen benefits that followed.
For Tribes and all communities, there is so much untapped potential and benefits that solar energy could offer. I hope that one day all communities can have the opportunity to achieve what Picuris Pueblo has done and see how the benefits will manifest within their households, families, neighborhoods, or Tribes. I know that I will continue to push for open access to the solar energy market until the day I can see my grandparents smile from lower electricity bills and the students in Kewa classrooms can take fieldtrips to the local solar array.
You too can help–Vote Solar is working with a broad coalition to pass the Community Solar Act in 2020, so that all people in New Mexico can benefit from solar opportunity. If you live in New Mexico, call on Gov. Michelle Lujan Grisham to make community solar a priority!
For now, let's take today to recognize Indigenous Peoples' Day and the successes of Tribal Nations and Indigenous peoples.
Learn More: IllumiNative's For Our Future: An Advocate's Guide to Supporting Indigenous Peoples' Day