Celebrating Juneteenth
As we move towards recognizing Juneteenth as a national holiday, it is imperative that we learn about its history & significance. For far too long, African American history has been viewed as independent of American history. That must end.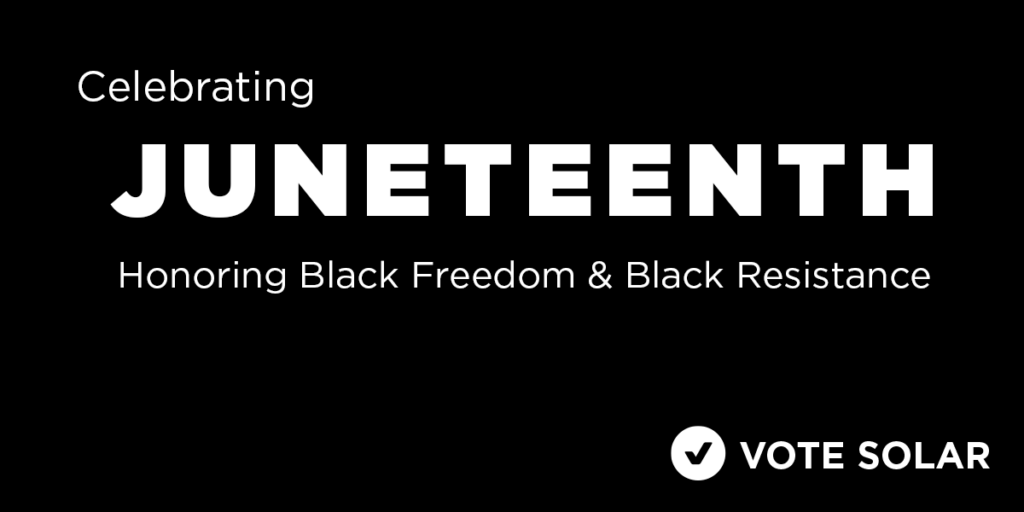 Juneteenth is not the day that enslaved people were liberated. This day marks the day that enslaved Texans found out they had been free… For over two and half years. What Juneteenth celebrates is the end of slavery in the United States. In 1865, on June 19th, Major General Gordon Grander arrived in Galveston Texas, & announced the end of the Civil War and the end of slavery.
Yet, the Emancipation Proclamation came two and a half years earlier on January 1st, 1863. And many enslavers continued to hold enslaved people captive after the announcement. So Juneteenth is a symbolic date that represents African American freedom.
Today is a day that we commemorate African American achievements, emphasize education on further dismantling systems of oppression, and build towards a more just and equitable society.
Join Vote Solar in supporting Movement for Black Lives weekend of action to demand Black equality. Find an event near you: www.sixnineteen.com