Collective Victory for Solar For All: New Mexico Legislature Passes Community Solar Act
Together with our partners in the SOLution New Mexico coalition and the grassroots power of over 1,000 New Mexicans who took action, we passed Senate Bill 84 The Community Solar Act through the Senate and the House. Now the bill sits on Governor Lujan Grisham's desk, waiting to be signed into state law.
UPDATE April 6: Gov. Lujan Grisham signed the Community Solar Act into law!
As a Native person, I have long understood the power of the sun for our people and Mother Earth. I recognize that solar energy holds tremendous potential to preserve the health of our environment and our communities, and I continue to dream of the day when my families' homes in Santo Domingo (Kewa) Pueblo are solar-powered alongside the Tribal Nations across New Mexico and the United States.
My dreams of a solar transition stopped short upon realizing that New Mexico does not have the underlying legislation to ensure that solar energy is accessible to 70% of New Mexicans who are unable to install solar on our rooftops. These limitations of solar development also prevent Native American Tribes & Pueblos from attaining their pathways to energy sovereignty and the just energy transition.
Learning more about the possibilities and obstacles that exist in solar energy accessibility for my Pueblo community brought to light the opportunities for new policy programs, such as community solar.
With community solar, anyone who pays an electricity bill has access to the economic and environmental benefits of solar energy without the need to install a solar system on-site. It expands access to solar for all New Mexicans–providing energy choice for customers, all while building a stronger, distributed, and more resilient electric grid.
Renters, such as myself, and those who do not financially qualify for financing rooftop solar systems will have access to the solar energy market. Community solar also presents new opportunities for Tribes & Pueblos to develop tribally-owned solar arrays that directly benefit community members.
I knew that I needed to do my part to help make community solar a real possibility. That's why over the past year, I've worked with over 90 stakeholders in the Senate Memorial 63 Working Group process and facilitated the Tribal Community Solar Task Force to help ensure that a community solar program will serve all New Mexicans. Together we built Senate Bill 84, the Community Solar Act. Now, we are one major step closer to an equitable energy future that expands solar opportunity to everyone.
This bill means so much to the people of New Mexico, and it means so much to me that I was able to work alongside organizational partners and 1,000 New Mexicans to ensure the passage of community solar legislation that brings us one step closer towards a just energy future.
The Community Solar Act will:
✅ Give ALL New Mexicans the opportunity to go solar and benefit from affordable, local clean energy
✅ Power a thriving clean economy with millions in projected economic benefits and thousands of jobs
✅ Position Tribes & Pueblos as the leaders in renewable energy, opening up pathways to energy sovereignty and providing economic development to their communities
I am proud that my dream of a solar energy future now holds the possibility for New Mexicans, including myself, to subscribe to a community solar array. I can't wait for that day.
It is both appropriate and remarkable that community solar legislation relied on our joint power as community members.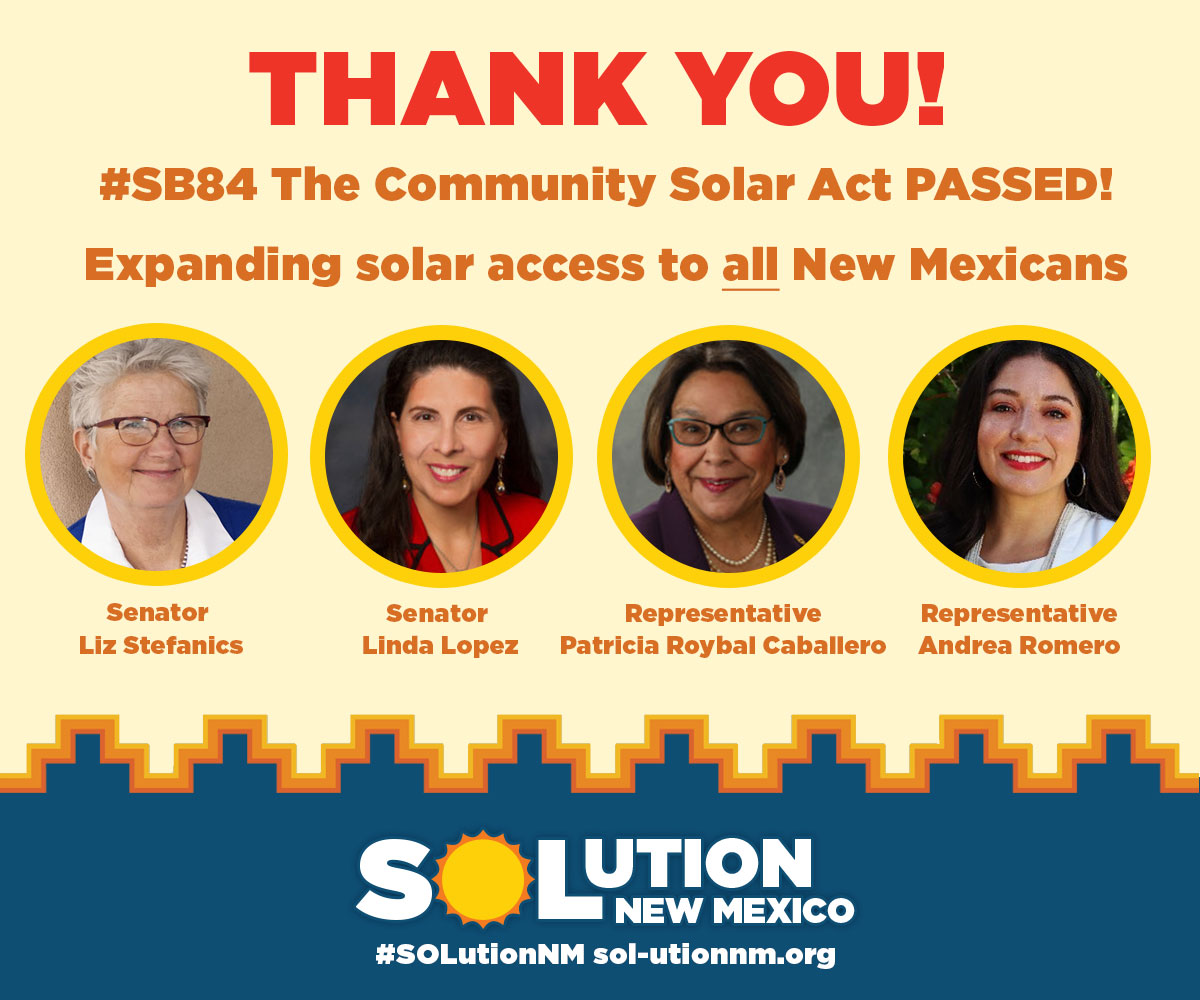 Thank you Senator Liz Stefanics, Senator Linda Lopez, Representative Roybal Caballero, Representative Romero, and all New Mexican legislators who voted YES to pass SB 84.
Thank you to everyone who joined together for solar for all, especially to the Tribal Community Solar Task Force and over ninety stakeholders in the Community Solar Working Group who thoughtfully crafted legislation that will benefit all New Mexicans and move New Mexico forward on a just transition.
Thank you to over a thousand New Mexicans who signed letters and petitions and made calls.
We're proud to be part of SOLution New Mexico. Thank you to all the organizers who were part of this victory, including the Tribal Community Solar Task Force, the 90+ stakeholders in the Community Solar Working Group, and our partners in the SOLution New Mexico Coalition, including Conservation Voters New Mexico, NM Native Vote, Coalition of Sustainable Communities New Mexico, Coalition for Community Solar Access, Western Leaders Network, Rio Grande Chapter of the Sierra Club, GRID Alternatives, and student leaders at YUCCA Action.
We're grateful for the leadership from Native communities who helped push this forward, including Bernadette Cuthair, Joseph Hernandez, Ahtza Chavez, Pilar Thomas, Tim Willink, and Darrick Lee. This is your victory.
We give special thanks to Governor John Antonio Sr., Pueblo of Laguna for supporting SB 84 and the mindful placement of renewable energy projects that serve energy needs, reduce costs, protect the environment, and maintain the integrity of traditional Pueblo and Tribal communities.
We appreciate leaders from OE Solar, New Mexico Voices for Children, YUCCA Action, Earth Care NM, and more who spoke out for solar for all. We're one step further to rebuilding New Mexico's economy and rural communities with clean, locally produced community solar.
Through SB 84, all New Mexicans will be able to benefit from access to solar energy and savings on their electric bills. And Tribes and Pueblos will gain control over their energy future. We'll continue to work on how SB 84 is implemented to serve all New Mexicans.
We also congratulate the Power4NM Coalition which successfully achieved passage of Senate Bill 112, which establishes a Sustainable Economy Task Force.
Lastly, a heartfelt thank you to Ben Calabaza at iRoots for your creative vision and contributions to SOLution NM. Ben is supporting an exhibition at The Wheelwright Museum – Indigenous Women: Border Matters, exploring the work of four Indigenous women artists.