Esperanza Vielma – A Champion for Environmental Justice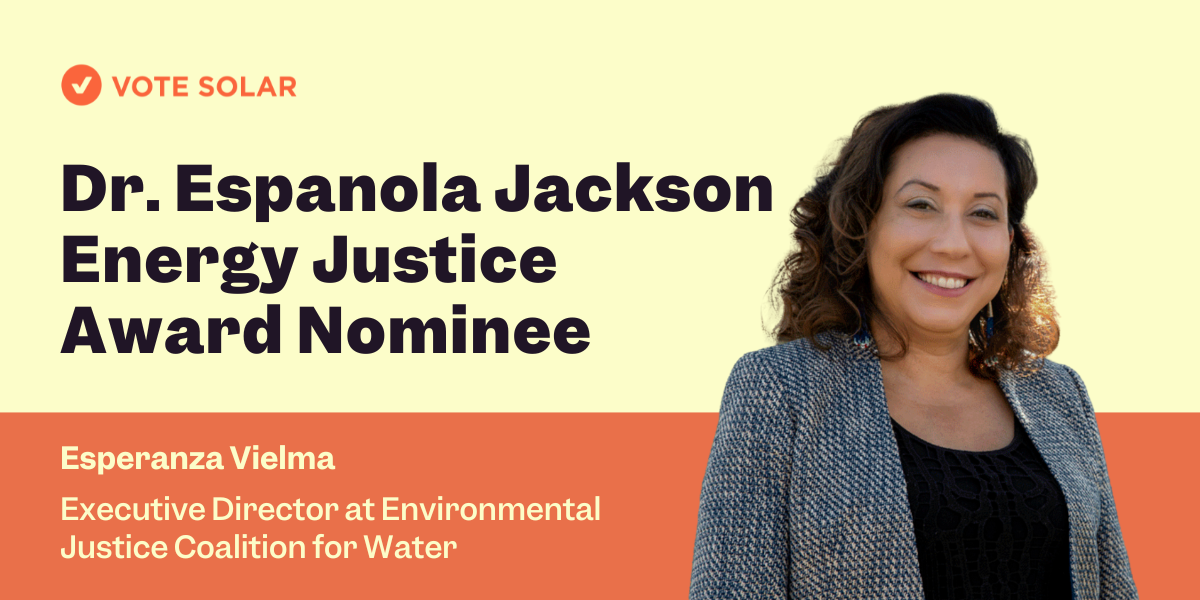 In the heart of California's San Joaquin Valley, there is a passionate and determined advocate for underrepresented communities, Esperanza Vielma. As the Executive Director of the Environmental Justice Coalition for Water (EJCW), Esperanza is deeply committed to addressing the inequities and injustices faced by disadvantaged communities, particularly communities of color.  Driven by a vision to serve and uplift her community, Esperanza has become a trailblazer for environmental justice, leveraging her skills, knowledge, and relentless spirit to create positive change.
A Journey of Advocacy:
Her journey began in Southside Stockton at an early age, where she witnessed firsthand the challenges faced by marginalized populations and recognized the importance of advocating for underserved communities. As she transferred from San Joaquin Delta College to the University of California, Berkeley, she honed her skills for environmental justice advocacy. Throughout her academic journey, she served on the UC Berkeley Chicanx Latinx Alumni Association board and the Cal Alumni Association (CAA) Board of Directors, embodying the spirit of service and leadership.
As a founder and Executive Director of Café Coop, the first incubator in the county to serve marginalized communities, Esperanza is fostering social consciousness and emerging technologies. Café Coop supports micro-businesses and start-ups in incubating their ideas, with a special focus on women of color-owned ventures. One of the remarkable projects under her leadership was the transformation of the largest Frito-Lay manufacturing facility in Modesto, CA, into a showcase of sustainability through zero-emission (ZE) and near zero-emission (NZE) technologies. This innovative initiative, supported by the California Climate Investments (CCI) initiative, reduced greenhouse gas emissions by over 90 percent, leaving a lasting impact on the environment.
Championing Environmental Equity:
Esperanza Vielma co-founded the Coalition for Equity and Economics (CEEE), a statewide Environmental Justice Coalition striving to ensure equitable access to rooftop solar for vulnerable communities. With a keen focus on bridging the gap of environmental disparities, CEEE is committed to empowering communities through renewable energy solutions.
In her role as Executive Director of the Environmental Justice Coalition for Water (EJCW), Esperanza took action to establish the first Disadvantaged Community (DAC) Task Force for the Greater San Joaquin County Integrated Regional Water Management (IRWM) Region. By recruiting community stakeholders, she enabled meaningful participation in shaping water management policies, ensuring that the voices of disadvantaged communities are heard and their needs met.
A Community Expert and Advocate:
Esperanza Vielma's expertise and dedication have not gone unnoticed. In recognition of her outstanding contributions, she was selected as a community expert for the California Air Resources Board Community Engagement Model, where she continues to play a pivotal role in advancing community-driven environmental solutions.
Her leadership extends to the San Joaquin Valley Air Pollution Control District (SJVAPCD), where she served as chair of the Environmental Justice Advisory Group and is now an active stakeholder in the AB 617 Stockton Steering Committee. Through her advocacy efforts, Esperanza ensures that environmental justice remains at the forefront of policy-making and decision-making processes.
Conclusion
:
Esperanza Vielma's journey as a leader for environmental justice is a testament to the power of passion, dedication, and community-driven advocacy. From her roots in Southside Stockton to her far-reaching impact across the San Joaquin Valley and California, she continues to empower underrepresented communities and create a more equitable and sustainable future for all. As she stands as a finalist for the esteemed Dr. Espanola Jackson Energy Justice Award, we express our gratitude for her remarkable contributions.