Gov. Pritzker highlights clean energy in State of the State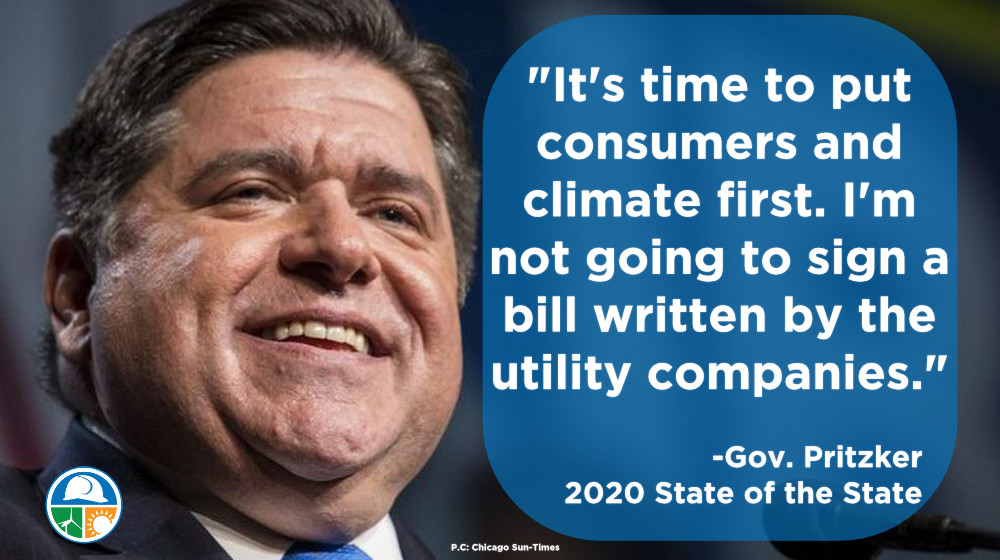 Today, Governor Pritzker issued his State of the State address. He talked about how far the state has come under his leadership, choosing to highlight his action on diversity, equity, and inclusion and economic prosperity. Looking forward, he called out clean energy and his plans for quick, bold action:
"Our spring agenda must also address the pressing issue of adopting new clean energy legislation that reduces carbon pollution, promotes renewable energy, and accelerates electrification of our transportation sector. We saw the effects of climate change right here in Illinois last year with a polar vortex, devastating floods, record lake levels, and emergency declarations in more than a third of Illinois' counties.
Urgent action is needed — but let me be clear, the old ways of negotiating energy legislation are over. It's time to put consumers and climate first. I'm not going to sign an energy bill written by the utility companies."
Thank you, Governor Pritzker, for reaffirming your commitment to passing clean energy legislation that puts consumers and climate first. The Clean Energy Jobs Act does just that, while also centering issues of equity and access.
We look forward to continuing to work with the Governor and the state legislature to ensure that all Illinois residents can benefit from an equitable clean energy transition that leaves nobody behind.