Happy Energy Independence Day
The news these days can feel overwhelming, yet when I look at what's happening in the solar movement, I find hope. I've always felt that one of the truly transformative promises of solar is its ability to provide a path to energy democracy. Solar is special because it gives power to the people. This past month, I witnessed the strength of this movement. I saw moms and kids, veterans and union representatives, nurses and civil rights leaders all united in calling for a better way forward on energy. And I saw the power of public engagement to drive meaningful solar policy progress in state legislative and regulatory forums across the country.
So, as you head out for summer barbeques and 4th of July celebrations, I wanted to share some highlights of citizen engagement and solar success, and thank you for joining together and working to make our world better through solar.
Happy (energy) independence day all.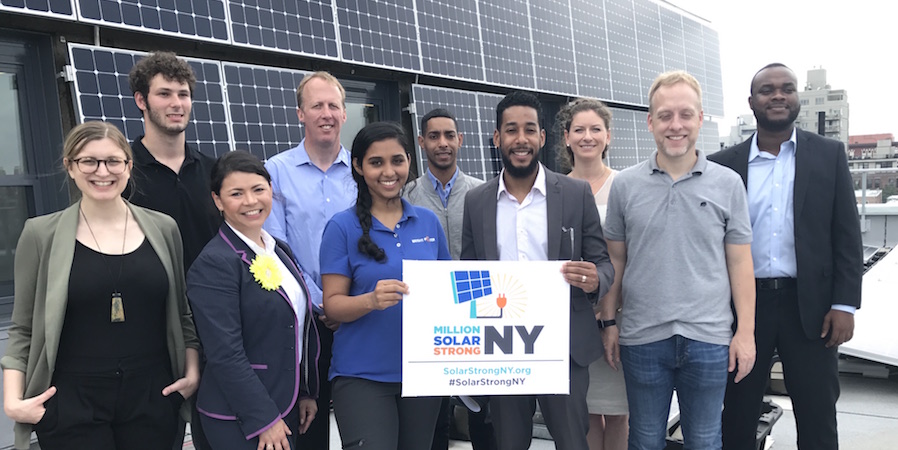 Introducing New York's Million Solar Strong Campaign
Vote Solar joined local and national groups in Albany, NY to launch the Million Solar Strong Campaign — calling on Governor Cuomo to power one million homes with solar energy over the next five years and accelerate an equitable transition to clean energy. We are proud to be part of this diverse coalition of industry, environmental, justice and community organizations, all united by the vision of a strong clean energy economy that works for all New Yorkers. Over the next few months, we'll be taking the show on the road, from Brooklyn to Buffalo, to show how solar is already working for communities across New York and urge the Governor to make his boldest solar commitment yet. Help spread the word!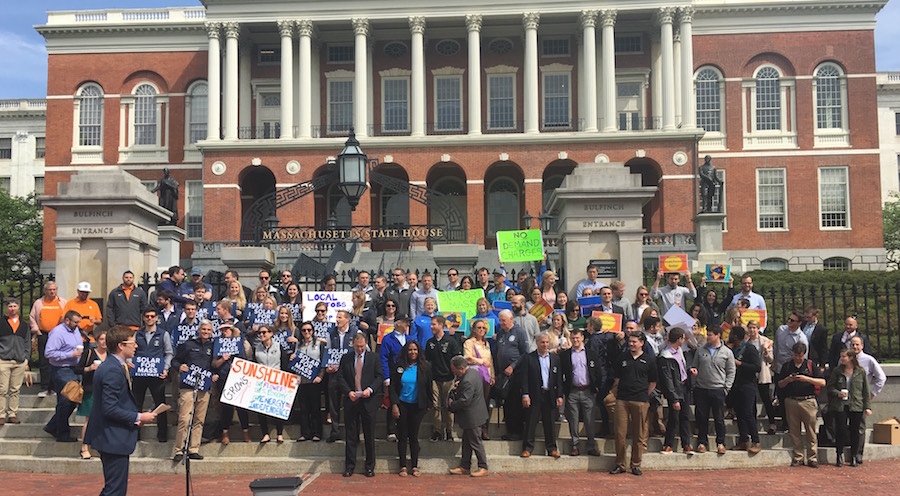 Expanding Solar Access in Massachusetts
Over the past weeks, hundreds of Massachusetts residents and solar workers sent emails, made calls, and met with lawmakers at the capitol to urge critical solar action. And our message was heard loud and clear! The state Senate passed major clean energy legislation that would remove an arbitrary net metering cap that's currently preventing communities and consumers across the state from going solar, and put Massachusetts on a path to 100% clean energy within 30 years. ONE HUNDRED PERCENT! Now the legislation goes to the House of Representatives. We are urging them to get the job done and raise the solar caps before the session ends this month.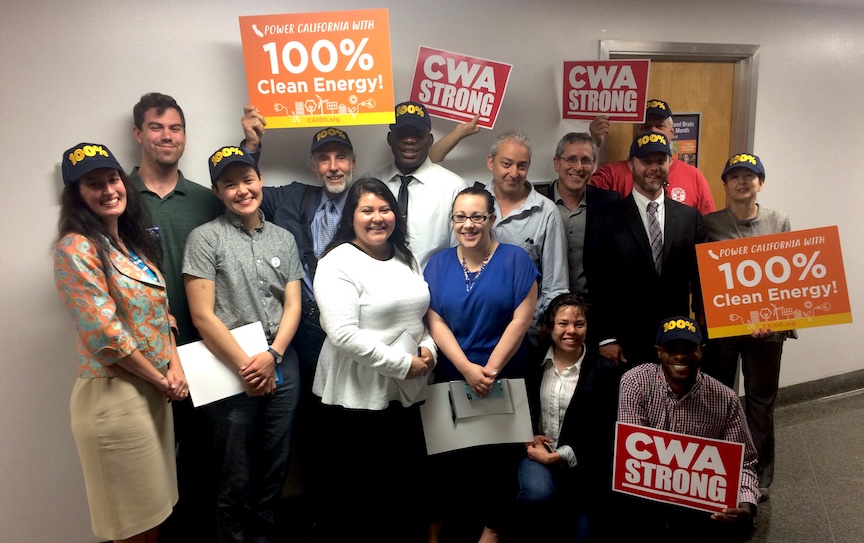 One Step Closer to a 100% Clean Powered California
Vote Solar joined more than a hundred clean energy supporters in Sacramento to ask California's lawmakers to pass Senate Bill 100, and commit California to getting 100% of its power from clean energy by 2045. This incredibly inspiring cohort of moms, students, civil rights leaders, union members, nurses and workers all spoke up for 100% clean energy for California — and legislators got the message. Within 24 hours of our day of action, state lawmakers took a critical next step: scheduling a hearing and potential vote for SB 100 in the Assembly Utilities and Energy Committee on July 3. Now we are urging Assembly members to get this bill across the finish line for our health, our communities and our climate.
No Blank Check for Duke Energy In North Carolina
When utility giant Duke Energy proposed $13.8 Billion in misguided 'modernization' expenses that would be costly for consumers and slow clean energy progress, our regulatory experts worked with local groups to push back. After making the technical case that the vast majority of those proposed costs were unnecessary, and pointing out that jacking up fixed charges for customers would disincentivize solar and efficiency, we're happy to report that regulators rejected Duke's pricey Power / Forward proposal. We won this one, but it's part of a worrying trend from Duke and utilities across the country that are trying to gold-plate the power grid to boost shareholder profits and limit consumer solar options, all at the expense of their customers — and it's one that we are committed to working to stop.
Nevada Doubles Down on Renewable Energy
Nevada solar has seen some real ups and downs, and after many years of hard work, we are proud to be part of a diverse and powerful coalition that is delivering a decidedly sunny outlook in the Silver State. Last month, Nevada's clean energy transition got another boost when the state's largest utility, NV Energy, announced an unprecedented investment in solar and clean energy. Now under review by state regulators, the plan calls for doubling renewable output, adding a whopping 1,000 megawatts of new solar, and a commitment to expanding solar options for communities and low-income families. After the six months of calls, meetings and workshops it's exciting to see that NV Energy agrees: solar energy is lower cost, reliable and ready to power Nevada's communities and economy.