Illinois Can Lead the Way to 100% with the Clean Energy Jobs Act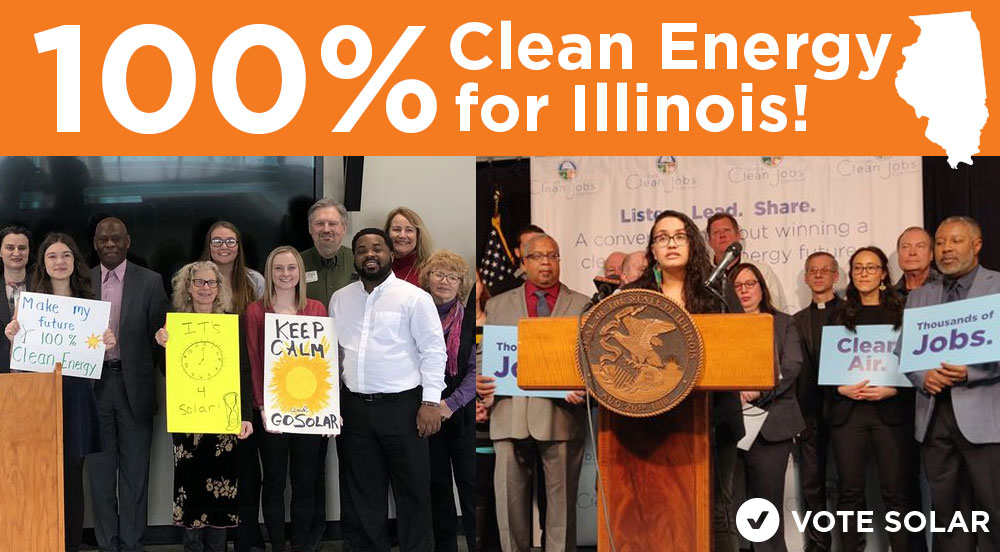 Illinois state lawmakers are back from soaking up the sun on summer break. Now it's time to set Illinois on the path to 100% clean energy. This bold but achievable goal would put more of our local renewable resources to work for Illinois, creating more jobs, reducing harmful pollution, and building a healthier and brighter future for our children.
Illinois is leading the way in the Midwest, with over 123,000 residents employed in clean energy. Right now, however, that clean economy is at the edge of a cliff.
Thousands of people have been hired for local after passage of the Future Energy Jobs Act in 2016. But these people are now at risk of losing their jobs. The Clean Energy Jobs Act (CEJA) will protect these vulnerable workers while setting Illinois on a path towards 100% clean energy. It will provide direct benefit to Illinoisans throughout the state, ranging from farmers securing long-term solar lease payments to returning citizens who are having difficulty finding employment.
We can get to 100%, create tons of stable clean energy jobs, and drive economic prosperity, all while keeping costs low for consumers.
Live in Illinois? Take Action for Clean Energy Jobs & a 100% Clean Energy Future >>
Jobs & Justice
All of Illinois will reap the benefits of a transition to 100% clean energy, especially communities most burdened with pollution from dirty energy and transportation industries.
CEJA is founded on ensuring that the economic benefits of clean energy are shared equitably across every part of the state. While everyone will benefit, Illinois communities in most need have the most to gain from smart, equitable energy policy that can create jobs and economic growth throughout Illinois.
This bill will create new opportunities focused on ensuring a more equitable clean-powered workforce:
Clean Jobs Workforce Hubs: a network of frontline organizations that will provide direct and sustained support for communities of color and underserved communities.
Incentives for companies that implement equity actions to ensure equitable participation in Illinois' clean energy workforce.
A new Contractor Incubator program that will focus on the development of underserved businesses in the clean energy sector.
Savings & Economic Growth
Passing CEJA will accelerate job growth and innovation, driving more than $30 billion in private investments to make Illinois a nationally-leading energy economy.
Illinoisans will also gain more control over their energy choices, and save the state on costs to help lower bills for consumers — rather than paying more to support outdated, expensive, dirty fossil fuel power plants.
Public Health & Climate
Transitioning away from fossil fuels will also clean up the air we breathe and the water we drink.
The burden of our current energy infrastructure falls most heavily on low-income families. We urgently need to fight pollution to protect children and families from asthma and other pollution-driven health impacts, and start to address the history of inequity and climate injustice in underserved communities.
And we know that the climate crisis won't solve itself. Vulnerable communities are already impacted by the changing climate, and time is running out to prevent global catastrophe. Illinois can do our part and take the lead in fighting climate change by shifting to cleaner, smarter ways to power our future.
Given that vehicle emissions are currently the largest source of climate pollution in the state, CEJA also supports Illinois' transition to electric vehicles and charging infrastructure. Additional rebates and incentives are provided for low-income homeowners and public buses in environmental justice communities.
Take Action for 100%
Illinoisans: We know that clean energy makes us stronger — and that Illinois voters like you are ready for action. Together, we can expand the benefits of solar and wind to more Illinois families.
Call on Governor Pritzker and your elected leadership to support a 100% clean energy bill in Illinois: Pass the Clean Energy Jobs Act!
Plus: Learn more about the Clean Energy Jobs Act from the Illinois Clean Jobs Coalition.