Intern Spotlight: Deanna Pierre-Louis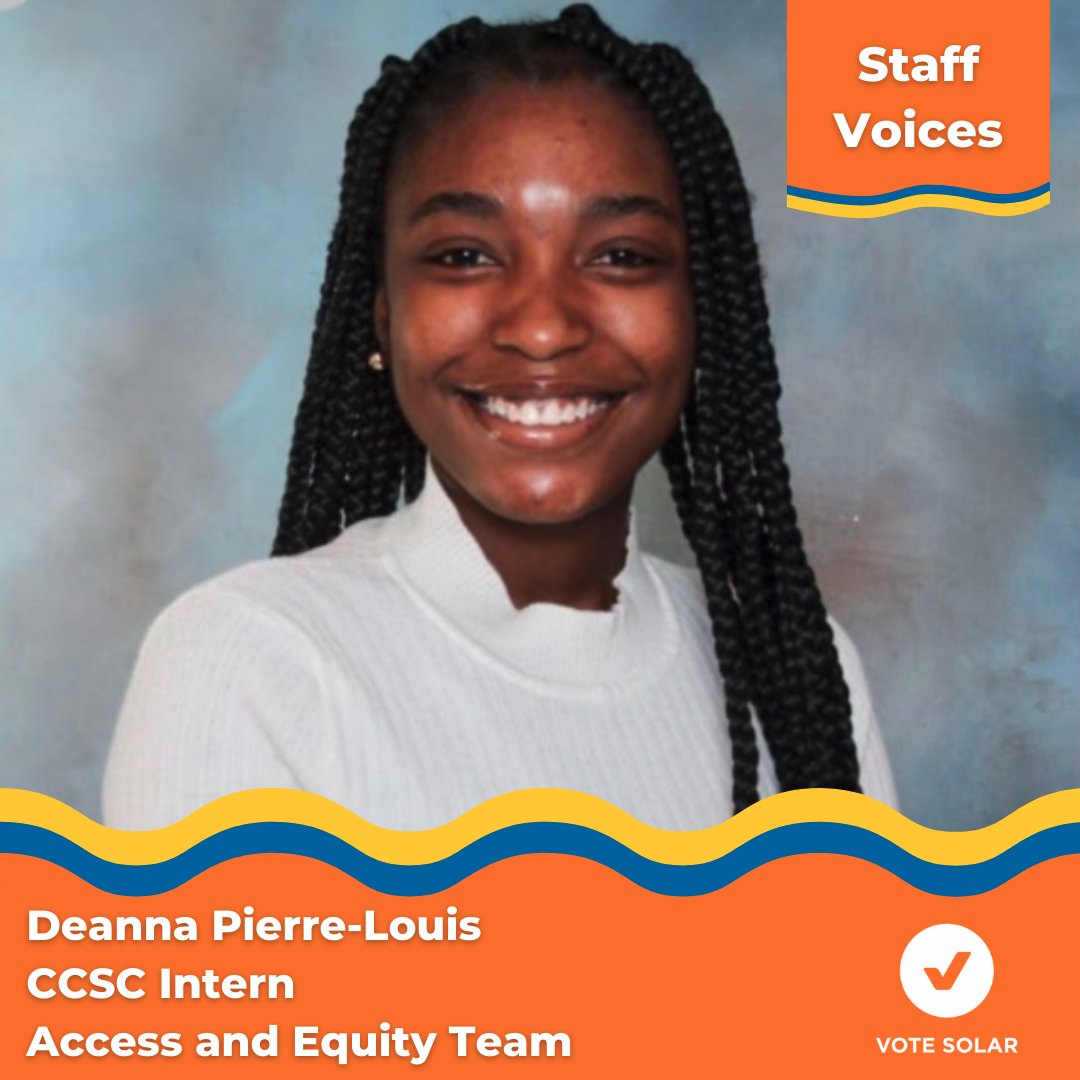 This spring, our Access & Equity team is joined by Deanna Pierre-Louis and Nebyou Abraham, two incredible interns from Community Charter School of Cambridge who are furthering their work in energy justice. Deanna shares her story in this spotlight. Part of a series: Vote Solar Staff Voices
My name is Deanna Pierre-Louis. I am a senior at the Community Charter School of Cambridge (CCSC). I was born and raised in Cambridge, Massachusetts to a Haitain mother. I grew up with two older sisters. They are important figures in my life. Although my mom instilled certain practices in my life that I used still to this day, my sisters were the ones who shaped me growing up. One practice that I acquired from them is advocating for myself and others. I became more vocal throughout the years on issues that are important to me.
In the tenth grade I took a trip to Arizona with a group of people through a program called Summer Search and stayed with a Native American family in the mesas. We learned about their story and how sustainable energy is not always provided for them and how they have to resources around them in order to manage their lifestyle. I knew that this was an issue not just in Arizona but all over the country.
My time at Vote Solar has been phenomenal. I enjoy learning about the ways in which Vote Solar combats the issue of solar energy access for underrepresented communities. I enjoy interning at Vote Solar because the people I've met are inviting and pure. I learned about the different departments that Vote Solar has. I thought the majority of the people at Vote Solar would be science-focused, but that's not the case. Vote solar has a diversity of departments. Staff focus not only on solar policy and advocacy, but there are people that do administrative work, communications and fundraising.
One new skill I learned at Vote Solar is being able to research and share out the information I learned. Another skill I learned is networking. For example, I was able to connect with Mayane Barudin, Interior West Director & Tribal Liaison, and learn about her position here at Vote Solar.
My plans after interning at Vote solar are to go to college and possibly minor in sustainability or take courses relating to the environment.