Intern Spotlight: Nebyou Abraham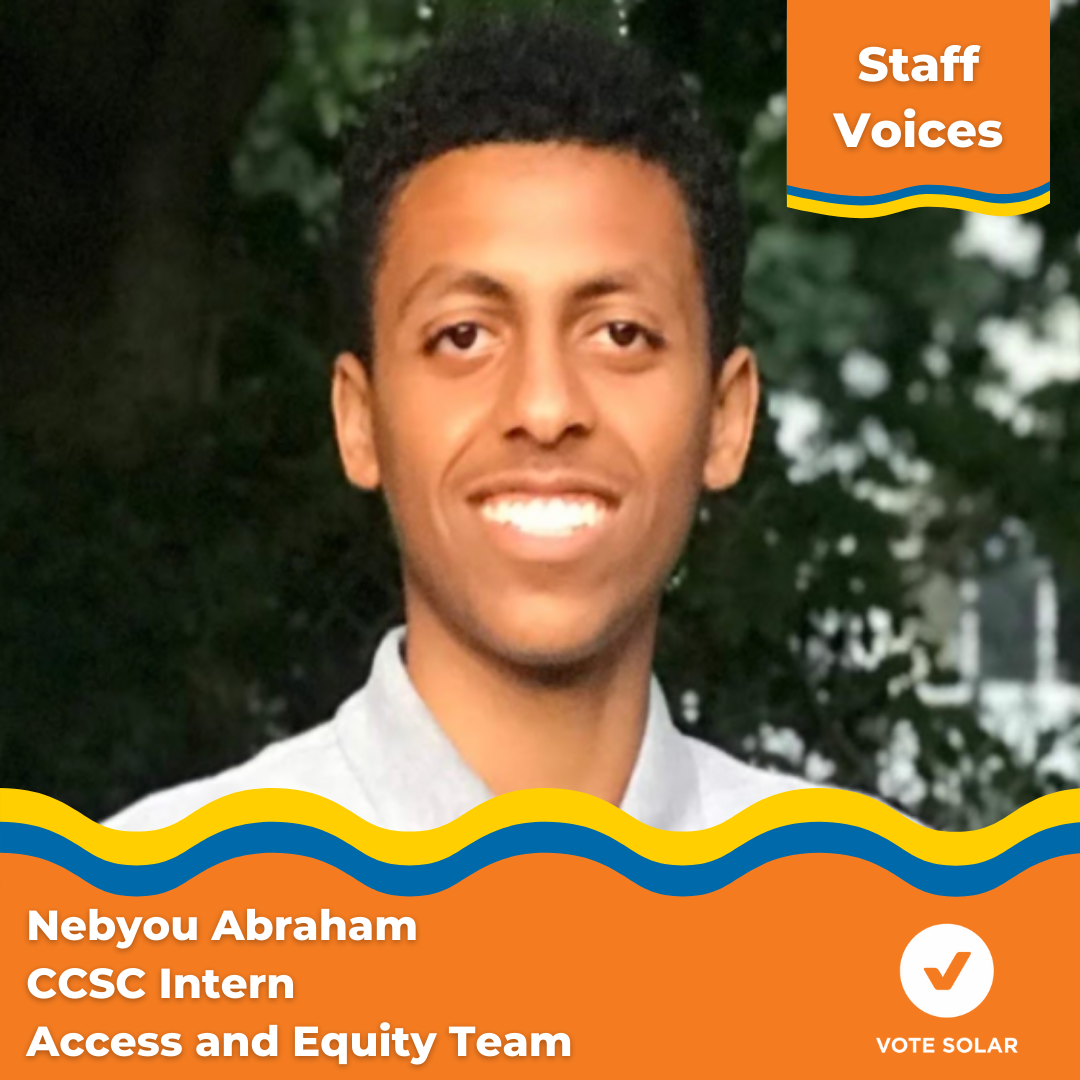 This spring, our Access & Equity team is joined by Deanna Pierre-Louis and Nebyou Abraham, two incredible interns from Community Charter School of Cambridge who are furthering their work in energy justice. Deanna shares her story in this spotlight. Part of a series: Vote Solar Staff Voices
My name is Nebyou Abraham. I am currently a senior at CCSC in Cambridge, Massachusetts. Once graduated, I will be heading to the University of Massachusetts in Boston. Also, I was an intern for Vote Solar this year, as part of the senior internship program at CCSC.
My experience at Vote Solar has been a joy and an honor. I had the opportunity to interview and meet new people within the organization. I also had the opportunity to lead an interview, something I haven't done before. Vote Solar showed me a real life experience of working at a company and having tasks to complete each week. All these experiences and opportunities have prepared me and opened my eyes to working in the real world.
During my time at Vote Solar my advisor, Brandy Hyatt, has been a constant presence and guide. She has helped me with many things. For example, she has helped me understand the nuances on how to facilitate an interview and keep it fluid instead of stagnant and uncomfortable. This helped a lot when I interviewed a couple of the Vote Solar staff. The advice she gave me resulted in a really interesting and interactive interview. Brandy has also helped me with my presentation skills. When it comes to presenting, I have the basics down, but she helped me get to the next level.
One week Brandy assigned us with a task of making a presentation about a young climate activist and basically presenting about them to Brandy and my work mate. The presentation went well overall but she mentioned that I need to be more concise with my explanations and this helped me a lot with just getting to the point. These two new skills will help me in the future as presenting and interviewing are important skills when applying for jobs and presenting about an idea in college. Anywhere I go, I am going to have to present something.
The skills and knowledge that I gained from this opportunity will help me down the road and I am looking forward to tackling bigger challenges with them. After this opportunity I am looking forward to heading into my freshman year in college to study Computer Science and will find a way to integrate environmentalism in my studies. My interest in environmental studies has risen a lot after this opportunity. On this note, it was a pleasure working with Brandy Hyatt and Vote Solar!