Leading New York to Net Zero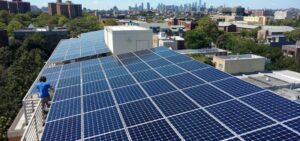 The passage of the Climate Leadership and Community Protection Act (CLCPA) was a transformative moment for New York State, and the result of many years of persistent, and courageous organizing and activism. As climate advocates and renewable energy experts knew, it also marked the starting line for much more hard work.
I was honored to be appointed to the Power Generation Advisory Panel (PGAP) of New York's Climate Action Council (CAC) to help face the challenge head-on. We were tasked with the exciting — yet daunting — job of shaping the power sector's path to reaching zero emissions by 2040. After months of knowledge sharing and deliberation, the PGAP submitted final recommendations to the Climate Action Council this May.
As we look ahead to New York's clean energy future, the most urgent priority must be moving our state's power grid away from fossil fuels. That's why we advised CAC to issue a moratorium on the permitting, licensing, and construction of any new fossil fuel generating facility. Pressing pause on dirty fossil fuel plants will pave the way for rapid deployment of renewables and energy efficiency measures, while also allowing stakeholders to plan for the implementation of stricter regulations on natural gas going forward.
A hallmark of the CLCPA is its commitment to prioritizing underserved communities and ushering in a just transition. One of the council's biggest challenges was developing clear and actionable paths for the power sector to deliver on that promise — beginning with the necessity of accurate, reliable data. Our recommendations include comprehensive research, tracking, and analysis of a number of factors to ensure that the benefits of the CLPCA are felt by the communities most harmed by climate pollution.
First, it's critical to have a common understanding of what a benefit actually is. After all, the term is little more than a buzzword if it is not comprehensively and objectively defined. Vote Solar recognized and led the effort to create a standardized, inclusive definition of "benefit" under the law. Using this definition, the state should then track and report where public investments are being made, who is reaping the rewards, and what adjustments are needed.
Vote Solar and PGAP also highlighted the need for targeted and transparent research, both by the state's Public Service Commission (PSC) and by the New York State Energy and Research Development Authority (NYSERDA). Planning for a net-zero economy requires laying the groundwork now to guarantee resilience and reliability for the long-term. First, we need to understand how optimizing the grid for power generation, microgrids, and energy storage can move New York further and faster toward the benchmarks outlined in the CLCPA.
We also need reforms to the utility business model to align with our climate-impacted future. A thorough review and analysis of Earnings Adjustment Mechanisms (EAMs) — a system of performance-based ratemaking that would help influence utility earnings — will help neutralize utilities' incentive to delay or fight climate action. EAMs realign incentives based on achievements in green energy capacity and social equity. The PSC should both investigate the effectiveness of current EAM programs and institute additional ones where they are needed.
Finally, we identified the urgent need for the state to invest heavily in distributed renewables projects that will serve communities of color. New York policymakers have long relied on market-based approaches to try and serve communities of color and low income. These approaches have repeatedly failed. Ensuring that there is ample public funding for communities that need the benefits of renewables most, but also have the highest barriers to access, will hold the state accountable for the execution of the law.
I'm excited that Vote Solar was able to lend our deep expertise and our values to creating a clean and resilient power grid in New York, and that I personally had the opportunity to help drive energy equity in the state I call home. Crucially, recommendations to the CAC are just that, and the work to ensure our best thinking is finally enacted is just beginning.
As New York continues our acceleration toward a clean energy economy, the Vote Solar team will continue to build public engagement, cultivate strong relationships with partners, and guide policy that helps everyone thrive.