Meet the 2021 Dr. Espanola Jackson Solar Justice Award Nominees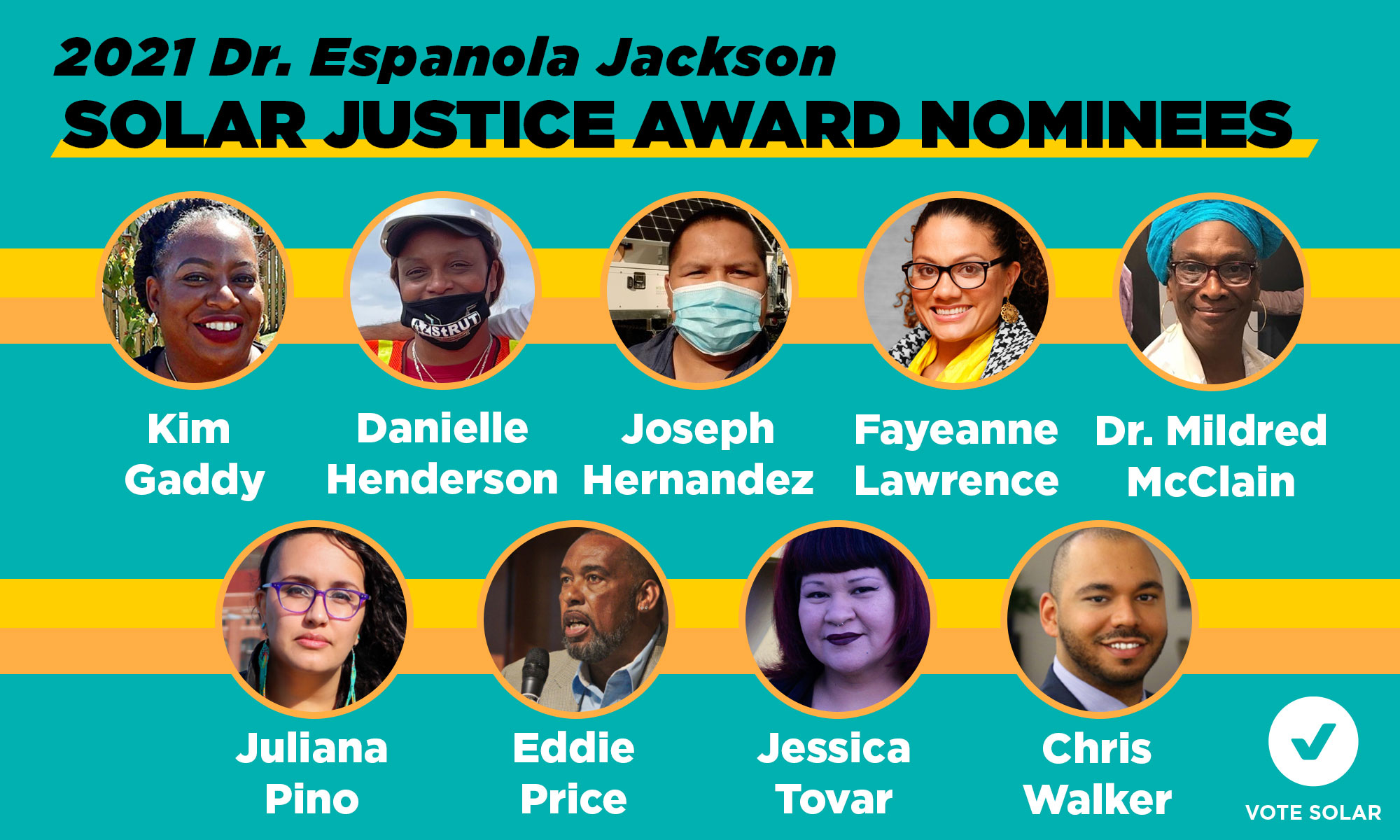 Meet the 2021 Nominees for the Vote Solar's Dr. Espanola Jackson Solar Justice Award! These changemakers serve as a model of environmental justice leadership and inspire us all to work toward a just clean energy transition. The award celebrates the legacy of a tireless environmental justice leader with a gift of $5,000 to the awardee's organization. 
Vote Solar is proud to honor outstanding solar justice heroes with the Dr. Espanola Jackson Solar Justice Award. In giving this award, Vote Solar aims to honor the critically important role of community-based activism by people of color in driving environmental progress and to increase visibility for the remarkable work of individual leaders. 2021 nominations are currently under review by the award committee. Thank you to all who nominated this year's inspiring nominees.
Save the date: July 14 We will celebrate this year's winner at a virtual event! Registration to come.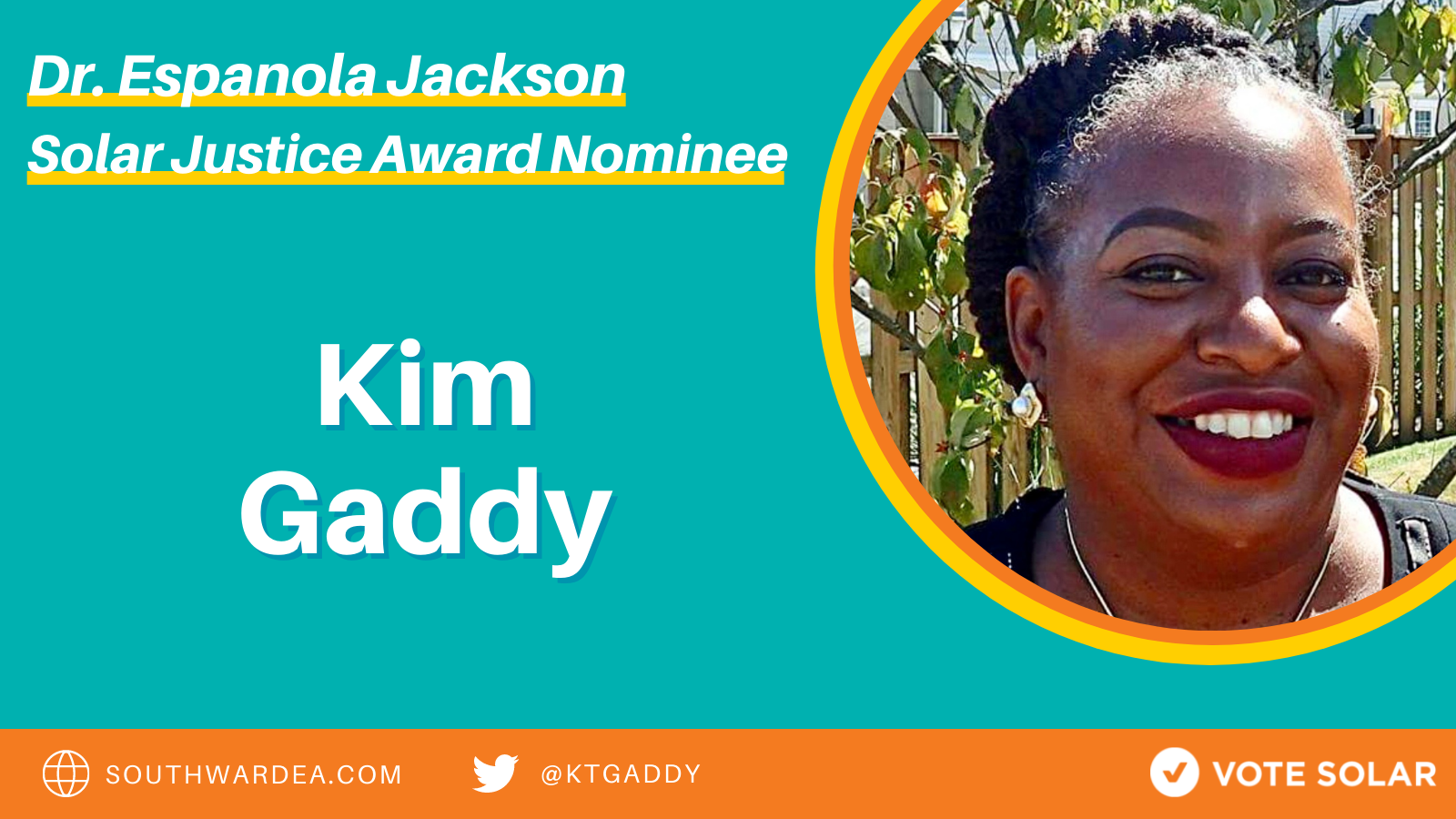 Kim Gaddy
Kim Gaddy has been a force for environmental justice in New Jersey for decades. She is a fourth generation Newarker and proudly represents her South Ward neighborhood wherever she goes.
She wears many hats from working as the National Environmental Justice Director with Clean Water Action, to Founder of the South Ward Environmental Alliance, where she continues her advocacy efforts for communities that have long been impacted by industrial pollution and the goods movement system in Newark. Kim also serves as Vice-Chairman of the Environmental Justice Advisory Council to the New Jersey Department of Environmental Protection and was appointed by Gov. Phil Murphy to the recently created New Jersey Council on the Green Economy.
Kim has also been active in supporting the Clean Energy Equity Act and other efforts to bring clean energy and family-sustaining green jobs to her community. She has empowered members of her community to be active solar advocates and is a skilled coalition builder.
Kim has a demonstrated commitment to community resilience & health. She speaks of how her experience raising 3 asthmatic children and losing her brother-in-law to an asthma attack have motivated her work for justice. We recognize Kim's tireless efforts and appreciate her service to the people of New Jersey. She was recently honored with the Russ Berrie Make a Difference Award. Thank you for being a long-time leader in New Jersey, Kim!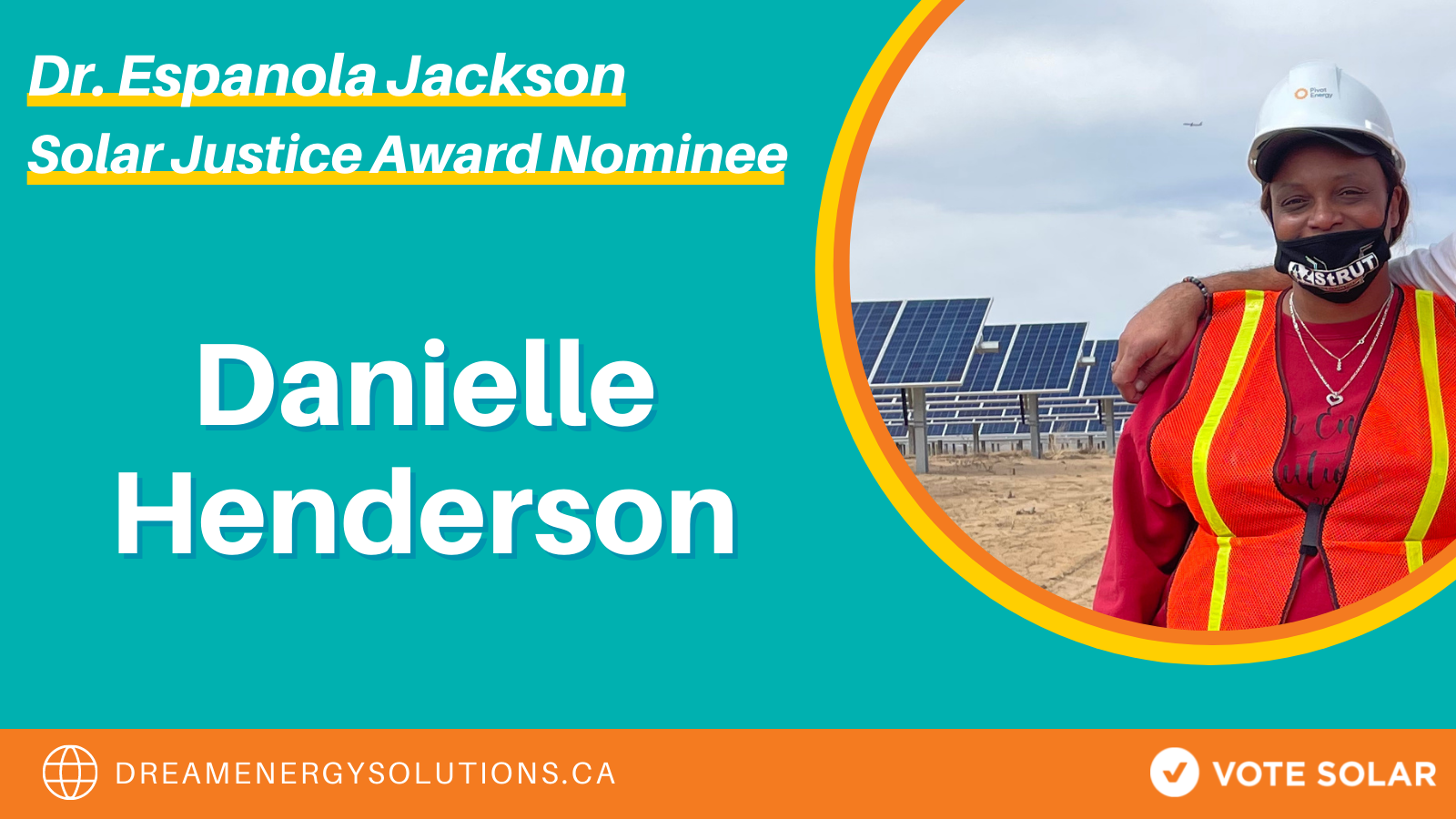 Danielle Henderson
Danielle Henderson is the founder and CEO of Dream Energy Solutions, one of the first Women/Minority-Owned Business Enterprises in the renewable energy sector. Through her company, Danielle has shown great leadership in expanding access and opportunities in solar.
Dream Energy has donated solar systems to families and businesses in a historically Black neighborhood of Denver. The systems delivered bill savings and in coordination with a local high school training program, created a pipeline of talent.
The Dream Energy Trade Training Program offers high school students training around the electrical, solar, and carpentry trades— all free of charge and with transportation stipends available! Education has been core to Danielle's work and we thank her for her leadership.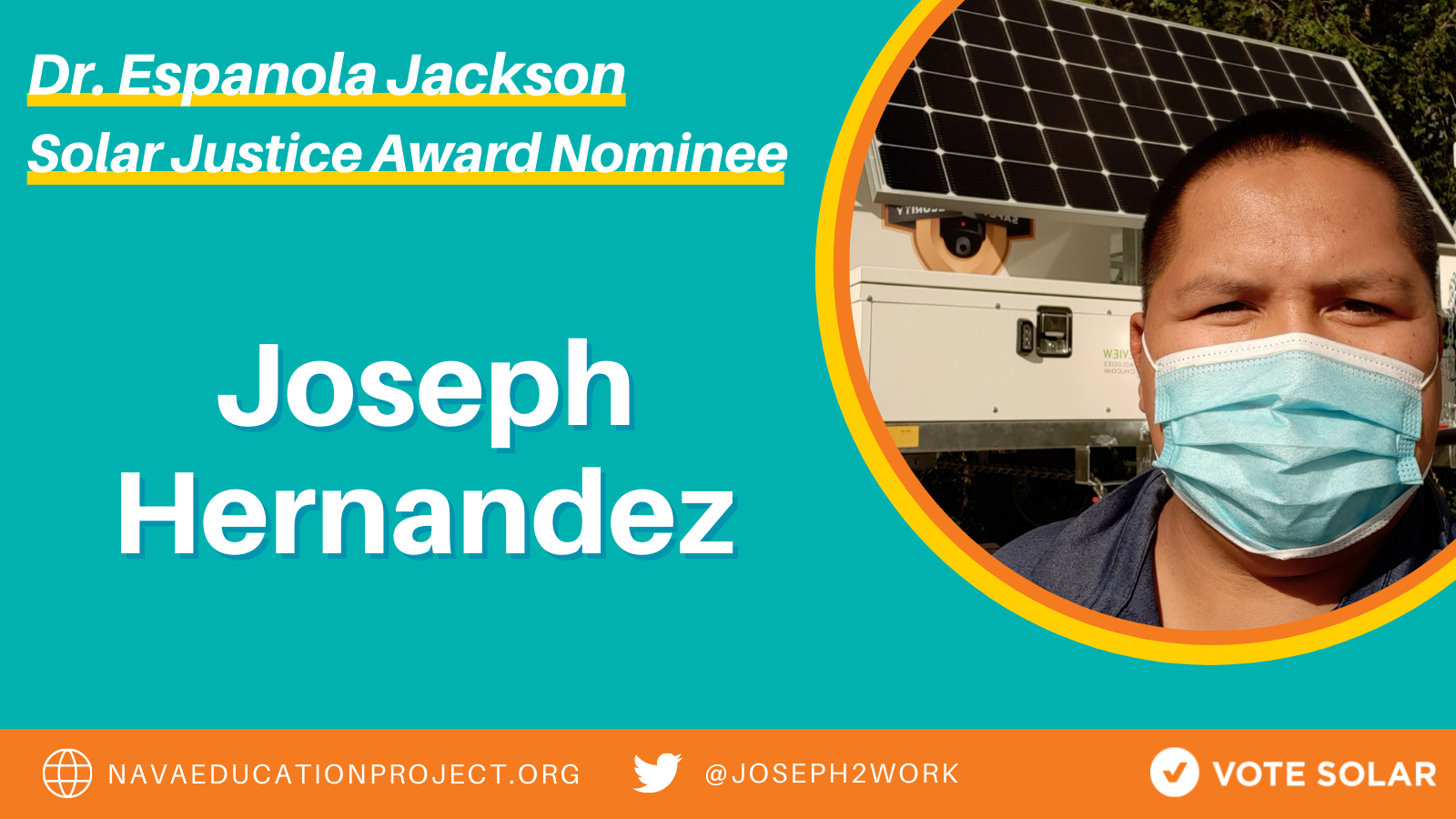 Joseph Hernandez
Joseph Hernandez, Diné Energy Organizer for NAVA Education Project, works on issues that impact Indigenous & small communities that otherwise wouldn't have a voice.
Joseph is based in the Navajo Nation, a vast area with minimal access to basic amenities including broadband, so he often goes door-to-door. Despite these limitations, he turned out huge support at virtual hearings for community solar. He shared info, activated community members, enabled elders' voices to be heard and helped local leaders share the importance of sustainable energy with low-income families.
Joseph's dedication to passing SB84 the Community Solar Act in New Mexico is just one example of his dedication to energy democracy and inclusive decision-making. His leadership as the Diné Energy Organizer and in his community are an example to all.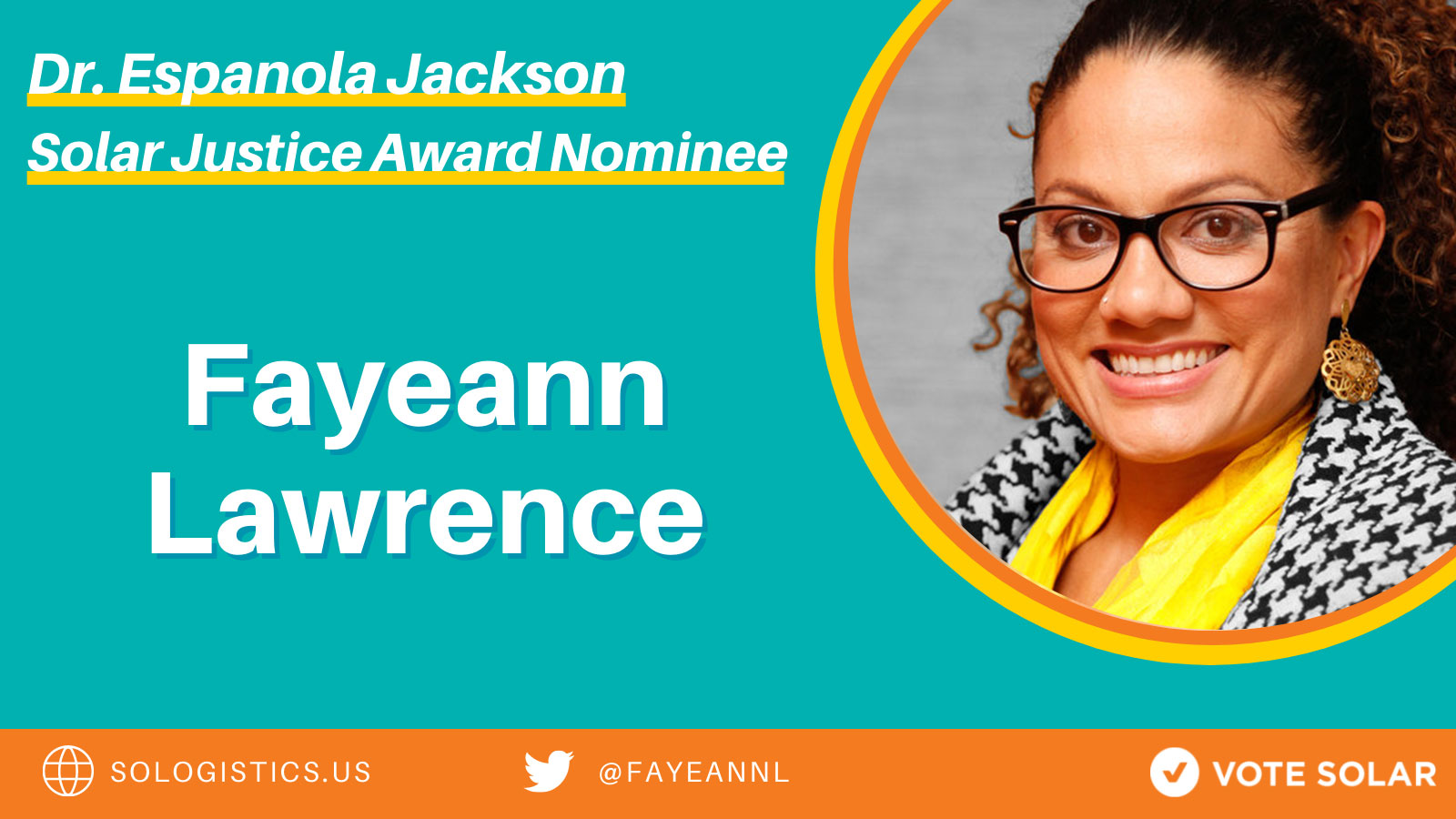 Fayeann Lawrence
Fayeann Lawrence is a leader in advancing solar energy and energy justice from New York to the Caribbean with exemplary leadership and contributions to solar as an innovator, entrepreneur, woman of color, and immigrant.
Fayeann is the founder & CEO of Sologistics, a solar engineering and design firm, offering strategic counsel, solar design, engineering, permitting, and utility interconnection services in the greater New York City area. Sologistics is a Minority and Women-Owned Certified Business Enterprise (MWBE) that employs over 60% women & over 50% people of color.
In New York, Fayeann has provided her expertise to the City of New York, SUNY, NYSERDA and NYSEIA, where she is a board member and inaugural member of the Justice, Equity, Diversity, and Inclusion Leadership Council. Originally from Trinidad & Tobago and currently residing in Grenada, Fayeann is mentoring youth and consulting for Grenada's Public Utility Regulatory Commission, fostering regulations that encourage an accelerated sustainable economy. Fayeann is also developing a training program to build the education and skills necessary to enter and advance careers in renewables in the Caribbean. Thank you to Fayeann for your leadership in renewable energy!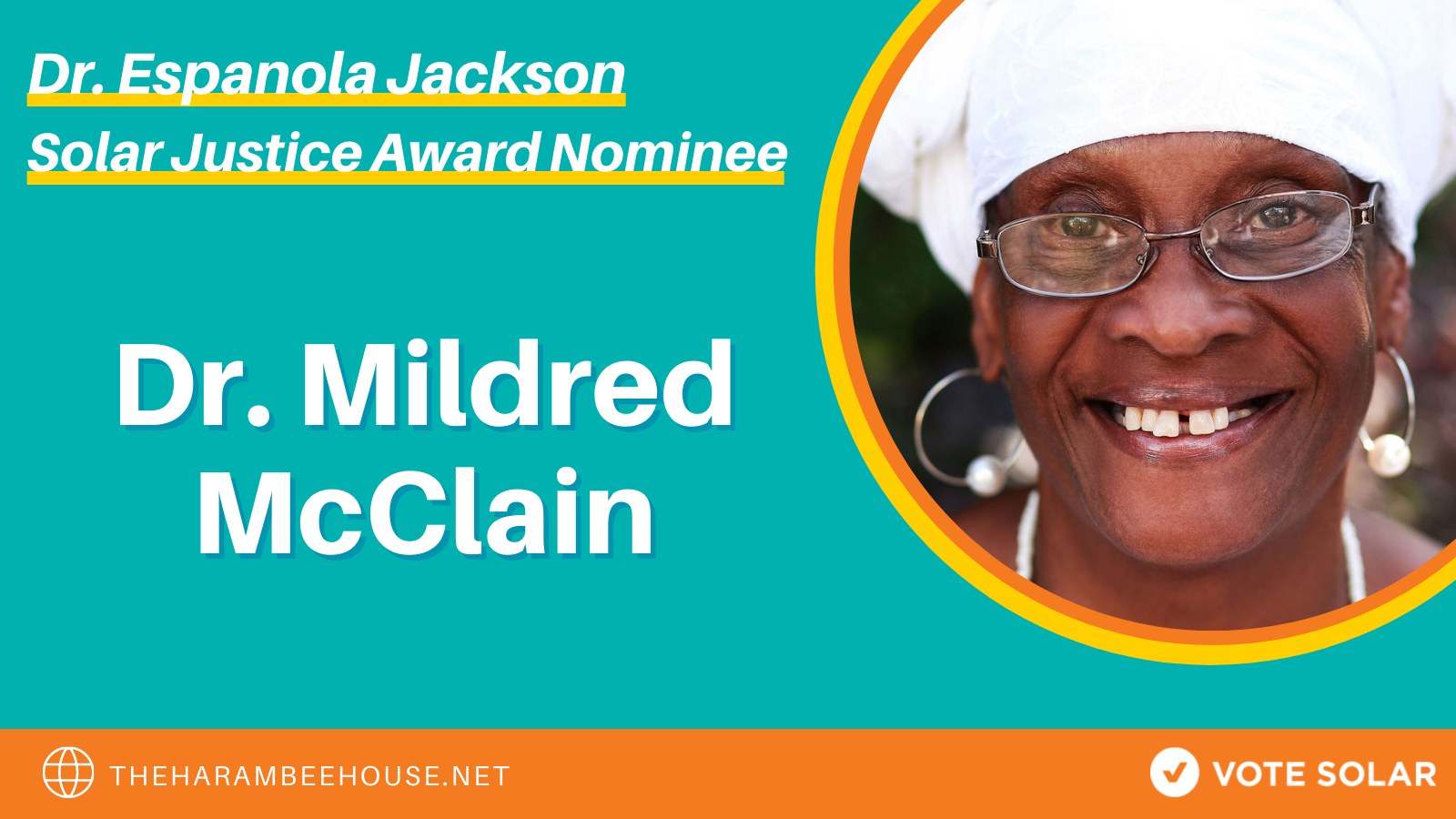 Dr. Mildred McClain
Dr. McClain (aka "Mama Bahati") has worked in the fields of environmental justice, education, community development, public health, and people's liberation struggles for over 50 years.
She currently serves as the Executive Director of the African American civic engagement group Harambee House / Citizens for Environmental Justice, and was a delegate at the World Conference Against Racism and the World Summit on Sustainable Development. She created major partnerships with the Department of Energy, Environmental Protection Agency, Agency for Toxic Substances and Disease Registry, Centers for Disease Control and many community based organizations, with the goals of addressing public health and environmental justice issues and concerns.
Now, Dr. McClain is working with Environment GA, the Climate Reality Project and others to push for a 100% clean, renewable and just energy commitment in Savannah, Georgia. Thank you to Dr. McClain for your lifelong leadership for intersectional justice and liberation.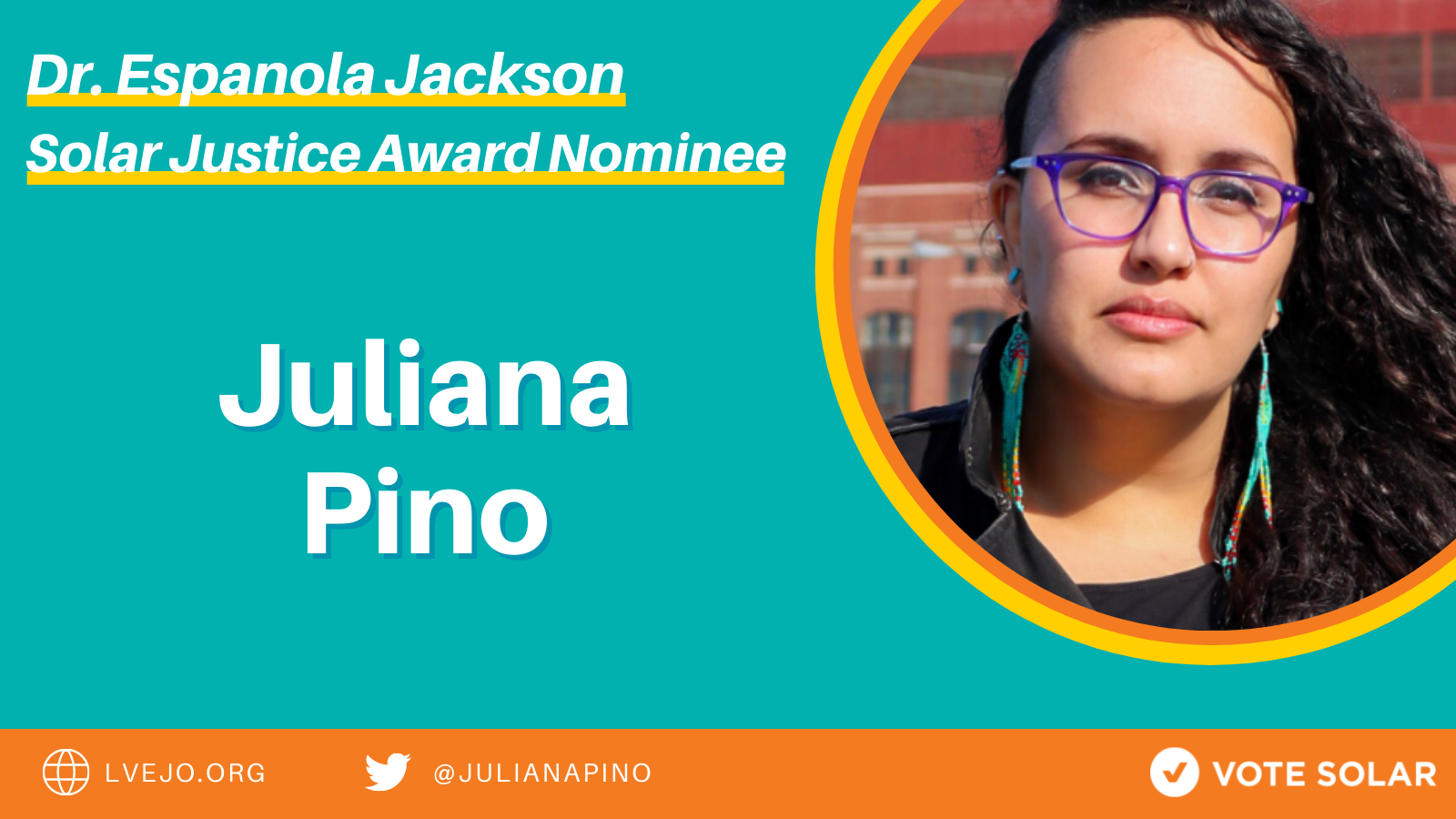 Juliana Pino
Juliana Pino serves as Policy Director of Little Village Environmental Justice Organization where she analyzes, researches, and advocates for environmental justice, climate justice, and economic justice in multiple policy arenas.
For over 4 years, Juliana has led a coalition/working group of community, environmental, and environmental justice organizations as well as solar companies to push for not only the creation of the Illinois Solar for All program via legislation, but to ensure environmental justice communities benefit.
Illinois's just solar future must include all communities and Juliana has led efforts to ensure programmatic goals are met and program administrators are held accountable for the implementation of the Solar for All program.
Juliana's work is rooted in community and she works to address multiple environmental injustices faced by the Little Village community in recognition that solar justice cannot exist in a silo. Thank you, Juliana, for your leadership and creating more opportunities for environmental justice communities to engage and lead in solar.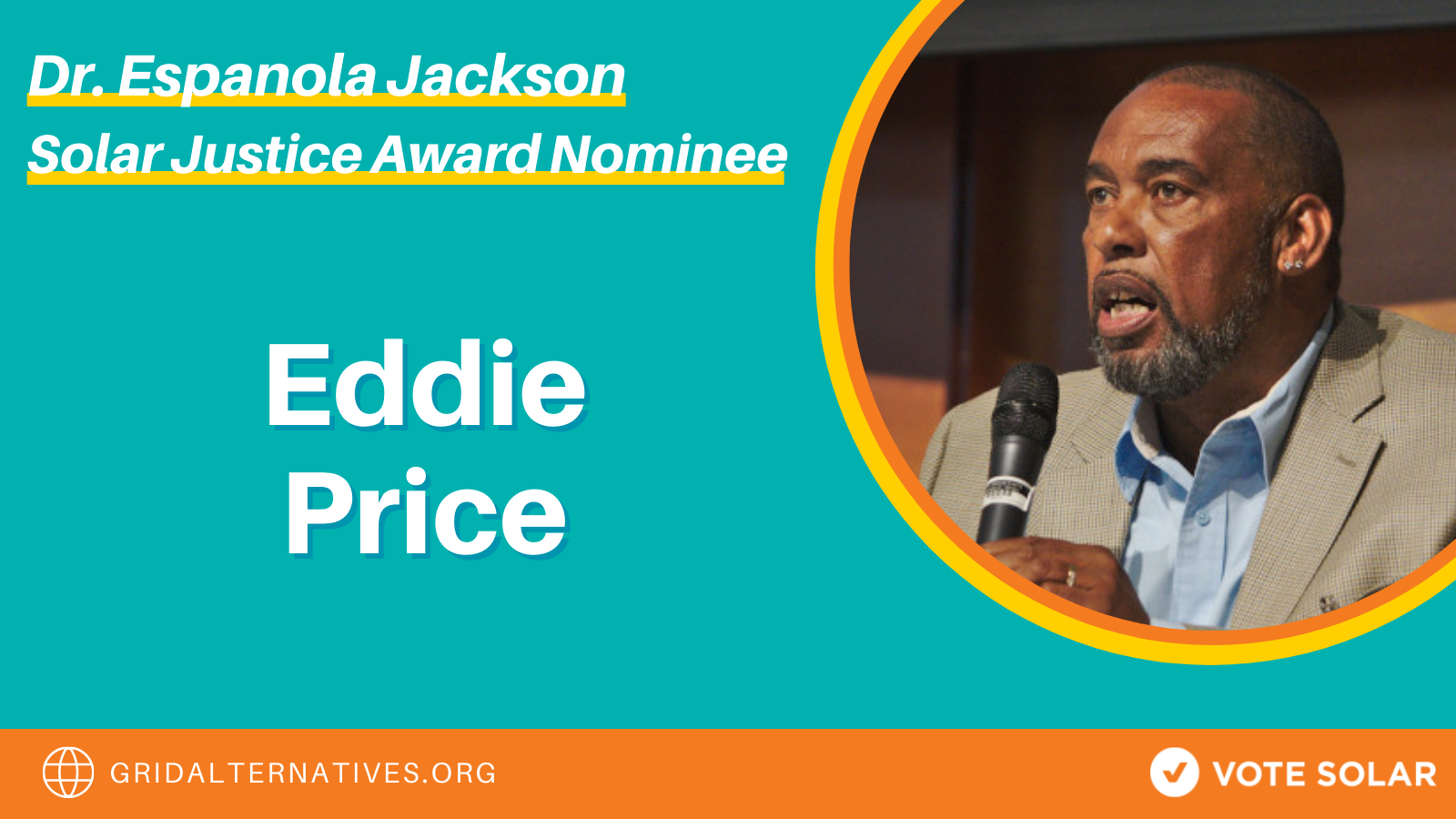 Eddie Price
Eddie Price is a Community and Workforce Development Coordinator with GRID Alternatives working to connect low-income families in his community of Southeast San Diego to clean energy and its benefits.
Eddie has helped triple the number of households in underserved San Diego communities receiving solar energy and developed a workforce development curriculum to diversify the industry and expand opportunity.
He is also recognized as a local pioneer that promoted recognition of the term "Communities of Concern" in the region, effectively expanding the which communities are considered in decisions even beyond the definition of Disadvantaged Communities, under CalEnviroScreen. Thank you, Eddie, for advocating for underserved communities and growing solar for all.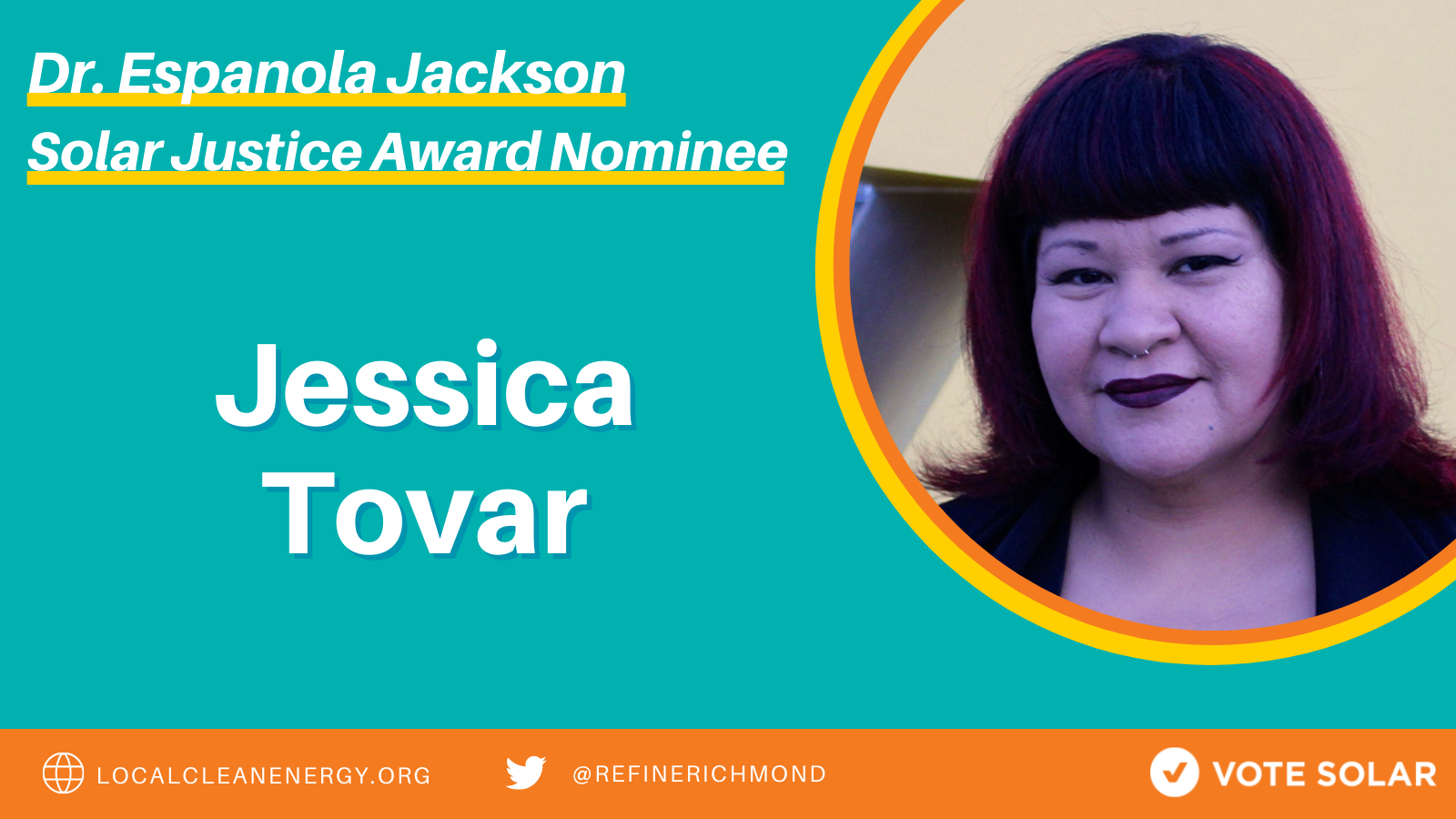 Jessica Tovar
Jessica Guadalupe Tovar has been a Bay-area environmental and solar justice champion for decades. The experience of cancer in her family led her to focus on preventing and reducing local industrial pollution and advocating for communities.
Her campaign leadership led to the launching of the community choice aggregation program, East Bay Community Energy. Justice and equity were at the center of its launch via Jessica's work on a local business development plan.
Today, East Bay Community Energy is committed to developing local clean energy resources to provide environmental, economic, and social justice benefits to the community and Jessica remains engaged via her work with Local Clean Energy Alliance.
In addition to working to shut down the PG&E Hunters Point Power Plant and mobilizing against a tar-sands dirty crude expansion of the Chevron Richmond oil refinery, she is a respected national leader in the Energy Democracy movement and advocates to bring power to the people! Thank you for your leadership, Jessica!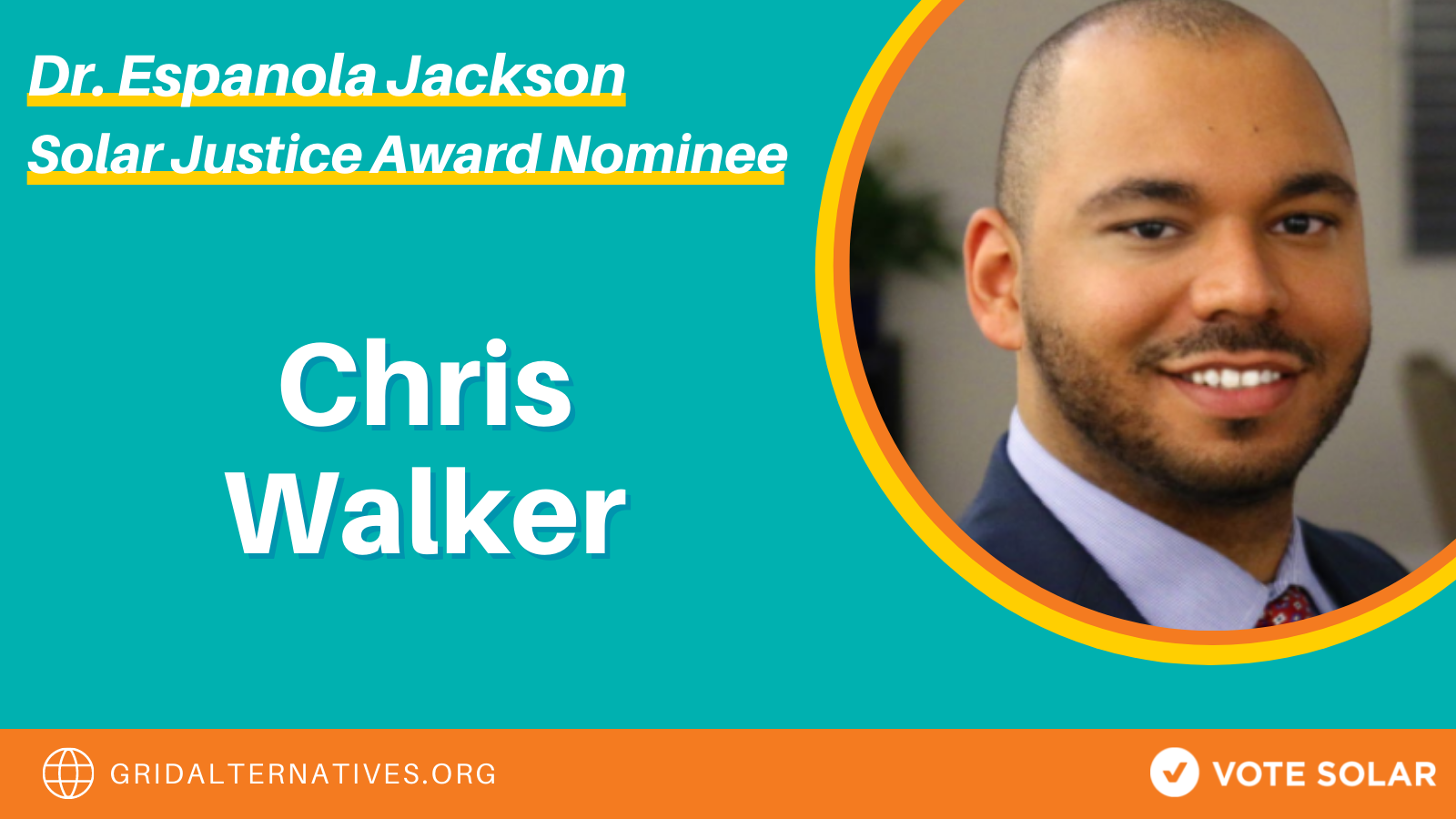 Chris Walker
Chris Walker serves as Senior Director of Programs at GRID Alternatives. He also co-leads SOMAH a historic effort in California to expand #solar access and benefits to renters by installing 300MW of solar on multifamily affordable housing by 2030.
Chris previously helped lead programs funded by the Department of Energy at the Solar Foundation, including the Solar Training Network, a nationwide solar workforce development program & SolSmart, which empowers local govs to address soft-cost barriers to solar deployment.
Co-leading @GRID's Program Administration Department, Chris' dedication to reducing barriers to solar energy for low-income and disadvantaged communities is a clear theme throughout his career, making him a leader in the fight for energy justice. Thank you for leading the way, Chris!
Vote Solar's Dr. Espanola Jackson Solar Justice Award celebrates the legacy of a tireless environmental justice leader. Thank you to all who nominated this year's inspiring nominees.