Mozine Lowe – Empowering Rural Communities with Renewable Energy Education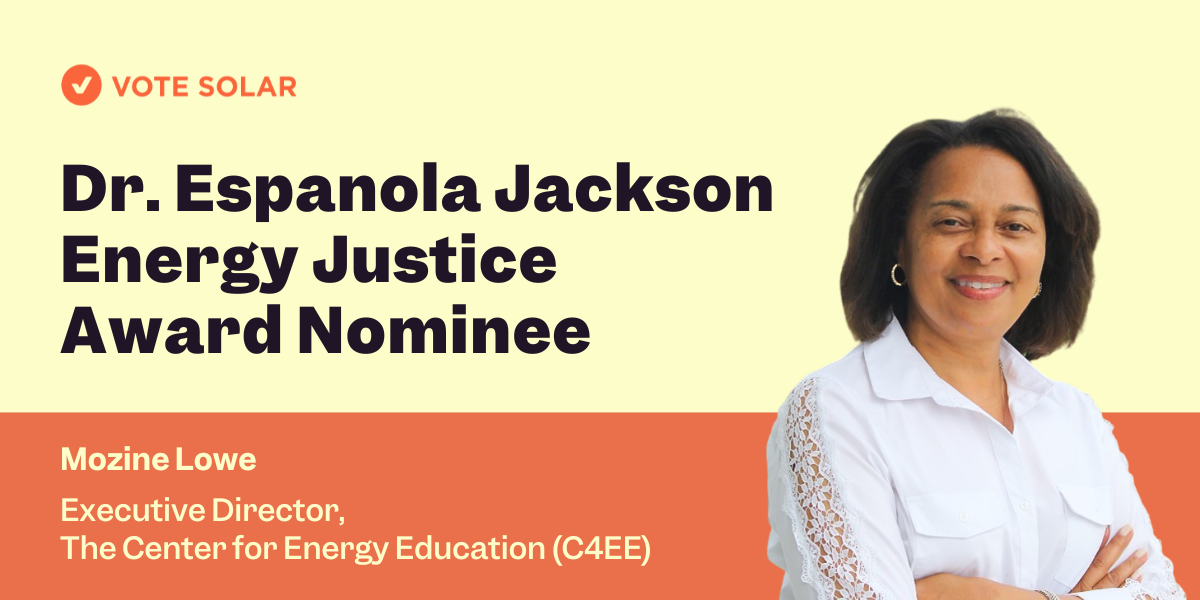 Mozine Lowe is an inspiring energy justice advocate. As the Executive Director of The Center for Energy Education (C4EE), a 501(c)(3) non-profit organization, Mozine's leadership has been transformative. C4EE serves as a hub for renewable energy research, industry innovation, and workforce development, combining excellence in renewable energy with economic growth. 
Empowering Rural Communities:
In 2017, Mozine Lowe assumed the role of Executive Director at C4EE, bringing with her a passion for education and community development. Born and raised in Halifax County, North Carolina, Mozine found her purpose in advocating for a healthier and cleaner environment in her community. Her vision for C4EE was to create more entry points for rural communities to transition to renewable energy. Under Mozine's guidance, C4EE has emerged as a strong advocate for clean energy education, job training, and workforce development. Through honest and trusting relationships with commissioners, school boards, non-profit organizations, residents, and students, Mozine uplifts C4EE's rural community engagement initiatives.
A Hub for Renewable Energy Education:
C4EE has grown to become a hub for the renewable energy industry, providing hands-on training in solar installations and offering a platform for students and families to learn about renewable energy. The Center's training facility equips individuals with the knowledge and skills needed to pursue rewarding careers in the rapidly growing renewable energy sector.
C4EE's impact has extended far beyond its initial reach. In addition to its presence in Eastern North Carolina, the Center has expanded its operations to three midwestern states, namely Indiana, Kentucky, and Ohio. This regional expansion has enabled C4EE to create a significant presence for renewable energy and raise awareness locally, regionally, and globally.
A Call for Inclusion and Engagement:
Mozine emphasizes the importance of including underrepresented communities in the clean energy conversation. C4EE calls on county leaders, commissioners, economic directors, business managers, and superintendents to engage rural residents in clean energy initiatives. By establishing Green STEM curricula in schools and developing workforce training programs, C4EE strives to bridge the gap between clean energy benefits and rural communities, ensuring equitable access to the energy transition.
Conclusion:
Mozine Lowe's journey as the Executive Director of The Center for Energy Education exemplifies the transformative power of renewable energy education and community engagement. Through her visionary leadership, Mozine empowers rural communities to embrace sustainable solutions and become active participants in the clean energy transition. As we move towards an equitable and sustainable future, let us draw inspiration from Mozine's exceptional work. As she stands as a finalist for the esteemed Dr. Espanola Jackson Energy Justice Award, we express our gratitude for her remarkable contributions.