New Mexico Senate Bill 169: Climate Investment Center Fact Sheet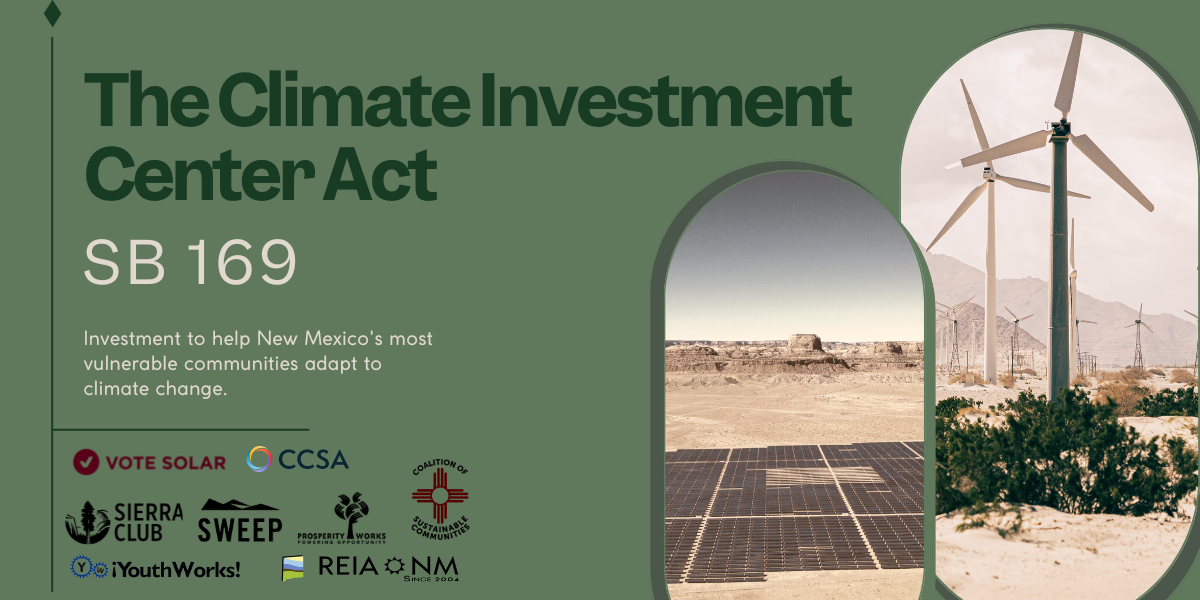 SB 169: Climate Investment Center Fact Sheet
Sponsored by Sen. Liz Stefanics and Rep. Kristina Ortez and Sen. Moe Maestas
Updated: Feb 1, 2023
What the bill does:
Create a non-profit

that can receive federal funding targeting "green banks", philanthropic dollars and increase investments and lending from private capital sources that may be averse to political uncertainty associated with partnering with governmental structures. 
Appoint a nominating committee to appoint an initial board,

ensuring the board has relevant expertise in fund management, clean energy, investment strategies, economic development, tribal issues, environmental justice, greenhouse gas (GHG) reduction strategies and techniques, and climate-related issues.
Implement an environmental project financing program

that

will manage and offer low-interest loans, grants, and incentive programs; coordinate and develop partnerships with federal, state, and local governments as well as private entities.
Fund priority project objectives, that include but are not limited to:

maximizing reduction in GHG emissions; mitigating climate change, adapting to the impacts from climate change and implementing climate resiliency measures; reducing energy burdens to those in vulnerable and/or tribal communities impacted by climate change; enhancing green job creation; supporting sustainable buildings and transportation; providing support for workers and communities impacted by transitioning to a low-carbon economy; applying for Inflation Reduction Act (IRA) funds earmarked for "green banks";  support economic growth.
Make an appropriation

of $20 million to

fund the

initial five-year operating costs of the nonprofit and enable priority project investments, and provide a vehicle to attract federal funding earmarked in the Inflation Reduction Act IRA for "green banks." 
New Mexico's Need: The most vulnerable communities in New Mexico will continue to suffer the greatest impacts of climate change as drought, heat waves, and fires become more devastating. 
Over 150,000 households in New Mexico spend over 15% of their income on electricity and heating (compared to the U.S. average of 2%).  

These high energy burdens can be significantly eased through programs that increase energy efficiency in buildings, accelerate ownership of rooftop solar, provide lower cost community solar subscriptions, and scale up house retrofits supporting energy efficiency adoption for New Mexico's low-income families. Five "green banks" focus significantly on such programs. 

The right suite of energy efficiency measures can be cost effective, with return on investments near 18%

. Studies estimate that weatherization and energy efficiency can reduce energy burdens by 25%.

Energy efficiency can also be one of the most cost-effective investments to reduce GHG emissions. 

With appropriate loan times and interest rates, households can transition to safer and more comfortable homes while saving money. However, there are limited financing options for low-and-moderate income (LMI) households, especially those with subprime credit scores. 
Role of the Climate Investment Center: This is a mission-driven, nonprofit investment fund (sometimes called a green bank, but is not a deposit-taking bank such as a public bank) that uses limited amounts of public money to attract private sector money for investments in equity-focused, emissions-reducing projects that would not otherwise have adequate access to financing options. It is established to further the climate action goals of the state of New Mexico through true public-private partnerships.
The Center will focus on increasing the adoption of mature, commercially viable technologies at a variety of scales.  It can fund large infrastructure projects such as wind farms or community solar arrays; resiliency microgrids; and EV infrastructure.

The Center's funds can be used to mitigate default risk from low credit borrowers using loan loss reserves; this can help these customers secure long-term, low-interest loans leading to immediate utility bill savings. For example, the Connecticut Green Bank has partnered with non-profits to offer LMI homeowners a rooftop solar lease packaged with energy efficiency measures that have saved a quarter of participating households $500-$750 annually.

It can aggregate small residential and commercial projects to meet a sufficient scale to attract private capital and co-invest or lend directly to projects with marginal economics, to improve overall economics for investors and customers.

Unlike one-time grants and subsidies for decarbonization projects, these funds mobilize greater total investment, and because the financing offered by the funds is repaid, money is reinvested to sustain its future operations. 

In 2021, there were 23 similar funds in 17 states with a cumulative investment of $2.6 billion of public funds that was leveraged to create an additional $6.3 billion of private investments. 

The Center will convene stakeholders (e.g financial entities, investors, contractors, technologists, borrowers, state agencies, nonprofits) and build partnerships that bring the best ideas forward to help close financing gaps, strengthen existing financial institutions' ability to lend to non-traditional borrowers, and build a clean energy economy in New Mexico. 
Attract Federal Dollars: The Inflation Reduction Act (IRA) creates significant federal funding available for statewide green banks. It led to the creation of the Greenhouse Gas Reduction Fund, administered by the EPA, which must award all money by September 30, 2024. The fund provides: 
$7 billion for states, municipalities, tribal governments, and nonprofits that offer technical and financial (grants and loans) assistance to low-income and disadvantaged communities to deploy or benefit from energy efficiency projects and zero-emission technologies;

$20 billion for nonprofits that offer technical and financial assistance to qualified projects that reduce or avoid greenhouse gas emissions and other forms of air pollution ($8 billion of which is specifically carved out for low-income and disadvantaged communities).
New Mexico does not currently have a financial institution which easily slots into EPA's definitions for the $20 billion. Creating the Climate Investment Center will unlock access to the IRA funds to maximize reduction in greenhouse gas emissions, reduce energy costs for vulnerable communities and households, enhance green job creation, accelerate climate resiliency measures, and support economic growth.
Endorsed by: CVNM, Vote Solar, Sierra Club, Prosperity Works, Coalition of Sustainable Communities, REIA, Santa Fe, Santa Fe County, YouthWorks, SWEEP, CCSA