New Report: Community Solar Poised to Serve 384,000 Florida Residents Affordable Energy
Community solar roadmap highlights role of Florida policies to give residents clean, low-cost energy choices
A new study from GTM Research found that community solar could deliver energy saving options for 384,000 Florida customers by 2030 and spur up to $4 billion in investments. The Vision for U.S. Community Solar: A Roadmap to 2030, which was produced for the non-profit groupVote Solar in partnership with GRID Alternatives and the Coalition for Community Solar Access (CCSA), shows how community solar in Florida could provide critical economic relief and local resiliency to vulnerable communities.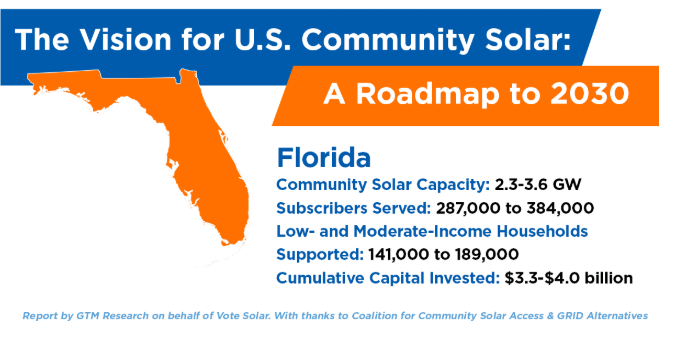 Community-Solar-Works-For-Rural-Electric-Cooperatives-Vote-Solar
"As Florida continues to embrace solar energy, community solar offers an enormous opportunity expand low-cost energy options to all residents, including those that have the most to gain from lower and stable utility bills," said Scott Thomasson, Vote Solar's Southeast Director. "We urge communities and policymakers across the state to use this research as a tool for moving all of us toward a more modern and resilient electricity system."
By reducing energy with new low-cost solar resources, community solar could offer substantial energy savings to nearly 190,000 low-to-moderate income and affordable housing customers and as many as 384,000 total Florida customers by 2030. Today, however, Florida lacks statewide policies necessary to fully enable residents to take advantage of the option to lower bills with community solar.
Affordable solar energy is giving families, businesses, schools and many others a way to lower energy bills and invest in America's new energy economy. However, physical and financial barriers prevent up to 75 percent of consumers from going solar on their own rooftops – families who rent, have shaded rooftops, or don't qualify for standard financing solutions, for example. Well-designed community solar programs give customers like these a way to go solar and save by enabling them to participate in a shared solar installation located somewhere else in their community and receive a credit on their utility bill for their share of the power produced. Thanks to pent up customer demand, community solar has become the fastest growing segment of the U.S. solar market with over one gigawatt of installed capacity nationwide, a number that could grow to 57-84 gigawatts by 2030 according to the new report. This equates to serving nearly nine million new solar customers, including four million low-to-moderate income customers, and amounting to $120 billion in capital investments.
Florida is one of 31 states that lack statewide policy-enabled community solar programs. However, Tallahassee and Orlando both launched citywide community solar programs recently that were fully subscribed within months, demonstrating the models' popularity and huge demand among Floridians. The Vision Study found that well-designed state policies and market-enabling programs would substantially increase customer adoption while spurring the overall transition to a clean, smart and resilient grid.
"Study shows that community solar in Florida presents an especially attractive value proposition to LMI customers and affordable housing providers. Community solar has the potential to serve over 150,000 Floridians, while offering savings, cost stability, and increased resiliency for Florida's most vulnerable communities," said Tom Figel, Policy & Regulatory Manager for Community Solar at GRID Alternatives.
"This report makes it clear that community solar is ready to scale and play a meaningful role in Florida's overall energy mix. Industry stands ready to fulfill pent up customer demand and unlock the robust potential of local, clean community solar this report demonstrates is possible at scale," said Jeff Cramer, Executive Director of Coalition for Community Solar Access. "Now we need state policymakers and regulators to enable smart community solar programs that bring tangible economic benefits and expand solar access to all customer types, from low-income families to major businesses. If they do, it will create a win-win-win for customers, Florida's grid, and the environment."
The Vision for U.S. Community Solar: A Roadmap to 2030, the report's executive summary and more information about community solar nationwide is available here.
###
About Vote Solar: Since 2002, Vote Solar has been working to lower solar costs and expand solar access. A 501(c)3 non-profit organization, Vote Solar advocates for state policies and programs needed to repower our electric grid with clean energy. Learn more at www.votesolar.org
GTM Research is now Wood Mackenzie Power & Renewables. With an unparalleled level of depth, our integrated power, solar, wind, storage and grid edge market intelligence services enable you to make strategic decisions and forge the path toward a decarbonized and decentralized electricity market.
Coalition for Community Solar Access (CCSA) is a national Coalition of businesses and non-profits working to expand customer choice and access to solar to all American households and businesses through community solar. Community solar refers to local solar facilities shared by multiple community subscribers who receive credits on their electricity bills for their share of the power produced.  Community solar provides homeowners, renters, and businesses equal access to the economic and environmental benefits of solar energy generation regardless of the physical attributes or ownership of their home or business. Community solar expands access to solar for all, including low-to-moderate income customers, all while building a stronger, distributed, and more resilient electric grid.  For more information, visit our website atwww.communitysolaraccess.org, follow us on Twitter at @solaraccess and on Facebook atwww.facebook.com/communitysolaraccess.
About GRID Alternatives
GRID Alternatives is a national leader in making clean, affordable solar power and solar jobs accessible to low-income communities and communities of color. Using a unique, people-first model, GRID develops and implements solar projects that serve qualifying households and affordable housing providers, while providing hands-on job training. For more information, visit www.gridalternatives.org.