Our plan for just clean energy in 2020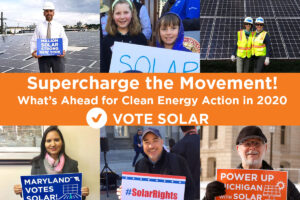 The record-breaking fires in Australia have devastated communities, wildlife, and ecosystems. A fire in Victoria bigger than Manhattan. Coastal families forced to flee from smoke and flames to the ocean's edge. Over 1 billion animals lost.
This is climate change. It's here, it's dangerous, and we have no time to lose.
That's why we're doing something about it.
We're grateful that you're on Team Vote Solar. Together, we're going to supercharge the national movement for solar and clean energy progress in 2020. State by state, we're winning with proven solutions for healthier communities and a more resilient and just energy system for all.
So what's the plan? Let me share a look-ahead of what Vote Solar's hard at work on to power up the U.S. with clean energy — state by state.
But first, this would not be possible without our amazing supporters and generous donors who are powering Vote Solar's urgent work across the U.S., and we're proud that you're with us.
Now make it your New Year's Resolution to hold your elected leaders accountable.
Tell your state Governor: I'm calling on you to clear the way for more families to go solar in 2020 without big utilities getting in the way. 
The state legislators and energy regulators are taking off their party hats, packing away the holiday decor and getting back to work. They make the decisions that determine how you get your power. Here's how we're going to make them sweat in 2020:
Growing Solar for More Families in the Northeast
Last year, New York passed the Climate Leadership and Community Protection Act, setting the Empire State on a path to a carbon neutral economy by 2050. We were able to make sure that bold vision comes with a near-term commitment to massively accelerate solar adoption to power one million homes with clean, resilient sunshine by 2025. This bill made New York a leader in the global fight against climate change, and the solar target will deliver the local jobs and electric bill savings that New York's families need right now.
In 2019, New York passed an ambitious, world-class climate action bill, and Vote Solar ensured that bill included enough solar to power one million homes with clean, resilient sunshine by 2025. But in order to be a national leader in the 100% just energy transition, Gov. Cuomo must ensure that disadvantaged families have access to affordable, local, clean energy. Together with partners, we are pushing for a program to serve 250,000 families in disadvantaged communities with clean, cost-saving solar energy.
Massachusetts is falling behind its neighbors in the Northeast on an equitable clean energy future. We're working to make Massachusetts a leader again by tripling Massachusetts' solar target, and investing in programs that directly benefit low-income families.
Making Solar Shine for All in the Mid-Atlantic
Last year we celebrated a big win in Maryland with the passage of the Clean Energy Jobs Act, which will increase the state's renewable energy target to 50 percent by 2030, power tens of thousands of local jobs in the solar and wind careers of the future, and build a brighter world for future generations. It also requires the state to study what it would take to get to 100 percent clean power.
From Hurricane Sandy to urban heat islands, neighboring New Jersey residents are already feeling the impacts of climate change. So we're building on Governor Murphy's commitment to a renewable energy future in New Jersey by making sure low income families and environmental justice communities have real and measurable opportunities to go solar and thrive.
We've joined with partners to launch the NJ Shines Coalition and drive legislation that will secure enough solar for 250,000 low-income households by 2030, site 400 MW of storage in low-income and environmental justice communities with $125 million per year dedicated to these communities for clean energy deployment, education and outreach, and workforce development.
Expanding Solar Access in the Southeast
Solar power can be a force for good in the South – and in 2019, we made some incredible progress. The Georgia Public Service Commission approved the most significant expansion of solar resources in state history, ordering the utility to develop enough new solar to power more than 225,000 homes. In addition, the Georgia Commission approved the retirement of five coal-burning units – while ordering Georgia Power to develop an impressive 80 megawatts of new energy storage that will help the state use solar power even when the sun isn't shining.
Florida families are already experiencing real impacts from extreme weather. Solar combined with storage offers a safe and reliable solution that can bring the grid back online faster, protect vulnerable communities and maintain critical infrastructure. To prepare our communities for a resilient future, we're fighting to defend and expand solar rights in the Sunshine State, help more Florida families and schools to lower their utility bills and keep the lights on when the grid goes down. We're also building on a settlement we entered into last fall with Florida Power & Light to create the largest voluntary low income community solar program in the country — and we're just getting started making sure that all Floridians have access to affordable solar power.
Last year South Carolina lawmakers unanimously passed the Energy Freedom Act, changing the solar landscape and proving that affordable, clean energy is a bi-partisan issue. The Energy Freedom Act will open the door for new solar, on rooftops and in fields, across the state. We also took our fight for solar rights to regulators at the South Carolina Public Service Commission where Duke Energy had proposed the highest monthly fixed charge in the nation, hiking energy bills for all with a disproportionate impact on low-income, low-usage, and solar customers. We helped make the case and South Carolina Commissioners ultimately rejected Duke's costly proposal — a bold defense of the right of customers to control their energy bills with solar.
Now we're taking the fight to North Carolina, where we're pushing utility giants to protect the interests of customers like you and clear the way for local clean energy resources to build a stronger grid. Adding climate-related risks to the evaluation of the utility's performance, management, and planning of the grid could have a national impact and open the door for a larger role for solar and energy storage in the resilient operation of the grid. From wildfires in California to hurricanes right here in North Carolina, we can no longer afford to ignore climate impacts on our energy grid and the solutions that are already in plain sight.
Growing the Midwest into a Renewable Energy Powerhouse
The Midwest is the most closely-watched region in the country for renewable energy growth. States like Illinois are drawing solar companies from across the nation to create local jobs and help families lower bills. Iowa, Michigan, and Indiana have seen unprecedented growth among larger solar projects that are delivering competitive, homegrown power right into the utility grid.
Late last year, Governor Whitmer announced her plan to lead Michigan into the renewable energy future. Through MI Power Grid, the state will take a comprehensive look at our energy needs and resources and decide where we go next. This is a critical opportunity to ensure that our path to clean energy creates local jobs and economic opportunity, equitably supports our most disadvantaged communities, and adequately addresses both climate adaptation and resilience. This year, we'll be working closely with communities and the Governor's office to ensure a quick, just transition to renewable energy for all in Michigan.
It's time to finally pass the Clean Energy Jobs Act (CEJA) in Illinois. CEJA will mean $39 billion invested in our communities and a 100% clean energy future that protects our climate and our health. Momentum is on our side — Governor Pritzker committed to taking leadership on 100% legislation, as promised during the campaign trail. And with the recent announcement from the Trump administration designed to prop up coal and gas, we need to take action now to avoid Illinois ratepayers unnecessarily paying $864 million per year in electric bill charges. Now, we're working with a broad coalition representing every corner of the state to get this bold bill across the finish line.
Minnesota is ready to take its climate leadership to the next level. They are finding new ways to catalyze solar by accurately measuring the benefits that rooftop solar brings to the grid and streamlining the policies for developing solar projects. There are also whispers of a 100% clean energy bill gathering steam in St. Paul – stay tuned!
Brighter Energy Future Out West
Here in the West, we know that solar just makes sense. We spent most of 2019 in Arizona talking with families who are facing high energy bills, local business leaders who are working to build tomorrow's job market, and seniors who suffer from pollution-related asthma and health issues – who all want a brighter energy future for their state.
Together, we've sent hundreds of postcards and thousands of emails to state officials, we've held workshops to equip community members with the information they need to lead the clean energy transition, and we've partnered with 30 other organizations to call for Arizona to boldly raise its lackluster renewable energy target to at least 50% and expand opportunities for customers to be part of that progress by producing their own solar.
A community solar campaign to open solar energy access to property renters, low-to-moderate income communities, communities of color, and tribal nations and their members. Solar and utility regulation to help save customers on their electricity bills and support equity in current and future energy implementation. Ensure that the adoption of New Mexico's 100% clean power commitment, the Energy Transition Act, and all solar opportunities reflect New Mexicans needs and lived realities.
New Mexico families, particularly Navajo families in the Northwest, have been living with oil and gas development in their backyards for decades. But despite almost year-round sunshine, most New Mexicans do not have access to solar. Community solar projects allow everyone the choice to go solar regardless of income or where they live. To ensure that everyone is able to participate in the clean energy revolution, we're fighting to pass a community solar bill that will specifically support low-income families and spur economic activity in Native American Pueblos and Tribes.
In another one of our nation's sunniest states, every Arizonan should be able to go solar if they so choose. That's why we're pushing state energy regulators toward a bold near-term 50% renewable energy goal and a pathway to 100% clean energy by 2045. Neighboring states like New Mexico have already made this bold but achievable commitment and there is no reason why Arizonans should be left behind. A 100% clean energy future in Arizona will mean more local jobs, cleaner air and healthier communities. We cannot wait — 2020 is our year.
Solar for all in the Golden State
Last year we celebrated one million solar roofs installed statewide — an amazing milestone that shows us how far we've come thanks to state leaders and Californians like you who have helped make our state the nation's solar powerhouse! Of course we also faced another year of frightening wildfires, and millions of families endured power shutoffs as the utilities tried to prevent more fires — all of which highlights adds urgency to continued clean energy and climate progress.
California must adapt to these unprecedented challenges and build a new power grid that is more reliable, resilient and equitable. Local solar and storage are critical for making California's communities more climate-resilient. We're driving both legislators and regulators at the California Public Utilities Commission to commit to resilient solutions on an urgent timeline.
And we won't stop there. Last year our work impacted over 75 million people nationwide. In 2020, we're in over half the states in the U.S. to protect and expand solar rights for all, and power a just transition to 100%.
But you know that monopoly utilities and Big Fossil spend billions every year to buy politicians across the U.S. so they can ignore the climate crisis and keep polluting to enrich their shareholders. And they do so at the expense of underserved energy customers, including low-income communities, Indigenous communities, and communities of color.
So not only does Vote Solar go toe-to-toe with the powerful polluters, but we work side-by-side with local partners to ensure that clean energy resources are deployed to the most impacted communities, and build power and choice for people historically kept out of having a say over their own energy.
Together we can build a just, 100% clean energy future for all across the nation. Take action now to move our country foward. Tell your state Governor you demand more solar progress in 2020.
Australia's political leaders have buried their heads in the sand and kept fossil fuels as king. Here at home, too many of our own leaders have dragged our communities down the same dirty road.
But Team Vote Solar won't stop until we're ALL on a sunny path to 100% clean energy for all. Be on the lookout for the latest updates and opportunities for solar action in your state.