Press Release: Illinois Shines Reopens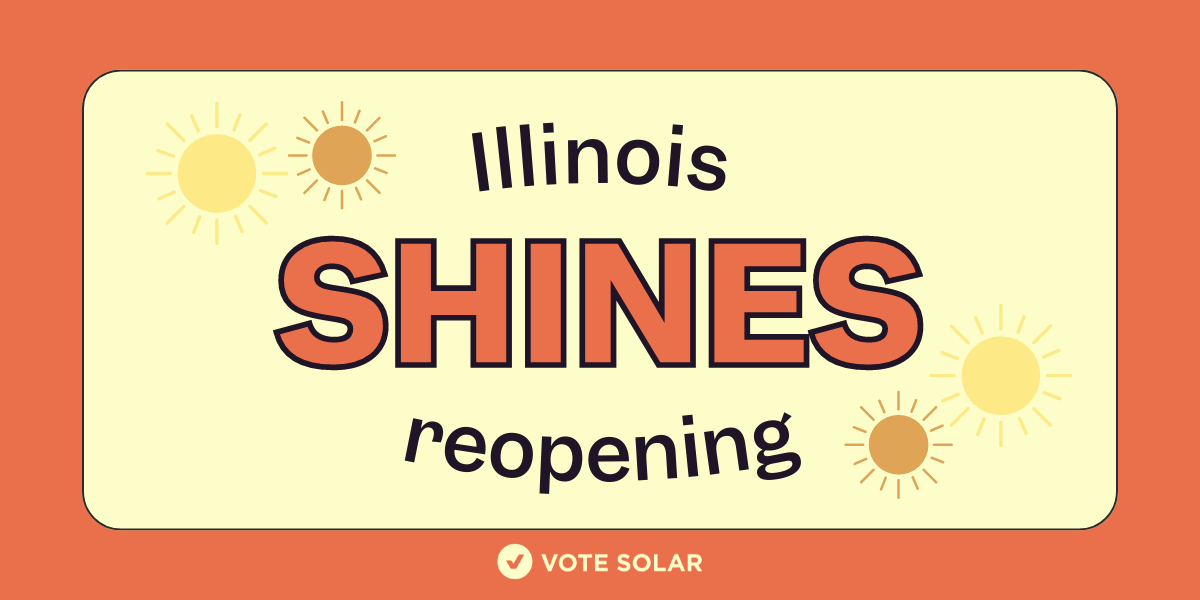 Illinois Shines Reopens, Opening the Door for Immense Residential Energy Savings
Illinois residents can save thousands in energy costs through state and federal incentives 
Springfield, IL––Today marks the official relaunch of Illinois Shines, the state program providing an incentive payment of $14,000 for an average size system to those who decide to go solar. This adjustable block grant program — made possible by the landmark Clean and Equitable Jobs Act (CEJA) — will bring savings at a time when energy bills have reached an all time high and inflation threatens economic safety. The reopening comes as the federal government's Inflation Reduction Act will compound state incentives with solar federal tax credits. Families on average could save close to $19,000 with the combined federal and state incentives.
There are three simple avenues for Illinois residents to utilize the program. If a solar system is purchased outright, customers receive a check for that value. If the system is financed, the incentive program will help to decrease the cost of financing. If customers cannot install residential solar — for example, renters or those with shaded or obstructed roofs —, they can opt into community solar and receive energy from solar generated by larger projects elsewhere in the state. In the end, CEJA and Illinois Shine allows customers to save over ten thousand dollars in utility bill savings. 
"Illinois Shines brings the promise of energy savings, emission reductions, job growth, and equitable solar programs. It will not only bring Illinois closer to our clean energy goals, but uplift communities suffering from environmental injustices," says John Delurey, Midwest Senior Regional Director at Vote Solar. "Everyone deserves to benefit from the economic security that solar provides, and now more can."
The program's reopening will see a significant influx of new community solar projects, nearly doubling the current amount of community solar in Illinois. Already, more than 33,000 customers have gone solar since the program opened in 2019. Now, the state will likely see subscriptions for thousands of Illinoisans, reducing energy bills by 5-15%. In addition to the personal economic and environmental benefits, Illinois Shines will allow each residential and community solar customer to help the state reach its renewable energy goal of 40% by 2030.
Further savings will be available to Illinoisans in a few months as the Illinois Solar for All program reopens in the fall. This program is designed to provide solar to low-income customers and critical need facilities, such as nonprofits and public buildings, at no upfront cost and with mandatory energy savings. With an increased budget moving forward, Illinois Shines will allow over 1,400 low-income Illinois families to get rooftop solar for free each year, with each family saving over a thousand dollars a year on electric bills. The Inflation Reduction Act will allow this program to serve even more low-income customers, as the bill increases the federal tax credit to 50%-80% for qualifying low-income customers. Illinois Solar for All also serves marginalized communities by offering renewable energy job training programs for members of historically disadvantaged communities. 
The CEJA programs and the Inflation Reduction Act will provide tangible and substantial benefits to low-income Illinoisans. With these two acts, Democrats are incentivizing the renewable energy transition and prioritizing low-income and disadvantaged customers along the way.