Rebirth of residential PACE financing in California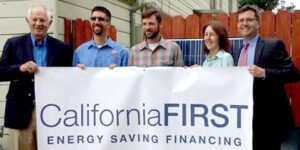 Residential PACE, an innovative clean energy financing program, is making a comeback in California. With the establishment of a state loss reserve program designed to address FHFA's concerns, this week CaliforniaFIRST launched a massive residential PACE program for 17 counties and 142 cities in California.  The innovative clean energy financing program covers 14 million people — almost a third of California's population.
The San Francisco Chronicle has a good article covering the development, as the San Jose Mercury News.
CaliforniaFIRST joins a couple of other residential programs in the state.  Sonoma County has long been a leader, with a longstanding program that continued in the face of FHFA objections.  To date, Sonoma County has done 2,030 residential projects, totaling $56 million worth of investments (plus another ~$10m worth of commercial).  Placer County has launched a new residential program called mPower.  And Renovate America's HERO program has already done $260 million worth of upgrades on 14,000 projects and is rapidly expanding.
All told, at this point most of the state of California is now (or will soon be) served by a residential PACE program.