Register for Southern Exposure: Duke Energy's $4.8B Stranded Asset Risk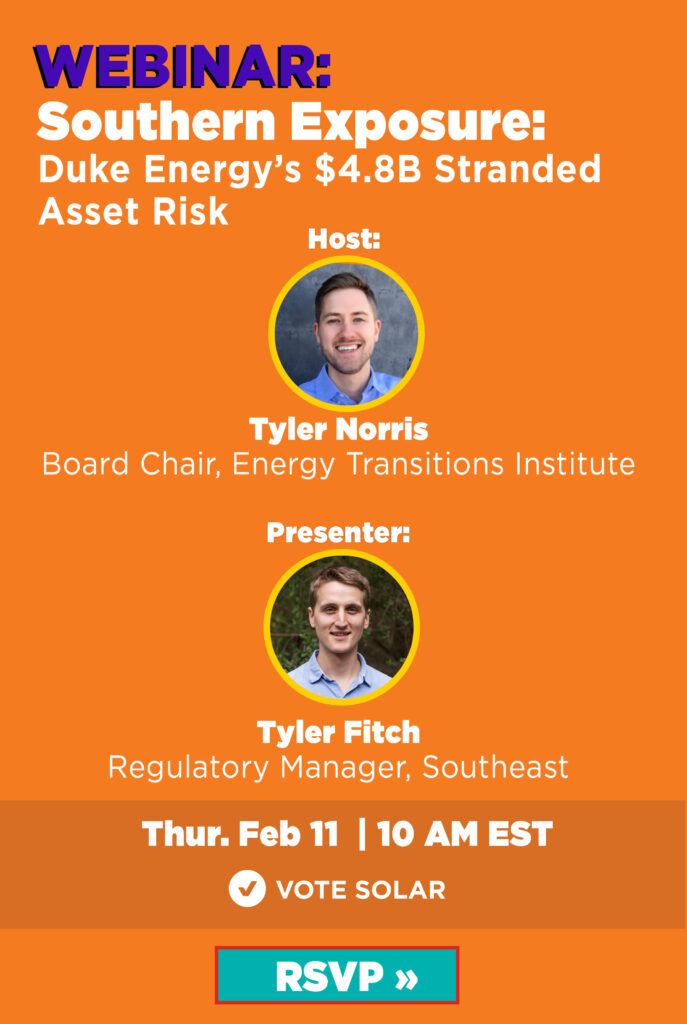 Duke Energy, the largest utility in the country, is planning  to build up to 9.6 gigawatts of new gas-fired generation in the Carolinas, despite the company's own corporate goals to achieve net-zero carbon emissions by 2050. A newly released report from Vote Solar and the Energy Transition Institute – Carbon Stranding: Climate Risk and Stranded Assets in Duke's Integrated Resource Plan – shows that existing and proposed fossil fuel investments in Duke's latest resource plan will become unusable during their planned lifetime, costing $4.8 billion or $900 per ratepayer in today's dollars — more than double the amount of Duke Energy's sunk costs in the Atlantic Coast Pipeline.

As shareholders grow more sophisticated on climate risk, the financial community is paying close attention, which is why S&P Global covered our report. Join report author Tyler Fitch of Vote Solar and Tyler Norris of the Energy Transition Institute on Thursday, February 11 at 10 a.m. ET to learn more about carbon stranding, climate risk, and Duke's resource plan.
Here's what you will learn from the conversation:
The role of ESG investors and the financial community in managing climate risks,
What 'carbon stranding' will mean for Duke and utilities across the country, and
What comes next for managing climate risk in the utility sector.