Riding Towards an Uplifting Navajo Nation Council Session
Navajo Nation Council Summer Session 2023: A Bike Ride with Delegates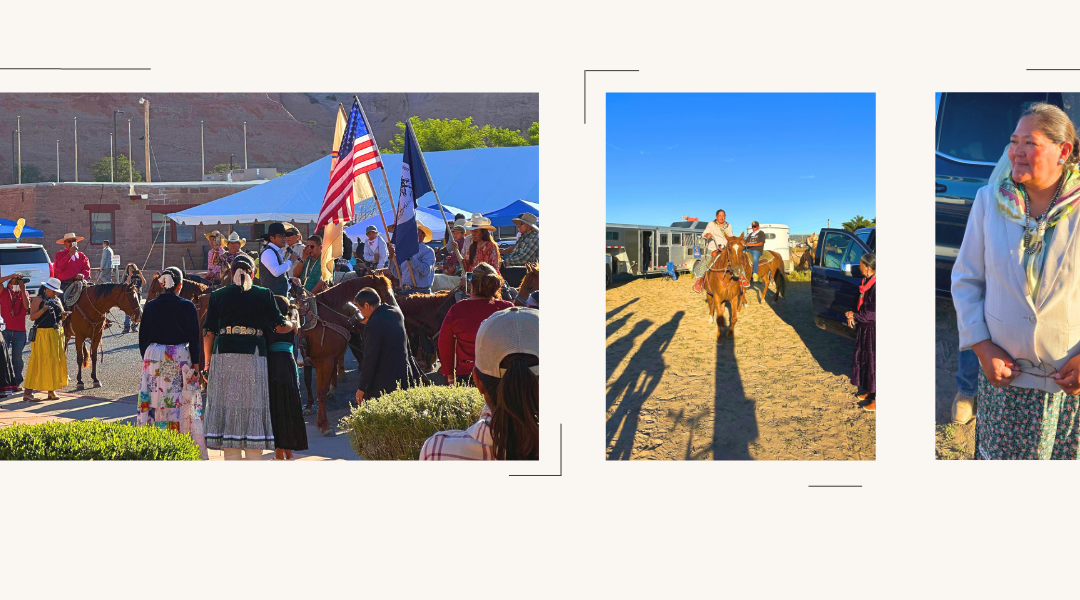 During the peak of new temperatures rocking communities everywhere throughout the United States, I had the privilege of attending the Navajo Nation Council's (NNC) Summer Session in Window Rock, Arizona, which was the historic mark of one hundred years of dedicated leadership from this legislative body of the Navajo Nation government. It is no surprise that with the present issues of climate change, attacks on the Indian Child Welfare Act, rising temperatures, water settlement rights over the Colorado River, and the increasing pressure for the clean energy transition to happen on the Navajo Nation, the summer session was packed with concerns from delegates and community members alike. 
To kick off the 25th Navajo Nation Council session, I was able to ride my bike alongside more than 50 horse riders who all had committed to spending their time riding to the capital next to their delegates. I was joined by Nicole Horseherder fromTó Nizhoní Ání (TNA) and her family members, all of whom were riding in support of their sister, auntie, and relative Delegate Germaine Simonson. So with volunteers from TNA to my left and honorable Delegate Simonson to my right, we made the three-mile trek up to the council chambers together. 
Delegate Simonson began her journey on Friday, July 14, before arriving at Window Rock on Sunday, July 16. While I was only able to experience the final leg of the journey, it allowed me to fully appreciate the deep historical and cultural significance of this ride. This journey represents the early practices of riding to the chambers in order to gather community feedback and be prepared to advocate for the needs of their communities as soon as the delegates reached the chambers. Delegate Simonson rode every single mile of the 110 miles on horseback. 
"There was a tremendous amount of strategic and spontaneous coordination that occurred behind the scenes," according to Nadine Narindrankura, Simonson's Legislative District Assistant. "It was beautiful to see it grow each day with supporters who offered their horse songs and their prayers for our journey, our leadership, our people."
Upon reaching the council chambers beside the delegates, President Nygren gave opening remarks and offered a blessing before the summer session, praying for the Navajo people to carry their culture and language for generations to come. A prayer for their children's children. He also praised the leadership of Speaker Curley and how she has changed the way in which Navajo leadership will be done for all of the nation as the first woman speaker of the NNC. 
Opening day was filled with acknowledgments from the elected delegates of families, guests, and those who supported the various ways in which the delegates arrived at Window Rock. One notable acknowledgment was from Dr. Andy Nez, who thanked his chapter members he represents for engaging with him by running and walking with him to Window Rock instead of riding on horse. Part of this mode of transportation was to acknowledge that not everyone within the Navajo Nation has access to horses while also promoting health and movement with the communities he represents.
This historic highlight of opening day was furthered by Arizona Gov. Katie Hobbs addressing the NNC delegates. Gov. Hobbs represents the first sitting governor in Arizona's state history to address the Navajo Nation Council at the council chambers. This was a massive indication of past Tribal relations with Arizona's state governments and Tribal Nations. It proves to be a hopeful glimpse into the future of robust programs filled with Tribal consultation at its center. Gov. Hobbs was able to address a number of issues directly brought up by delegates, including veteran support and ongoing water settlement claims in light of the recent Supreme Court ruling denying the Navajo Nation of its inherent water rights. 
With the increased need for effective coordination between Tribes, Tribal advocates, and state governments, it was a hope-filled summer session with memories made with our partners at Tó Nizhoní Ání. We at Vote Solar are looking forward to the next session, where we can grease the wheels and ride out with those dedicated to representing the people within their communities that matter most. Hanįcakjawį!