South Carolina Utilities Stall Solar Bill of Rights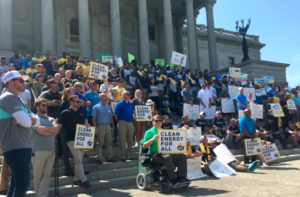 Less than a week after the South Carolina House passed House Bill 4421 (the Electric Consumer Bill of Rights Act) with bipartisan support, the bill stalled today after utility lobbyists pushed for requiring a two-thirds majority for passage in the House. After already passing the House twice, this third vote resulted in a 61-44 vote count, exceeding a simple majority but falling short of the new two-thirds requirement.
After finding such strong bipartisan support from both lawmakers and voters, it's disappointing that – with this procedural stunt – the interests of a couple monopoly utilities outweighed the people of South Carolina who overwhelmingly want solar energy options and property rights.
Make no mistake, this puts thousands of local solar jobs and real energy bill savings for consumers at risk. South Carolinians pay some of the highest utility bills in the country thanks to that same utility's overspending, and this vote took one important way for families and businesses to lower their electricity bills off the table.
We thank the many House leaders from both sides of the aisle who did champion a free market, consumer-centric approach to moving South Carolina's clean energy economy forward, and urge their colleagues in the Senate to take immediate action to protect consumers, create solar jobs, and limit utility overreach at every opportunity. The people of South Carolina should have the right to produce their own electricity if they so choose.