Elowyn Corby (she/her)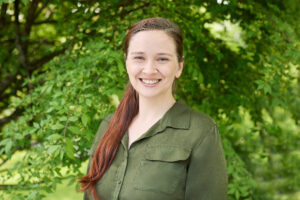 Regional Director, Mid-Atlantic
Elowyn serves as the Mid-Atlantic Regional Director for Vote Solar, where she advocates for inclusive solar policies and helps to amplify local voices calling for equitable clean energy solutions.
Prior to joining Vote Solar, Elowyn drove national programming for VisionForward – a gender equity coalition – and previously ran campaigns around fighting climate change, protecting public health and workers' rights, advancing equity, and electing progressive champions to office. She got her start as the Clean Energy Advocate and Field Director with PennEnvironment (part of the Environment America Network), where she spent four years building and demonstrating public support for clean energy on the state and federal level.
Elowyn studied political science and peace education at Swarthmore College, and while she grew up in Northern California, she's been happy to call Pennsylvania home since 2009. She lives in South Philly with her spouse and Freybug, who is by all accounts a very good dog.