Kris Mayes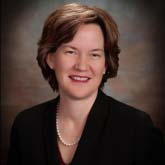 Director, Utility of the Future Center & Energy Policy Innovation Council, Arizona State University
Kris Mayes serves as the Director of the Utility of the Future Center and the Energy Policy Innovation Council at Arizona State University, where she is also a professor of utility law and policy at the Global Institute of Sustainability and the School for the Future of Innovation in Society. The UFC and EPIC are working to design the regulatory structures and utility business models that will be needed to assist the utility industry and its ratepayers through the coming transition to a more decentralized energy system.
Mayes served as a Republican member of the Arizona Corporation Commission from 2003 to 2010, where she helped co-author the Arizona Renewable Energy Standard, which requires that by 2025, utilities must generate 15 percent of their overall energy portfolio from renewable sources, like wind solar, biomass, biogas, geothermal and other technologies. Mayes also helped establish one of the most ambitious energy efficiency standards in the nation, requiring utilities to sell 22 percent less energy by 2020 than they would have under current forecasts, and helped craft the state's solar net metering standard.
Mayes currently sits on the Board of Directors of the Energy Foundation, the Vote Solar, and the Southwest Energy Efficiency Project (SWEEP). She also serves on NREL's Energy Systems Integration Facility Technical Advisory Board and the ARPA-E Braintrust in Washington, DC. She is frequently asked to speak across the country on topics ranging from the utility of the future, to the design of energy law and policy, in particular around energy efficiency and renewables.