The Vote Solar team is all over the U.S. fighting for a clean energy economy for all
This February, we are celebrating Black History Month by sharing stories of Black leadership in clean energy and resources for how you can advocate for energy justice in your own community. Follow us on Facebook and Twitter for the latest.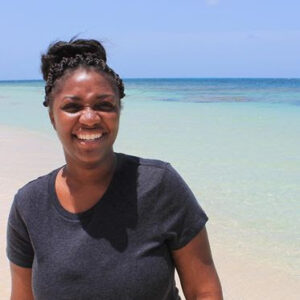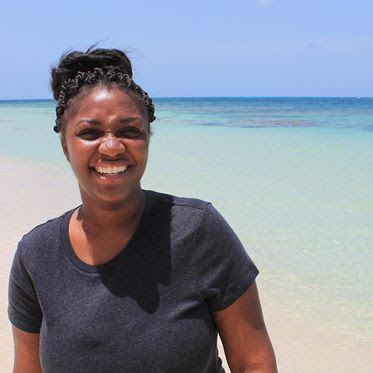 I'm excited to welcome to our team someone whose passion and perspective inspires me: Olivia Nedd, our new Policy Director for Access & Equity.
This work is personal for Olivia. Her family comes from Barbuda, a small island in the Caribbean, with a long history of slavery, colonization and, now, independence. Our changing climate is driving extreme weather like hurricanes, and endangering island and coastal communities around the world.
I invite you to read Olivia's story of how her family was impacted by Hurricane Irma and the power outages that followed — and what drives her dedication to speeding the transition to just and equitable clean energy for all.
The Vote Solar team is all over the country fighting for a clean energy economy that works for everyone. The year has just begun, and we're off to an amazing start for solar progress. Read on for updates from Arizona, Florida, Illinois, Massachusetts, and more.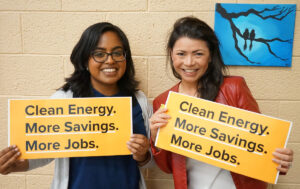 For more than a decade, we've been fighting against powerful utilities and their big lobbying budgets to help make Arizona the leader it should be. And that work is paying off big: this month Arizona Public Service (APS), the state's largest utility serving 2.7 million customers, announced that it's going 100% carbon-free by 2050. That's an awesome development, but there's a lot more to do: we're working to turn this lofty goal into a legal requirement, put some standards in place to ensure that it's implemented to the benefit of families and businesses, and have it apply statewide. Everyone should have the opportunity to be part of Arizona's new energy economy. Our Interior West team Art Terrazas and Briana Kobor are keeping up the fight for Arizonans every day.
As part of that work, our Access & Equity Program Manager Lavannya Pulluveetil Barrera joined our local team and amazing partners to hold a free three-part workshop series that helped connect neighbors in Phoenix with the energy issues that impact them and pathways to change it for the better. (Lavannya's pictured above with our Managing Director of Access & Equity, Melanie Santiago-Mosier.)
Solar Schools for the Sunshine State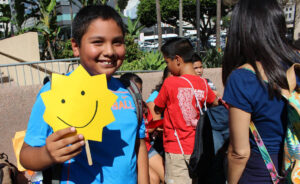 Solar just makes sense in sunny Florida, where public schools could save over $70 million per year by switching to solar. That's over 30 million school lunches!
But outdated laws are standing in the way of big savings for schools — savings that could be reinvested in Florida's nearly 3 million public school children. Our Southeast Director Katie Chiles Ottenweller is hard at work to help pass critical legislation in 2020 that will remove barriers so schools can go solar and save. As a mom herself, Katie knows that when it comes to investing in our kids' future, every dollar matters.
23,000 Call for 100% Clean Energy in Illinois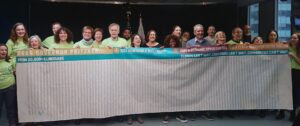 Our Midwest Director John Delurey joined the Illinois Clean Jobs Coalition to deliver 23,000 signatures to Governor Pritzker and legislators to pass the Clean Energy Jobs Act. Vote Solar is a proud partner alongside business, faith, and environmental partners in the fight for a just 100% clean energy economy, with more solar for low-income & environmental justice communities.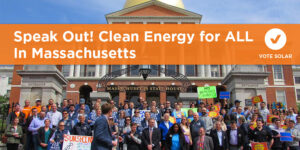 In his January State of the Commonwealth address, Governor Baker announced a bold commitment to making Massachusetts a net-zero emissions economy by 2050. Sean Garren and Nathan Phelps on our Northeast team are working hard to turn this exciting vision into a real, boots-on-the-ground clean energy economy that works for all.
The Senate has already passed new legislation to make good on Governor Baker's promise, and – even better, this bill would require near term targets for reducing harmful pollution from power plants and other sources by 2025 so that Massachusetts isn't waiting until 2050 to transition to clean energy, lower utility bills, and create good local solar jobs. It's also opened the door for stronger programs to make sure that this new energy economy is a just energy economy by expanding opportunities for low- and moderate-income families to go solar and save.
More from the road: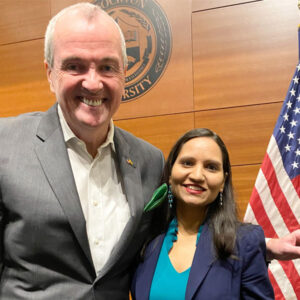 Pari Kasotia meets with Governor Murphy to celebrate New Jersey's new Energy Master Plan and a 100% clean future that works for all. Our Mid-Atlantic Director Pari and our #NJShines Coalition are leading the way on a roadmap for resilient, equitable solar.
We're about a month away from our big Equinox celebration and fundraiser! Please join us and hundreds of your closest solar friends in San Francisco, California on Thursday, March 19th for good cheer and a good cause. Get your ticket today for the solar party with a purpose.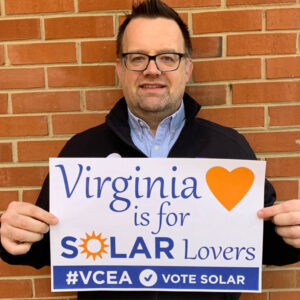 Our Southeast Regional Director Thad Culley participated in a solar lobby day in Virginia as lawmakers prepare a major package of clean energy legislation.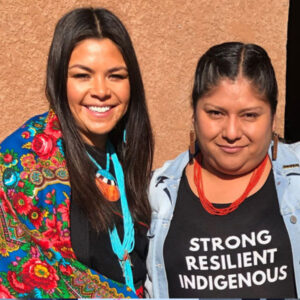 With just 30 days in New Mexico's legislative session, Interior West Manager and member of Santo Domingo Pueblo Mayane Barudin (left) is working alongside Tribal leaders, local governments and industry partners to pass a community solar program and expand clean energy opportunity before time runs out.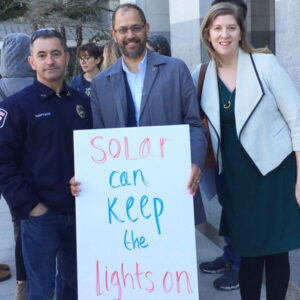 Our California team – Susannah Churchill, Ed Smeloff, and Sachu Constantin – released a new wildfire resilience policy roadmap that will guide state policymakers who want to use local clean energy to combat fires and harmful outages in their communities.  (Sachu pictured in middle)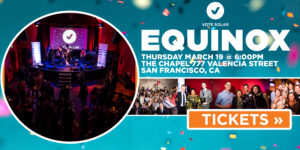 And don't miss these upcoming events:
Boston, Massachussetts | Solar and Energy Storage Feb 19-20 | Join us as we provide tools, experience and expertise to enhance innovation, policy, regulation, and business opportunities in the region. Register Here.
Denver, Colorado | Solar Power and Energy Storage Feb 24-26 | Join us at Solar Power and Energy Storage Mountain West and connect with 350+ energy professionals and 30+ exhibitors sharing the latest insights, products and solutions. Register Here.
San Diego, California | Protecting Your City From Wildfire March 11-12 | Join us this March as we learn best practices in responding to the risk of wildfires. Cities ascertain how to work aggressively and proactively on plans to mitigate avoidable risk and coordinate with public agencies. Gain expert advice on developing community wildfire protection plans, educating residents and hardening existing resources. Register Here.
Atlanta, Georgia | Solar and Energy Storage – April. 20-21 | Join us this April as we hear from leaders from the Southeast region as they discuss interconnection, microgrids, EVs, regional state outlooks, resilience and more. Register Here.