Vote Solar Welcomes Heather McTeer Toney and Cecil Corbin-Mark to Board of Directors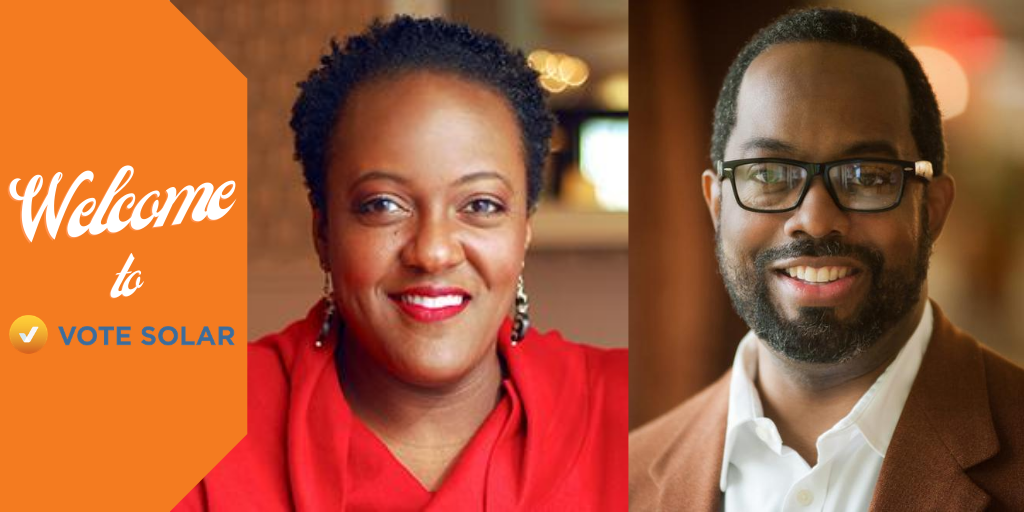 Oakland, CA — Vote Solar, a national solar advocacy non-profit dedicated to expanding access to solar energy, announced today the addition of two prominent environmental justice leaders to its Board of Directors.
Heather McTeer Toney is the National Field Director at Mom's Clean Air Force. She previously served as the first African-American, first female and youngest mayor of Greenville, MS. In 2014, she was appointed by President Barack Obama to serve as Regional Administrator for Environmental Protection Agency's (EPA) Southeast Region. Known for her energetic and genuine commitment to people, her work has made her a national figure in public service, diversity and community engagement. Heather holds a bachelor's degree from Spelman College in Atlanta and a law degree from the Tulane University School of Law.
Cecil Corbin-Mark is WE ACT for Environmental Justice's (WE ACT) Deputy Director and Director of Policy Initiatives. He holds a BA from Hunter College in Political Science and a M. Phil. in International Relations from Oxford University in England. Prior to joining WE ACT, Cecil worked for the following: the Bronx County District Attorney, NYS Justice Hon. W. T. Martin, the Mellon Minority Scholars Program and the NY Public Library.
He serves on the following boards: Center for Environmental Health, Clean and Healthy New York, Friends of the Earth USA, and Vote Solar. In 2008, he helped launch the Environmental Justice Leadership Forum, an alliance of 42 environmental justice organizations, in 20 states, that have come together to impact federal and state policy around climate and energy. In 2020, he was appointed by New York State's Department of Environmental Conservation's Commissioner to serve on the Climate Justice Working Group. He was the recipient of the 2010 Earth Day New York Award, and the 2018 Marshall England Memorial Public Health Award.
Cecil is a father, a pilot and lives in the Hamilton Heights section of West Harlem in NYC, his family's home for almost 90 years. He comes from a family that was actively engaged in the Civil Rights movement. His great uncle and aunt Louis E., and Dorothy Burnham moved from Harlem to Birmingham, AL to launch the Southern Negro Youth Congress and his cousin represented professor and Civil Rights activist, Angela Y. Davis, in her trial for kidnapping, murder and conspiracy.
"Vote Solar is thrilled to welcome Heather and Cecil to our Board of Directors," said Sheridan Pauker, Vote Solar Board Chair. "Heather and Cecil both bring a strong track record in improving access to solar energy in underserved and under resourced communities, a critical expertise particularly during a global pandemic that is disproportionately harming communities of color. In line with the global movement for racial equity, their perspective will help to expand our environmental justice work."
"There is enormous potential to expand solar energy across the South, and Vote Solar is leading the charge in making that happen," said Heather McTeer Toney. "I'm excited to work with the Vote Solar team to ensure that the Sunbelt takes advantage of clean, affordable energy that can help build environmental and economic resilience in our communities."
"I've seen firsthand how solar can help repower our communities with local, accessible jobs and meaningful savings for families and businesses," said Cecil Corbin-Mark. "Together with the team at Vote Solar I look forward to continuing to bring solar savings and jobs to the communities that need them most."