When Solar Rights Are Under Attack, We Fight Back
When a shadowy group launched an opportunistic attack that could strip away solar rights in every state, Vote Solar leapt into action. We immediately mobilized a nationwide, bi-partisan campaign—with astounding results.
UPDATE July 16: WE WON!!! Together, we saved rooftop solar. We mobilized 56,605 solar activists nationwide to defeat a shadowy utility front group that tried to take away your solar rights. Thank you to all our solar advocates and partners who took action with us!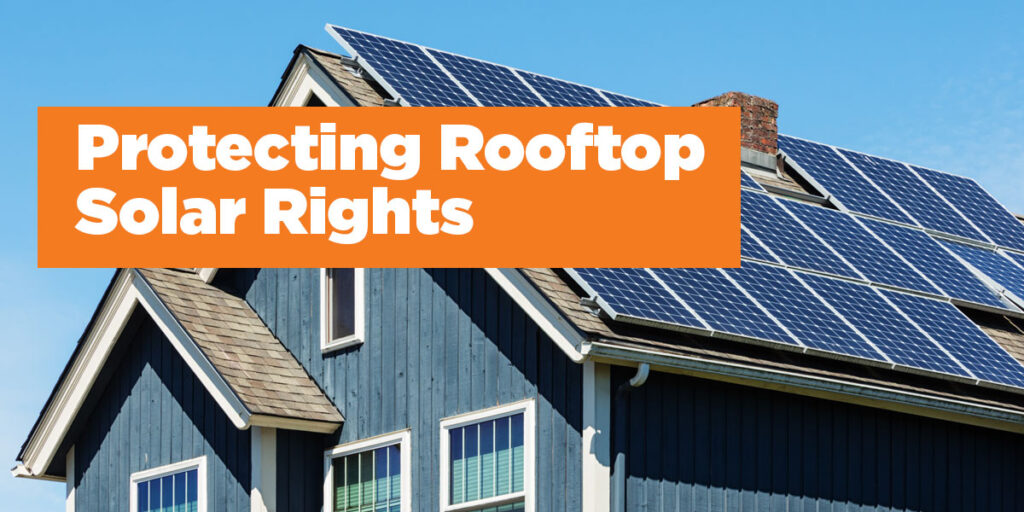 On April 14th, the New England Ratepayers Association (NERA), a secretive special interest group, filed a petition with the Federal Energy Regulatory Commission (FERC) to fundamentally change the economics of rooftop solar, effectively ending net metering as we know it.
The stakes could not be higher.
If successful, this challenge will impact 2.2 million households and 100,000+ other customers across 49 states with increased electric bills and exposure to new tax liabilities for the energy they generate. And with the solar industry already hurting due to the COVID-19 pandemic, a favorable ruling for NERA would devastate the rooftop solar market, resulting in lost jobs and investment. The future of rooftop solar is on the line.
Vote Solar leapt into action to defend the solar rights we've been fighting for since 2002. 
We mobilized a nationwide, bi-partisan campaign to protect net metering and engage solar supporters in every state across the U.S., working closely with our partners at Solar United Neighbors. We directly intervened, worked to ensure that state governments understood the stakes and were pushing back, and rallied unprecedented grassroots support.
The result? By the filing deadline, the docket included resounding opposition to NERA's petition from: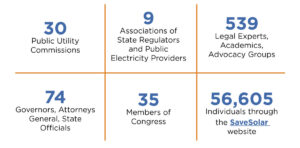 FERC will likely issue a decision on the fate of net metering before the election. Until then, Vote Solar will keep the spotlight on why the NERA petition would be devastating to solar, jobs, and state's rights.
This fight isn't over, and we need you by our side. Join Vote Solar in the fight to protect solar rights by making a monthly gift today.
More: