California PUC Unexpectedly Delays Solar Net Metering Proposal, Requests Further Stakeholder Comment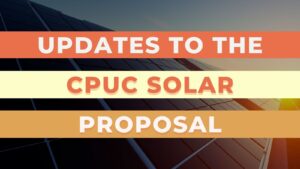 On May 9, the California Public Utilities Commission (CPUC) indicated that the fight over solar net metering in the Golden State will continue for some months yet. The agency has requested a new round of comments as it deliberates on the future of rooftop solar policy in California. This is a positive sign, as it follows a CPUC December proposal that had largely ignored input from pro-rooftop solar stakeholders including Vote Solar, the Sierra Club and the solar industry. However, it's still unclear what Governor Newsom and CPUC will propose later this year, so we can't let up in our campaign to protect Californians' ability to go solar.
Background
Net metering is a foundational clean energy policy that allows customers with onsite solar to save on their electric bill by receiving a credit for the excess clean energy they send back to the grid. The CPUC, which regulates the state's investor-owned utilities, opened a proceeding to update net metering back in August 2020. Stakeholders including Vote Solar submitted and debated a range of proposed policy changes. In December 2021, CPUC issued a deeply flawed proposal that would have put rooftop solar out of reach for most Californians, prompting an outpouring of opposition from the public. In February 2022, shortly after Governor Newsom appointed new Commission President Alice Reynolds, CPUC announced that it was rescinding the bad proposal and would release a revised proposal after considering the matter further. We had been expecting that revised proposal to be issued in the coming weeks.
New Ruling
The May 9 ruling asks for further stakeholder comments on specific ideas and pathways for revising California's net metering policy, pathways that weren't included in CPUC's first proposal. In particular, CPUC is asking for input on how to ramp down compensation for solar energy exports in a measured, predictable way, rather than reducing compensation immediately and drastically, as CPUC proposed in December. We think the new request for input is a good sign that Gov Newsom and CPUC President Reynolds have been listening to our coalition and the public, and are now taking the time to get rooftop solar policy right for California. They have heard loud and clear that Californians know rooftop solar is an essential part of climate progress, and that discriminatory new solar fees won't be tolerated. We're urging Governor Newsom to throw out CPUC's utility-backed December proposal entirely and approve a whole new framework that allows millions more Californians to choose rooftop solar affordably.
What's Next
The new ruling isn't all good news, however, because it shows Newsom is still contemplating a new solar-only fee for future rooftop solar customers. Solar-only fees unfairly charge people for the electricity they choose not to buy from the utility; they are the equivalent of charging customers for the power they save by installing energy-efficient appliances, and they harm low-income solar customers disproportionately. Vote Solar will continue, with our pro-solar allies, to fight against any solar-only fee being included in the update to California net metering.
A final decision on the issue will now be delayed until August or later while CPUC gathers new stakeholder input, and that creates regulatory uncertainty that is harmful for solar growth in the state. Ultimately, given the utilities' enormous political power, clean energy supporters still have a hard fight ahead of us to ensure Governor Newsom keeps rooftop solar growing in the Golden State.