California's Utilities are Trying to Kill Rooftop Solar with AB 1139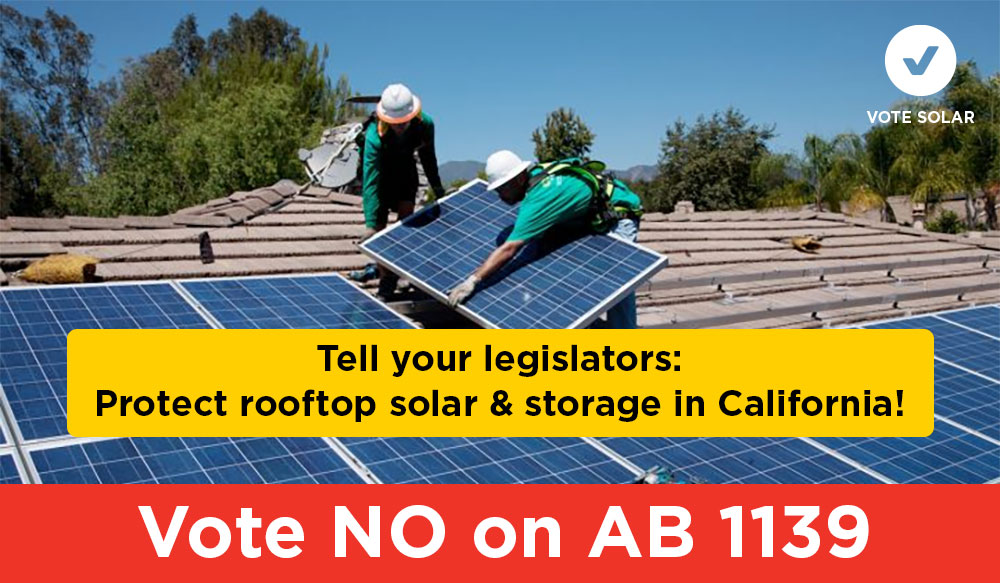 Update 6/3: AB 1139 failed to move forward on the Assembly floor and will not be heard this year. We heard in Sacramento that calls and emails from thousands of solar supporters and customers to their Assemblymembers made the difference. Thank you to all our members who took action to stop this bill!
In the next few weeks, the California State Assembly is considering AB 1139 by Assemblymember Gonzalez, a bill supported by the utilities that would put rooftop solar and storage out of reach for most Californians and roll back progress on energy justice. AB 1139 would move California backwards at a time when we should be doing more, not less, to put solar and batteries into the hands of everyday people.
We need all Californians who support a just transition to a 100% clean energy future to urge their Assemblymember to vote NO on AB 1139!
AB 1139 would effectively kill California's rooftop solar and energy storage market, undercutting the ability for low- and middle-income consumers to access the benefits of installing clean, reliable and more affordable energy. If passed, AB 1139 would:
Block the growth of local clean energy resources like rooftop solar and small-scale energy storage at a time when we need these critical resources more than ever
Drastically cut into the bill credits rooftop solar customers would receive as fair compensation for sending valuable clean energy back to the grid, and throw out long-standing CPUC protections for over a million existing net metering customers.
Fail to expand equitable clean energy access for more California families: language that would have boosted rate discounts and clean energy incentives for low-income customers in an earlier version of the bill has been removed.
AB 1139 removes the requirement to "ensure that renewable distributed generation continues to grow sustainably" from Public Utilities Code 2827(b). Local clean energy resources like rooftop solar and small-scale storage are going to be a key means of getting to 100% carbon-free energy, especially as we electrify vehicles and buildings, which will cause electricity demand on the distribution system to soar. Rooftop solar paired with storage also offers consumers an emissions-free means of keeping the lights on during the widespread grid blackouts that California suffers every year. It makes no sense that the Legislature would oppose the continued growth of renewable distributed generation in 2021.
AB 1139 would be particularly harmful to California's low- and moderate-income consumers and renters, who are adopting rooftop solar in increasing numbers today. Recent analysis by Lawrence Berkeley National Laboratories estimates that 39% of residential rooftop solar installed in the state in 2019 was on low- or moderate-income homes (those with incomes at or below 120% of the Area Median Income).  We have further to go to fully achieve equity in clean energy access for Californians, but unfairly chopping down the credit for clean energy exports will take us in the wrong direction.
As we previously shared, the California Public Utilities Commission is already in the middle of a rulemaking to consider changes to the state's net metering program, where Vote Solar and our allies have put forward proposals for smart and measured changes. AB 1139 is the utilities' attempt to force the CPUC to decimate rooftop solar's growth. That kind of pressure is harmful and unnecessary.
Californians: Take action! Tell your Assemblymember to vote NO on AB 1139.