Community Resilience Hubs in Action
Vote Solar held an educational webinar to discuss community resilience hubs, how they work, and the organizations establishing them in communities across the country.
"Community Resilience Hubs in Action" featured phenomenal speakers from Urban Sustainability Directors Network, Power52, and Asian Pacific Environmental Network (APEN).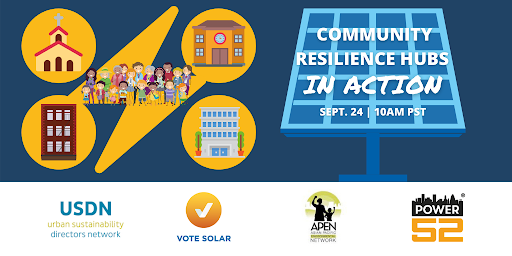 Here's what speakers had to say:
Kristin Baja ("Baja") discussed the origination of the Resilience Hubs concept and shared the comprehensive nature of the approach. She then explained the five key components of Resilience Hubs and provided examples of where they are working best throughout the country.
Cherie Brooks at Power52, discussed Power52's experience in developing multiple Resilience Hubs in Baltimore, Maryland, job training benefits, and best practices.
Amee Raval spoke about APEN's new policy report released in partnership with SEIU California and Blue-Green Alliance entitled "Resilience Before Disaster: The Need to Build Equitable, Community-Driven Social Infrastructure" that makes the case to invest in building equitable, community-driven social infrastructure for Californians with the fewest material resources to recover.
Here are some follow-up resources from the webinar: