2023 Dr. Espanola Jackson Energy Justice Award Winner Announcement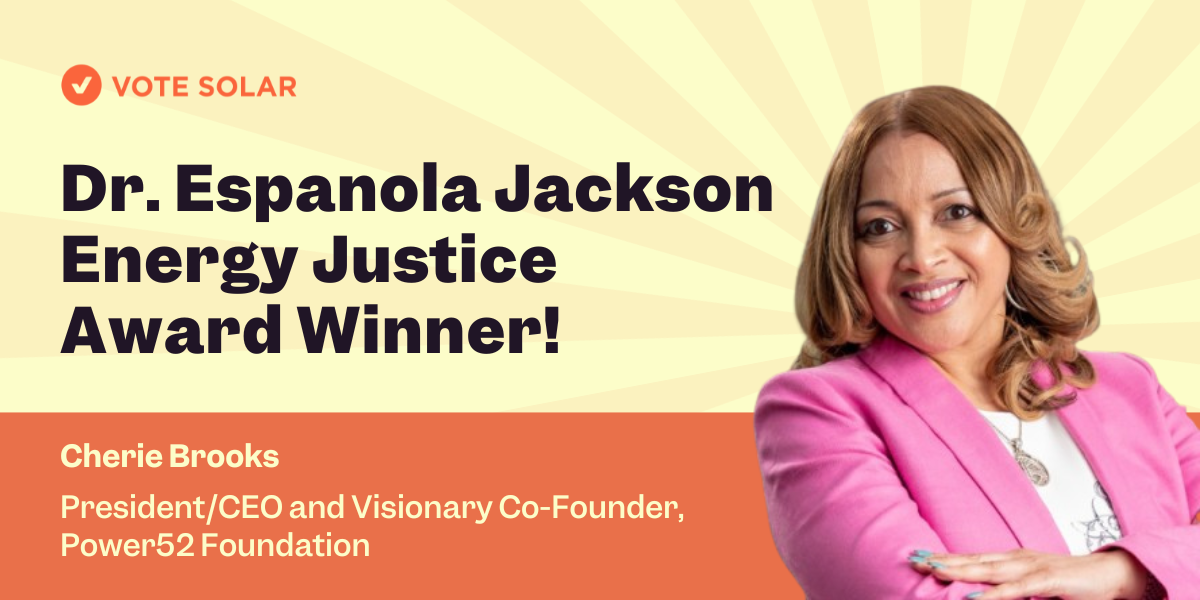 Cherie Brooks of Power52 Foundation named awardee in the 2023 Dr. Espanola Jackson Energy Justice Award.
Baltimore, Maryland –– Vote Solar is proud to honor Cherie Brooks, an incredible energy justice hero, with the 2023 Dr. Espanola Jackson Energy Justice Award (formerly the Solar Justice Award). Almost 1,000 members of the public named Cherie Brooks, President/CEO and Visionary Co-Founder of Power52 Foundation, winner. As a Baltimore local, Cherie has dedicated her life to bringing clean energy access and economic empowerment to underserved neighborhoods. Through the Power52 Foundation, she has established resiliency hubs, clean energy resources, education, training, and sustainable jobs, making a profound impact at the intersection of environmental and economic justice.
The award celebrates the legacy of a tireless community and environmental justice leader, Dr. Espanola Jackson, by recognizing leaders of color who serve as a model of environmental justice leadership and inspire us all to work toward a just clean energy transition. The award is given to those that are long-time leaders in their communities, dedicated to improving health and well-being in their community through clean energy, strong coalition builders, work at the intersection of racial justice & clean energy access, work both to stop the extractive polluting energy economy and bring health, jobs, and savings to their community via clean energy opportunities, and influence the state or local energy policy agenda through direct grassroots advocacy.
Cherie's flagship accomplishments have been the development and oversight of Power52 Energy Institute, the first Clean Energy focused Private Career School in the State of Maryland. Power52 Foundation is one of two non-profits to ever receive approval from the Maryland Higher Education Commission to own and operate a private career school in the State's history. Cherie also managed the development to convert Living Classrooms' community center, POWER House, into a Resiliency Hub, serving a public housing community in East Baltimore, whose residents are commonly at the highest risk during emergencies. The POWER House is the first solar-powered, community-based resiliency hub in the nation.
Cherie's greatest strengths are her creativity, drive, and leadership. She thrives on challenges, particularly those that expand the company's reach. Philanthropy and ministry are Cherie's passions and one of her visions for Power52 Foundation is that it will become the primary on-ramp to careers in solar and renewable energy addressing under-employment and climate justice nationally, for persons from marginalized communities.
Cherie Brooks will be honored with a short film to highlight her story, work, and accomplishments, premiering in December. Further, Cherie will receive $10,000 from Vote Solar and have the option to receive up to 10 hours of support from Vote Solar's philanthropy team to build their fundraising capacity and connections.
This year's finalists included:
Esperanza Vielma, Executive Director, Environmental Justice Coalition for Water; Yesenia Rivera, Executive Director, Energy Allies; Alicia Rivera, Organizer, Communities for a Better Environment; Jameka Hodnett, Chief Program Officer, The Chisholm Legacy Project: A Resource Hub for Black Frontline Climate Justice Leadership; Juan Flores, Community Organizer, Center for Race, Poverty, and the Environment (CRPE); Mozine Lowe, Executive Director, The Center for Energy Education (C4EE); Robyn Jackson, Executive Director, Diné C.A.R.E.; Ronald Tuff (Rev.), New Jersey Organizer, GreenFaith; Nicole Horseherder, Executive Director, Tó Nizhóní Ání (TNA).
——————————
About Vote Solar
Since 2001, Vote Solar has been working to lower solar costs and expand solar access across the United States. A 501(c)3 nonprofit with more than 94,000 members nationwide, Vote Solar advances state policies and programs needed to repower our electric grid with clean energy and achieve a more environmentally just society. By identifying and accelerating solar solutions in legislatures and public utility commissions in over 20 states, Vote Solar works to combat the climate crisis, lower energy costs for ratepayers, reduce harmful pollution, and build a brighter, cleaner, more equitable future.
Learn more at www.votesolar.org.