Our brightest days are ahead – Adam Browning's Farewell Letter to Vote Solarians
After 20 years of extraordinary impact on making solar mainstream in the United States, Adam Browning, Vote Solar's co-founder and Executive Director, is moving onward from Vote Solar into a new chapter. Adam shares his reflections on Vote Solar's impact and the bright days ahead.
Twenty years ago, I had a beer with a college buddy, which turned into a scheme to get solar on top of San Francisco City Hall.
Shortly after the successful Prop B ballot initiative, Vote Solar was officially born with a $50k grant from the Energy Foundation, and a mission to bring solar into the mainstream. I'd found my calling.
Over the past 20 years, Vote Solar has grown from two people in a subleased office in SF, to 40 people working in 26 states, with an $8.6 million budget, and a national impact on the path towards an equitable 100% clean energy future.
The time has come, my friends, for me to move onward from Vote Solar into new adventures.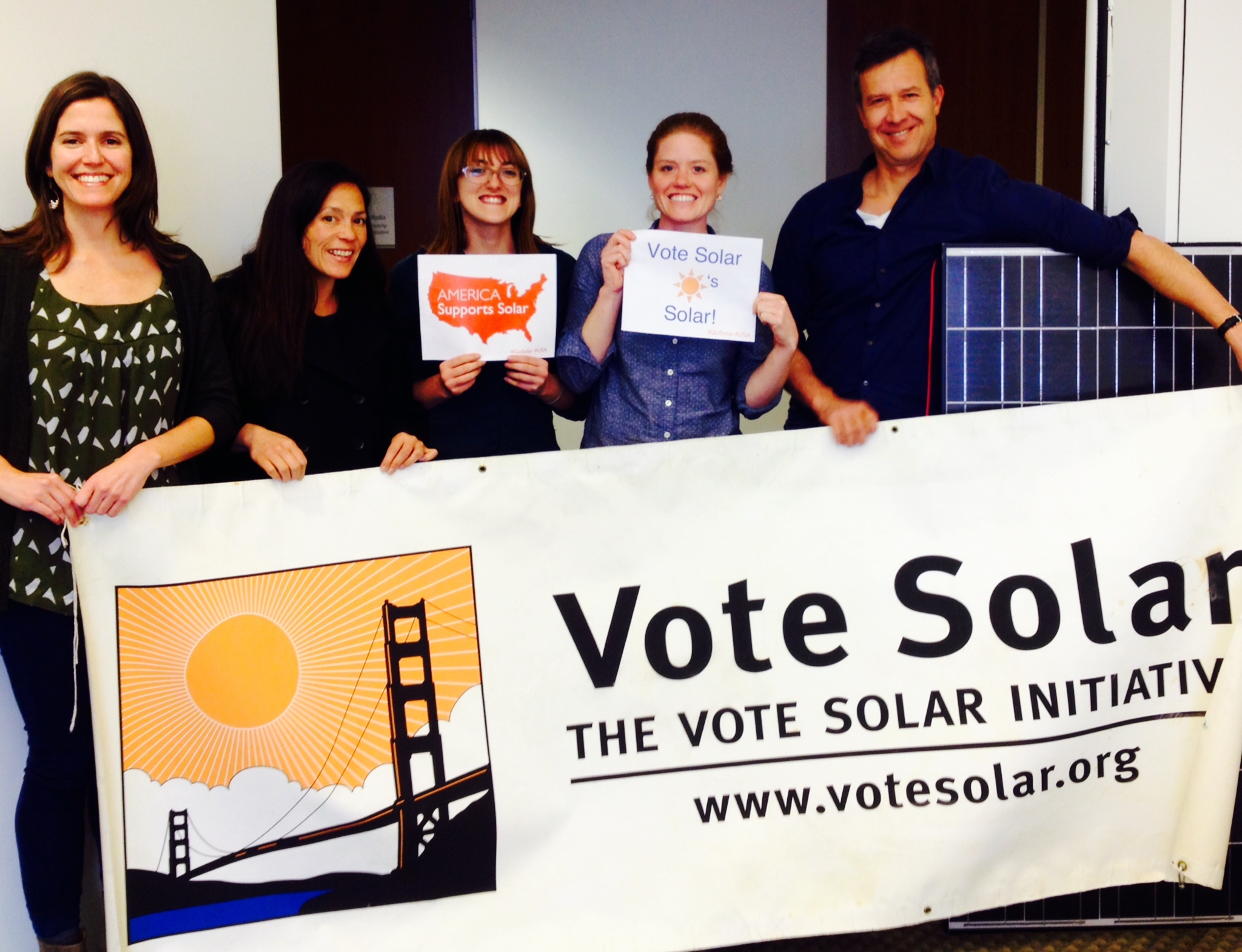 I am excited to make room for new leadership – for new voices and different ways of looking at the world – to guide Vote Solar through its next stage of growth and impact as we build a world where the sun truly shines for everyone.
And I am excited to start a new chapter in my life. It's been the honor of a lifetime to do this work shoulder to shoulder with each of you. I will be forever proud of all that we've created and accomplished together. I truly believe Vote Solar's brightest days are ahead.
When Vote Solar was founded, solar was $9/W and there were 163 MW installed in the US – basically, equivalent to a rounding error in the overall energy system. Since then, Vote Solar catalyzed a national movement, and has led several hundreds of regulatory interventions and legislative campaigns in 40 states. That work and those wins helped establish hundreds of GWs of solar demand, and turn solar into a mainstream resource.
Today, solar is one of the cheapest new energy resources, and there are nearly 3 million solar installations in the US, totalling 102,800 MW. Over a third of the people in this country live in a state with a legal requirement for 100% clean electricity. Clean energy's low cost and this state-led momentum has set the stage to a point where a push to completely decarbonize electricity is both possible and plausible. This is the foundation that our decarbonization hopes are built on.
There is much left to do. Decarbonization provides an unprecedented window to reshape our energy system to advantage those who are most burdened by it. For clean energy to scale as a climate solution – with solar at the center – we must continue to build an inclusive path forward.
Over the past five years, we have evolved our mission to center solutions that avoid replicating inequities and address the systemic harms of our outdated fossil-based energy system. By dreaming bigger, we've deepened our impact. And I couldn't dream of a better team who can meet this moment and continue to advance a just and equitable 100% clean energy future.
I am forever grateful to all my teammates and the Vote Solar alumnae. Your work, and your leadership, has built this organization into a powerhouse of joyful solar warriors, respected by policymakers, allies, and opponents alike. You are an awesome, beautiful group of people, doing the most important work in the world.
And I'm similarly indebted to the vast network of Vote Solar members, partners, and supporters. Vote Solar was founded on the idea of enabling people to be a part of something bigger than themselves, of connecting the supermajority of people who want a transition to clean energy with effective ways of taking action. For all the camaraderie, support, guidance, collaboration, and consolation, I thank you all.

My last day as Executive Director will be September 30; Sachu Constantine will take the role of Interim Executive Director while the Board and senior leadership conduct a nationwide search for the next ED. I'll continue to support the organization in an advisory role through the end of the year (and in my heart for the rest of my life).
When I was in the Peace Corps, I lived with the Fulani people in Guinea-Bissau. The Fulani have a custom of calling out 'djarama!' – which means thank you – whenever they see someone working. You walk through the rice fields: djarama. You see someone gathering firewood: djarama. It's a wonderful way of reminding ourselves that the things we need to sustain our communities depend on the collective effort of a lot of people, and by honoring that effort, we build closer ties and enhance the chances of communal survival. And so I say to you: djarama.