Press Release: Governor Newsom Signs Community Renewable Energy Bill
AB 2316 (Ward) will unleash community solar plus storage in California, expanding clean energy access while prioritizing low-income customer participation, cutting electric bills for millions of Californians, and strengthening the state's power grid.
California will be eligible for billions of dollars in new federal clean energy incentives supporting community solar plus storage.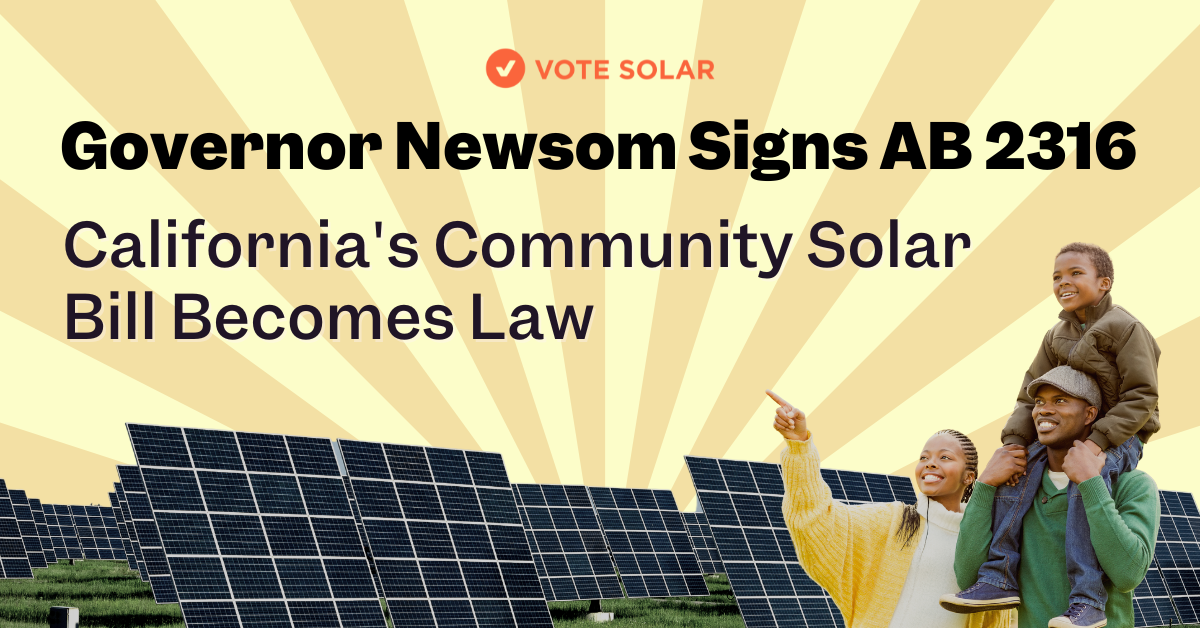 (Sacramento, CA) — Governor Gavin Newsom signed AB 2316 authored by Assemblymember Chris Ward (D-San Diego) to create a community renewable energy program that pairs community solar with storage to help the state overcome clean energy access barriers impacting nearly half of Californians who rent or have low incomes while strengthening the power grid.
The bill was spearheaded by a diverse coalition of supporters — including advocates for environmental justice, clean energy, ratepayers, home builders, and commercial property.
"Community renewable energy is a proven powerful tool to help close California's clean energy gap, bringing much needed relief to millions struggling with high housing costs and utility debt," said Alexis Sutterman, Energy Equity Program Manager at the California Environmental Justice Alliance. "All families will finally have a choice to save on electric bills while unplugging from dirty power and joining the fight against climate change. As this program takes off, California will build the affordable and reliable clean energy supplies needed to retire polluting fossil fuel-powered plants in environmental justice communities and pursue a cleaner, safer future."
Community solar projects are smaller scale installations typically constructed on landfills, former industrial sites, or private land. By signing up as a subscriber, customers save an average of 10 percent on their electric bills by receiving credits based on their share of the project's generation. When paired with energy storage, community solar helps build grid reliability by providing clean power after sunset during peak hours of energy use.
"This new program can set a new standard for clean energy," said Derek Chernow, Western Regional Director at the Coalition for Community Solar Access. "It will make affordable and reliable clean energy available to millions of Californians who have been unfairly left behind in the clean energy transition. By signing AB 2316, Governor Newsom cemented California's role leading the next wave of clean energy growth across the country."
The Biden Administration recently launched a community solar pilot program to generate $1 billion in annual utility bill savings benefitting low and middle-income households. Also, the federal Inflation Reduction Act (IRA) includes billions of dollars in new incentives for states launching community solar programs with storage benefiting low-moderate income families and paying prevailing wages.
AB 2316:
Gives renters, nearly half of Californians and predominantly people of color, access to clean energy and lower electricity bills

Builds the reliability of California's power grid through linking storage with community solar

Ensures at least 51% of subscribers are low income customers, triggering at least a 40% federal tax credit on solar installations under the IRA

Requires prevailing wages for workers, triggering a 30% federal tax credit for storage installations under the IRA

Avoids imposing costs onto non-participants through higher rates and maximizes the state's ability to access federal funds under the IRA

Helps builders meet state new building code requirements mandating solar systems paired with storage in the construction of multi-family housing and nonresidential construction starting in 2023.
"This is a game changer. Governor Newsom couldn't have signed this bill at a better time," said Susannah Churchill, Deputy Program Director, West at Vote Solar. "Billions in new federal funds will boost our fight against climate change by making clean energy from community solar plus storage an affordable choice for all Californians."
"By signing this bill, Governor Newsom has unlocked the potential of community-based renewable energy and storage projects to serve low-income customers and meet the state's reliability needs," said Matthew Freedman, Staff Attorney at The Utility Reform Network. "AB 2316 should provide affordable clean power options for the almost half of Californians who rent and many with homes that are not suitable for rooftop solar."
Across the country community solar is taking root in a third of states, and growing. It generates over 4.4 gigawatts of power, which is enough energy to power nearly 800,000 homes. In a few short years, New York State became the nation's community solar leader with capacity to power 200,000 homes. Community solar is expected to generate 70% of progress towards New York's goal to power 700,000 new homes with distributive solar by 2030 with at least 35% of benefits going to disadvantaged communities and low/moderate income families.
While California is an established solar leader, it has two programs that have failed to unleash community solar's potential, including:
The Enhanced Community Renewables component of the Green Tariff Shared Renewables Program has no projects in operation after nine years because of unfinanceable rates.

The Community Solar-Green Tariff program is expensive, limited to disadvantaged communities, and the mechanism for controlling cost shift onto non-participants is through limiting the program's growth.
According to the text of AB 2316, "it is the intent of the Legislature to create a community renewable energy program…." The responsibility to bring this program to life now rests with the California Public Utilities Commission where they are also being asked to evaluate the existing programs and report to the Legislature its justification for terminating, modifying, or retaining them.