Pride is a Protest, Stonewall was a Riot
Sean Garren, our Senior Regional Director in the Northeast & Mid-Atlantic, writes about how Pride has always been rooted in protest, and what it means to him. Part of a series: Vote Solar Staff Voices
Ugh. 2020, am I right? And yet, I find some reasons for hope.
This Pride month has been quite different than the usual – just as this year has been so, so different from the usual. For me, I miss marching through Boston in my brightest clothing, waving my Progress Pride flag, hanging out on my friends' rooftop in the South End and figuring out how to be original about another rainbow themed night at DBar, my local gay bar.
But one thing that hasn't been different is the spirit of protest that has taken the country, and world, by storm this month. Pride has always been rooted in protest. The birth of Pride, Stonewall in 1969, was in fact a riot against police brutality led by people of color. The commonalities with the moment we find ourselves in are striking.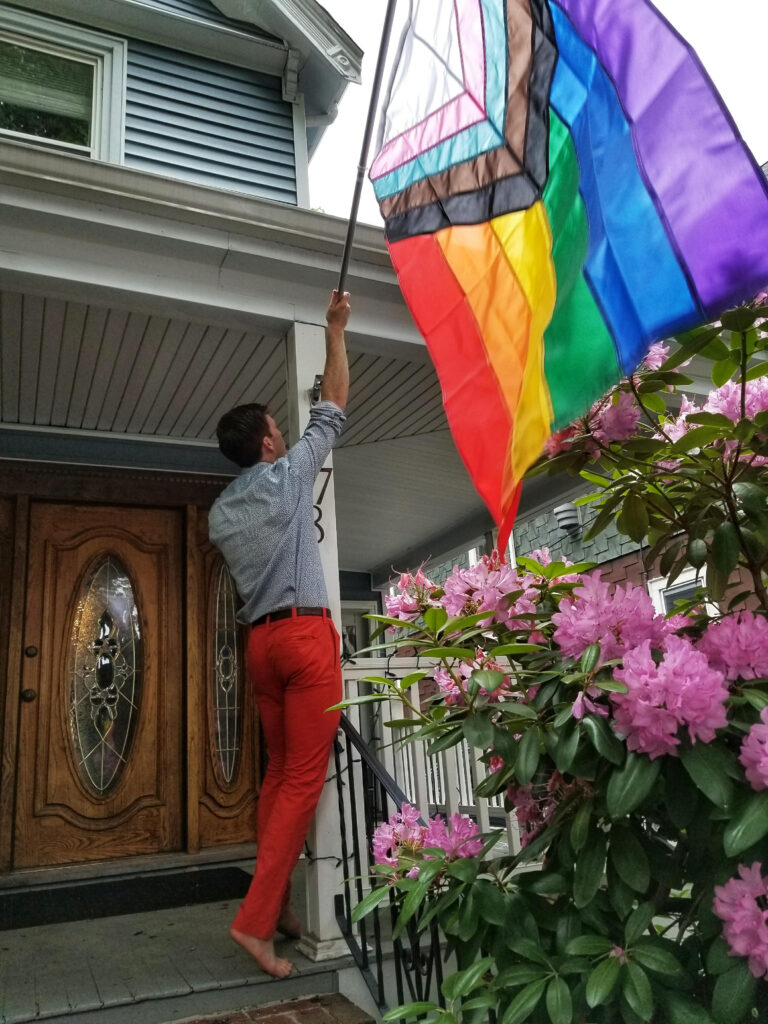 Pride continues to be an act of protest for me personally. Pride is one day, sometimes a week, every year where I wear my truths on the outside and refuse to weigh consequences. It is a yearly protest against the homophobic, heteronormative, gender-structured society I grew up in and continue to live within. Last Pride, I went to an event at Boston's Museum of Fine Arts wearing shiny, red high heels with my tuxedo. Of course people stared and laughed, but what did I care – it was Pride! And I looked fabulous. This is a tradition I've taken part in for two decades now.
But outside of Pride, I struggle to balance my individuality with the societal norms around me – this is especially true with regard to my sexuality. The decision to share a story or fact about my life at home with my husband, Will – stories at the core of who I am and what I care about – involve weighing the potential repercussions for my personal and professional standing with those around me, and how thick my emotional walls are at the moment. These moments nearly always end up awkward and not too seldom painful.
Though we're far from the finish line (writing a blog about being gay could get you fired in many states until a Supreme Court ruling yesterday!), thinking about the trajectory of Pride and lesbian, gay and bisexual rights during my lifetime gives me hope. When I went to Pride the first time as a teenager, I was afraid to tell anyone I was gay (I was just supporting friends!) and Matthew Shepard had recently been killed for being gay. Now, I go and march alongside my husband.
The entire culture of our country with regard to sexuality has shifted dramatically, and with it our laws. Sadly, the same cannot be said for gender expression and equality as far too much discrimination and violence continues to be aimed at transgender people, including two transgender women who were murdered in the past few weeks, Riah Milton in Ohio and Dominique "Rem'Mie" Fells in Pennsylvania. Still, I see signs of progress with the recent Supreme Court ruling and hope for more soon.
The massive social change on LGBT issues I've witnessed in my lifetime gives me hope for the continued work we must all do to promote racial justice and advance energy equity. Broken systems cry out for change, and when folks rally in response we can see improvement arrive quickly.
"I do not pretend to understand the moral universe; the arc is a long one, my eye reaches but little ways; I cannot calculate the curve and complete the figure by the experience of sight; I can divine it by conscience. And from what I see I am sure it bends towards justice." ~ Abolitionist Reverend Theodore Parker