Report: Resilient Clean Energy for California
As PG&E proposes to install over 500 megawatts of fossil fuel generators at 20 substations in Northern California to prevent power outages, a new report urges policymakers to support resilient clean energy instead. Resilient Clean Energy for California: Protecting Vulnerable Communities, Critical Facilities, and the California Economy with Solar + Storage, released by Vote Solar just ahead of Governor Newsom's State of the State address, makes the case that solar + storage solutions are more cost effective, are compatible with our 100% clean energy mandate, and can ensure a more equitable and resilient electric grid.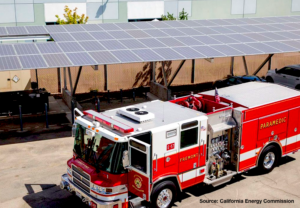 "Installing hundreds of megawatts of large fossil generators in towns that experienced power outages in 2019 is the wrong way to build community resilience and reduce the risk of catastrophic wildfires," said Susannah Churchill, California Director for Vote Solar. "Resilient clean energy, like onsite solar paired with storage, can be installed right now to provide reliable backup power for customers of all kinds, from low-income households to fire stations to school campuses. Boosting resilient clean energy should be a central element of the state's plan to address wildfires and power outages."
Resilient Clean Energy for California documents the widespread impacts of power shutoffs in California and the importance of protecting vulnerable communities like medically dependent customers, low-income communities and communities of color. It also discusses the drawbacks of conventional solutions to wildfire risk. Undergrounding power lines, for example, would cost billions of dollars and take many years to complete. Fossil fuel backup generators cause an average of 80 deaths from carbon monoxide poisoning in the U.S. annually, air pollution equal to hundreds of cars and trucks, and, ironically, an average of 43 fires per year just in California.
"Californians who rely on consistent electricity to power medical and mobility equipment should be a top priority in this era of power outages. Vulnerable seniors and people with disabilities need reliable, continuous and clean electricity as a matter of life and death, and regardless of income. The recommendations in this report are important steps in keeping electricity dependent people safe," said Richard Skaff, Executive Director of Designing Accessible Communities.
The report highlights the scalable nature of solar + storage, from small-scale solutions like solar-powered street lights and cell phone transmitters, to resilient homes and first responders like fire stations, to large clean microgrids that can power small towns or campuses. The report also looks at the emerging opportunity in electric cars, which can serve as batteries on wheels, charging with clean electricity and then providing power to homes during an outage. Putting five million EVs on the road this decade — the official state goal — would create energy storage equivalent to half of California's average daily electricity demand.
"Solar + storage is an insurance policy. It makes outages less harmful to Californians, while keeping us moving toward our clean energy goals," said Bentham Paulos, author of the report commissioned by Vote Solar. "It is both a response to a changing climate, and a solution to climate change."
The report also shows that solar + storage on homes and businesses is often more cost effective than fossil fuel backup generators.  While both generators and resilient solar can power a building during an outage, the generator provides no value the rest of the time, while the solar system saves money every day. Considering over a million California homes and businesses already have solar — including  2,000 schools — adding batteries is a quick way to increase resilience.
The report offers a set of policy recommendations to facilitate a just transition to resilient clean energy:
Maintain and expand distributed energy policies

Focus on medically vulnerable customers

Focus on low-income communities and communities of color

Focus on critical facilities and schools

Provide state financing for local infrastructure

Take microgrid R&D to the next level

Integrate energy resilience into emergency planning and response
Watch a recording of our webinar with report authors and experts: