Vote Solar Announces Appointment of Sachu Constantine as Executive Director
National Clean Energy Champion and  Regulatory Expert to Lead National Solar Advocacy Nonprofit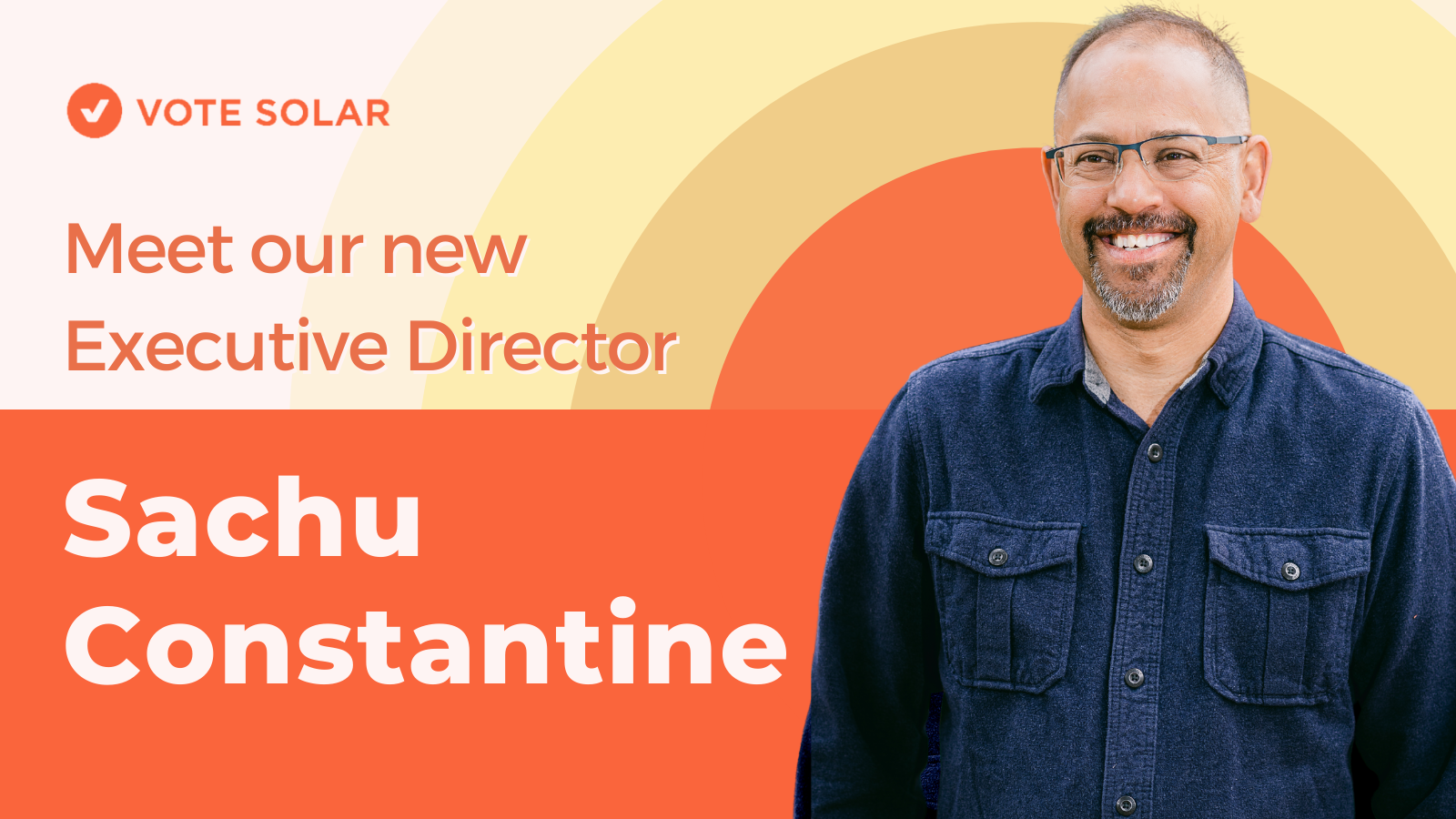 Vote Solar, a leading solar nonprofit in the U.S., today announced the appointment of Sachu Constantine as its new Executive Director. Reporting to Vote Solar's Board of Directors, Constantine will be responsible for guiding the organization through its next stage of growth and impact. Under his adept leadership, Vote Solar will continue to advance just and equitable clean energy policy and regulatory solutions across the country.
"Vote Solar has long played a critical role in deploying clean energy solutions at scale across the country. I'm honored to work with this talented team to help make that transition happen with the growing urgency that climate change requires," said Constantine. "As we partner with communities to build our clean energy future, Vote Solar will advance policies and programs that address the previous inequities of our fossil fuel dominant energy system and benefit communities that have historically been left out of the decision-making process. I look forward to continuing the fight for affordable and accessible solar power for all."
With high profile roles in the energy and environmental field spanning nearly three decades, Constantine has a proven commitment to the fight for a just, sustainable world powered by clean energy. With experience at both the national and international level, Constantine brings to bear a well-rounded perspective on the value of solar energy, particularly in combination with efficiency and expanded electrification. 
Since 2017, Constantine has served as Vote Solar's Regulatory Managing Director, and most recently as the organization's Interim Executive Director. Prior to joining Vote Solar, Constantine served as the Director of Policy at the Center for Sustainable Energy (CSE) for five years. In that role, he was responsible for directing CSE's policy, regulatory and legislative efforts as well as building its reputation as a regional, state and national leader in the clean energy arena. He has also served stints at SunPower Corporation, the California Public Utilities Commission and the Alliance to Save Energy.
"Sachu embodies Vote Solar's core values and has a proven track record of strategic leadership," said Zaid Ashai, Vote Solar's board chair and CEO of Nexamp. "His wealth of expertise in building and scaling powerful solar solutions in the face of the mounting climate crisis will enable Vote Solar to drive even greater solar adoption as we grow our impact across the country" 
In recent years, Vote Solar has expanded in both size and impact. With Constantine at the helm, the organization is poised to continue that growth and advance its mission to realize a 100% clean energy future through a solutions-driven, people-first approach. Vote Solar's impact to date includes ensuring one in three Americans now live in a state with a 100% clean energy mandate. In addition, over the last two decades,Vote Solar has secured over 114,000 MW of new solar commitments, championed policies that will create over 250,000 new solar jobs, and enabled solar access for 1.43 million people from underserved communities.
Constantine is Vote Solar's second Executive Director, following the term of co-founder Adam Browning, who guided the organization through its first 20 years.