Vote Solar Issues Report Cards for Florida's Largest Utilities Based on Plans for the Future
Data comes from each utility's 10-Year Site Plans and trends indicate an over-reliance on fossil fuels and only moderate investment in solar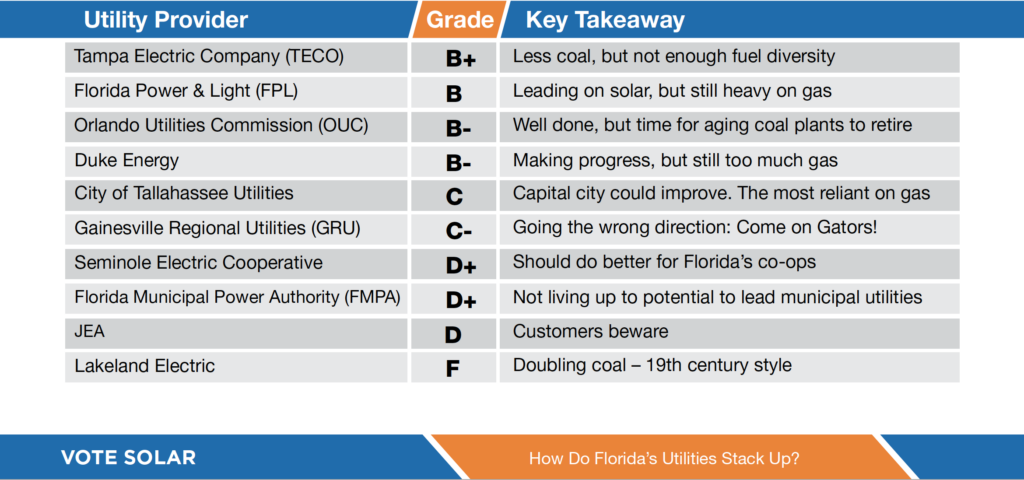 TALLAHASSEE, Fla. – Each year, Florida's largest electric utilities file a report with the state outlining their plans for the next 10 years – and today Vote Solar issued letter grades for these plans.
The "10-Year Site Plans," submitted to the Florida Public Service Commission, detail everything from reliance on fossil fuels to consumer protection policies. Vote Solar combed through hundreds of pages of these plans from 10 of the state's largest utilities in order to produce an overall letter grade for each utility.
"Every day, electric utilities make important decisions that affect countless Floridians," said Katie Chiles Ottenweller, Southeast Director for Vote Solar. "Those decisions can result in significant investments in cleaner, more cost-effective infrastructure like solar farms — or they can pour more and more customer money into volatile, outdated generation sources like coal and natural gas. We're excited about these report cards because they make it easier for customers to access and understand each utility's plans for our future."
The grades are based on multiple categories, including the utility's commitment to renewable energy and its investment in resilient energy storage. The cumbersome site plan process makes it difficult for Floridians to understand how and why utilities make their decisions or how alternatives would fare, so these report cards are aimed at more clearly highlighting key takeaways from the plans.
Ranked at the bottom of the list is Lakeland Electric, which Vote Solar gave an F grade. It is one of the few utilities in the state that plans to substantially increase its dependence on carbon-heavy coal, more than doubling its use. Lakeland Electric's plan also doesn't consider essential objectives such as customer resilience programs that use storage technology for back-up power during hurricanes.
Tampa Electric Company (TECO) scored at the top of the list with a grade of B+. TECO already had the highest percentage of solar installed in 2019 and plans to increase its use further by 2029. The utility also plans to scale back on coal and offer community solar options and an energy storage pilot.
"Overall, Florida's utilities are stuck in the past, planning to profit from unnecessary gas investments, while ignoring more cost effective efficiency and solar options," said Odette Mucha, Southeast Regulatory Director of Vote Solar. "It's like they're asking for more gold-plated horses and buggies instead of embracing the advent of the car."
The 10 utilities studied by Vote Solar and their respective grades:
Tampa Electric Company (TECO), B+
Florida Power & Light (FPL), B
Orlando Utilities Commission (OUC), B-
Duke Energy, B-
City of Tallahassee Utilities, C
Gainesville Regional Utilities (GRU), C-
Seminole Electric Cooperative, D+
Florida Municipal Power Authority (FMPA), D+