2021 Solar Justice Award Winner: Joseph Hernandez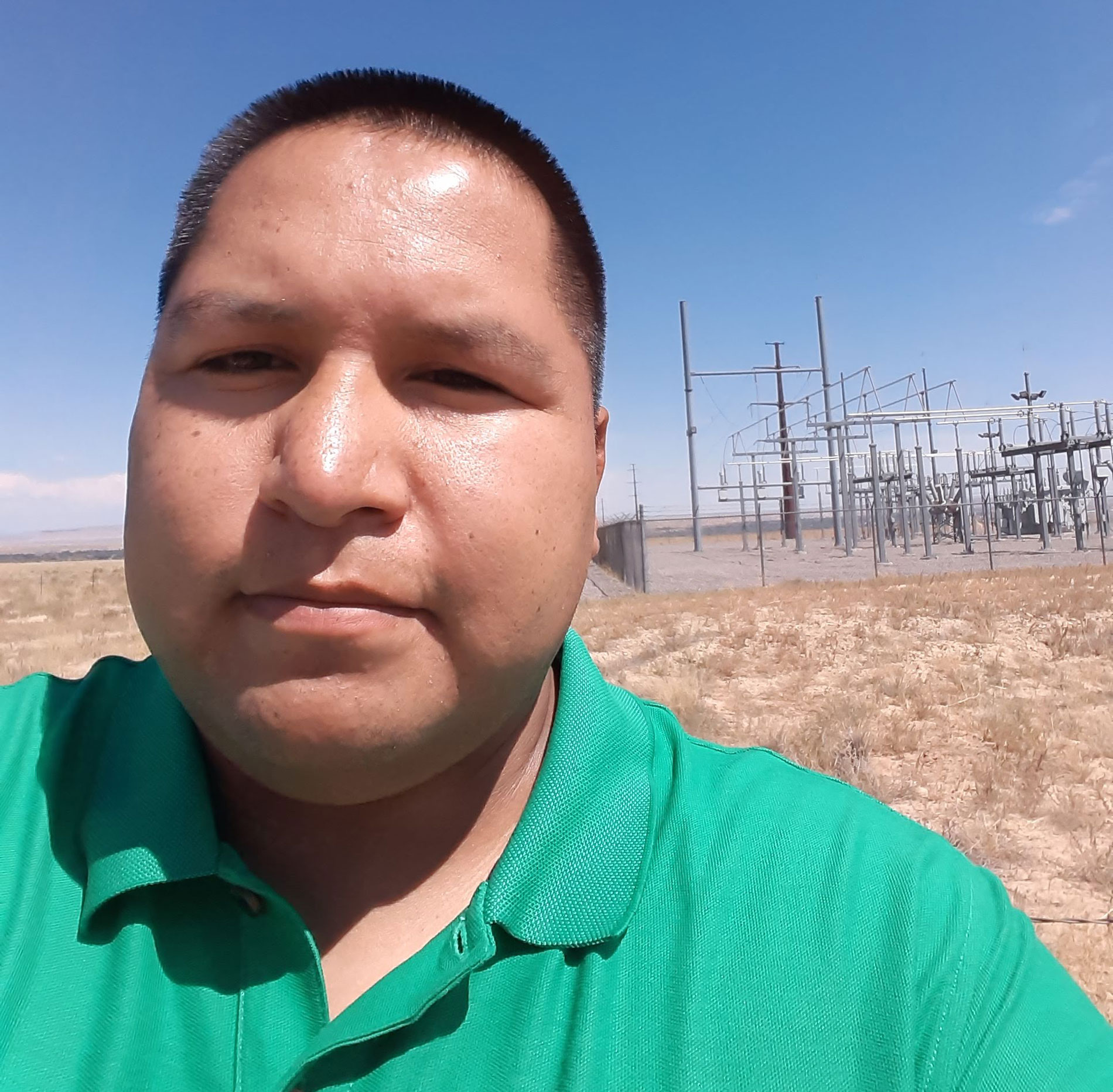 Energy justice leader for Indigenous and small communities in New Mexico: Joseph Franklin Hernandez
2021 Dr. Espanola Jackson Solar Justice Award Winner
Follow Joseph Hernandez on Twitter.
Learn more about the Solar Justice Award »
Vote Solar is proud to honor Joseph Franklin Hernandez with the 2021 Dr. Espanola Jackson Solar Justice Award. Joseph Hernandez is a tireless organizer for energy justice whose work has been instrumental to expanding solar energy opportunity in New Mexico and opening up pathways to energy sovereignty for Native American communities.
As the Diné Energy Organizer for NAVA Education Project (NAVAEP) and NM Native Vote, Joseph organizes in the Navajo Nation, working on issues that impact Indigenous and small communities that otherwise wouldn't have a voice.
Harnessing the power of the sun for resilient Native communities
New Mexico committed to a 100% renewable energy future through the passage of the Energy Transition Act in 2019. But for too long, only rooftop solar has been widely available, leaving 70% of New Mexicans out of the clean energy transition — including renters, families who can't afford to invest in solar at home, and small businesses. The limitations of solar development also prevented Native American Tribes and Pueblos from attaining their pathways to energy sovereignty and the just energy transition.
Through his leadership, Joseph helped to pass SB 84, the Community Solar Act, which gives all New Mexicans the opportunity to go solar and benefit from affordable, local clean energy. The passage of SB 84 this legislative session has enabled community solar development throughout New Mexico, presenting new opportunities for Tribes and Pueblos to develop Tribally-owned solar arrays that directly benefit community members.
With community solar, anyone who pays an electricity bill has access to the economic and environmental benefits of solar energy without the need to install a solar system on-site. It expands access to solar for all New Mexicans–providing energy choice for customers, all while building a stronger, distributed, and more resilient electric grid that improves community health and provides economic development.
Joseph worked closely with our Interior West Director and Tribal Liaison Mayane Barudin, a Tribal Member of Kewa Pueblo. Vote Solar was honored to work with Joseph and NAVAEP as key partners in a broad coalition that collectively achieved passage of SB 84.
Many of the families Joseph serves lack access to broadband, and he often goes door-to-door to engage, educate, and uplift their voices. Joseph gave personal assistance to help community members overcome technical barriers to speak out on critical energy policy decisions during New Mexico's 2021 legislative session. His organizing enabled elders' voices to be heard and helped local leaders share the importance of sustainable energy with low-income families. He turned out huge support at virtual hearings for community solar, published an op-ed on harnessing solar energy for resilient Native communities, and delivered his own powerful testimony to legislators.
Joseph's dedication to passing SB84 is just one example of his dedication to energy democracy and inclusive decision-making. His leadership as the Diné Energy Organizer and in his community are an example to all.
"It is an honor to be the 2021 National recipient of the Dr. Espanola Jackson Solar Justice Award. I share this award with the many community organizers that are working everyday to secure a clean energy future," Joseph said.
Dr. Espanola Jackson Solar Justice Award Celebration
Watch the virtual celebration held Wed. July 14 to honor this year's award recipient! Hear from honoree Joseph Hernandez and more environmental justice leaders, and celebrate Joseph's dedication to centering Native voices in New Mexico's transition to 100% clean energy. The event program was livestreamed on Facebook and included the award presentation and a panel conversation with solar justice champions.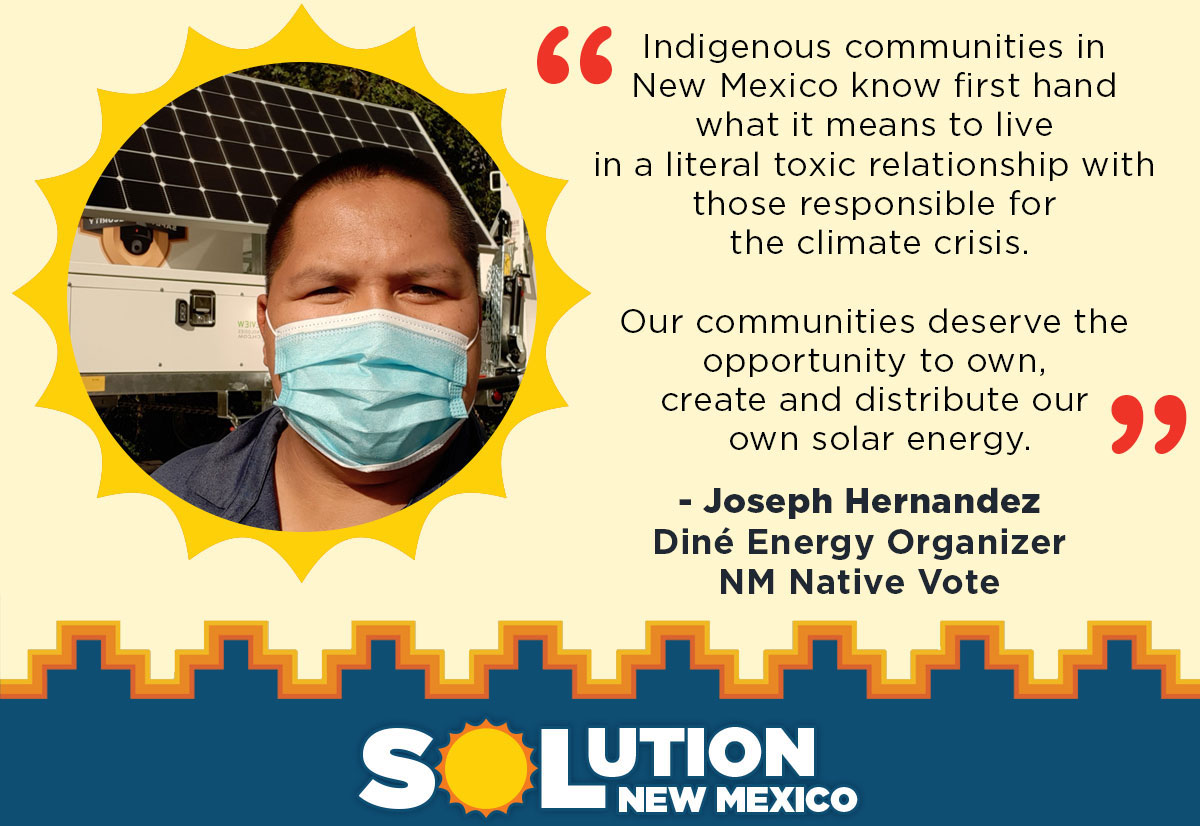 In Joseph's own words: Interview with the 2021 Honoree
In this interview, Joseph shared with us about his organizing work and how his parents raised him to care for and advocate for his community. Joseph's mother was tragically taken from her family too soon due to the COVID-19 pandemic. She was an inspiration and a powerful influence in guiding him on his path.
Follow on Twitter: @joseph2work @NMNativeVote and on Facebook: NAVA Education Project
About Joseph's work with NAVA Education Project and NM Native Vote:  
NAVA Education Project's mission is to unite community stakeholders to actively improve the quality of life for Native American communities and to protect the  continuity of Native American cultures. We promote awareness and action on issues facing Native American communities through community organizing and education strategies. We are committed to social, economic and environmental justice principles that advance healthy and sustainable communities for Native families living in New Mexico.
NAVAEP and NM Native Vote take an active role in building a Native American voter bloc in NM that is informed, active, and empowered to advance the development of a civic agenda and implementation of key policy. Part of our strategy in accomplishing our goals as an organization is to take an active role in electing candidates that display a true commitment to uplifting the needs of Native American communities, individuals and working families and to protecting our air, land, and water.
In doing the work we do as an organization and that I do personally as the Dine Energy Organizer, it is vital to stay engaged with Native American communities and Tribal Leadership directly in order to develop key areas of advocacy that are truly reflective of the needs of those communities.
What started you on your journey as an activist and organizer for environmental justice?
Growing up, my late father took me to ceremonies and there I was taught about the spiritual connection to our Mother Earth. Through prayers, songs, and oral history I learned about our important role as five finger people to protect our environment.
How do you view energy justice and the intersections with all the issues you care about for the Navajo Nation and all the Native communities you advocate for, such as access to electricity, water, and other vital resources? 
I view energy justice as a pathway that ensures equity and opportunity for rural and underserved communities. It is about making electricity more affordable so families don't have to decide between paying for groceries or paying for their utility bill. It means so much to me and others here on the Navajo Nation because it brings attention to the challenge that many face where it can cost thousands of dollars to put up a pole or get a water line.  My community and many others have been impacted by the extractive industries to provide energy for the United States. Energy justice helps ensure that we have a just energy transition.
What does a regenerative world look like to you, and how does your Native heritage from the first peoples stewarding the earth shape your view? 
A regenerative world provides many beneficial uses for everyone. It involves concepts of sustainability and respect for our Mother Earth. It is about protecting our environment for the next 7th generation to carry on our language, ceremonies, and way of life.
Who inspires you?  
I am inspired by my late father Joseph E. Hernandez and my late mother Rita Mae Cason. They taught me at a young age of the meaning of community and the important role of organizing. From the demonstration and solidarity rallies to the late night visits with many friends and relatives where I learned about significant historical milestones of the struggle we faced for justice and equity.
You have shared that your late mother was instrumental in making sure you kept your work grounded in challenges that your community has faced. How has your mother influenced you? 
My mom always stressed on me to get out and visit the many different people in my community including our relatives and our distant relatives. She truly was the matriarch that everyone looked up to. In May of 2019, when COVID-19 hit our tribal community, it sadly took her away from all of us too soon. She had always looked out for everyone and was there when people needed help. When I started working, I also started my work to bring an end to the way that my late mother had to haul water to cook and clean, and to replace the hundreds of feet of electrical extension cords with clean renewable energy. Today, I am still determined to continue to help the many more community members that still don't have access to clean running water or electricity that is from clean renewable sources like solar panels or wind turbines.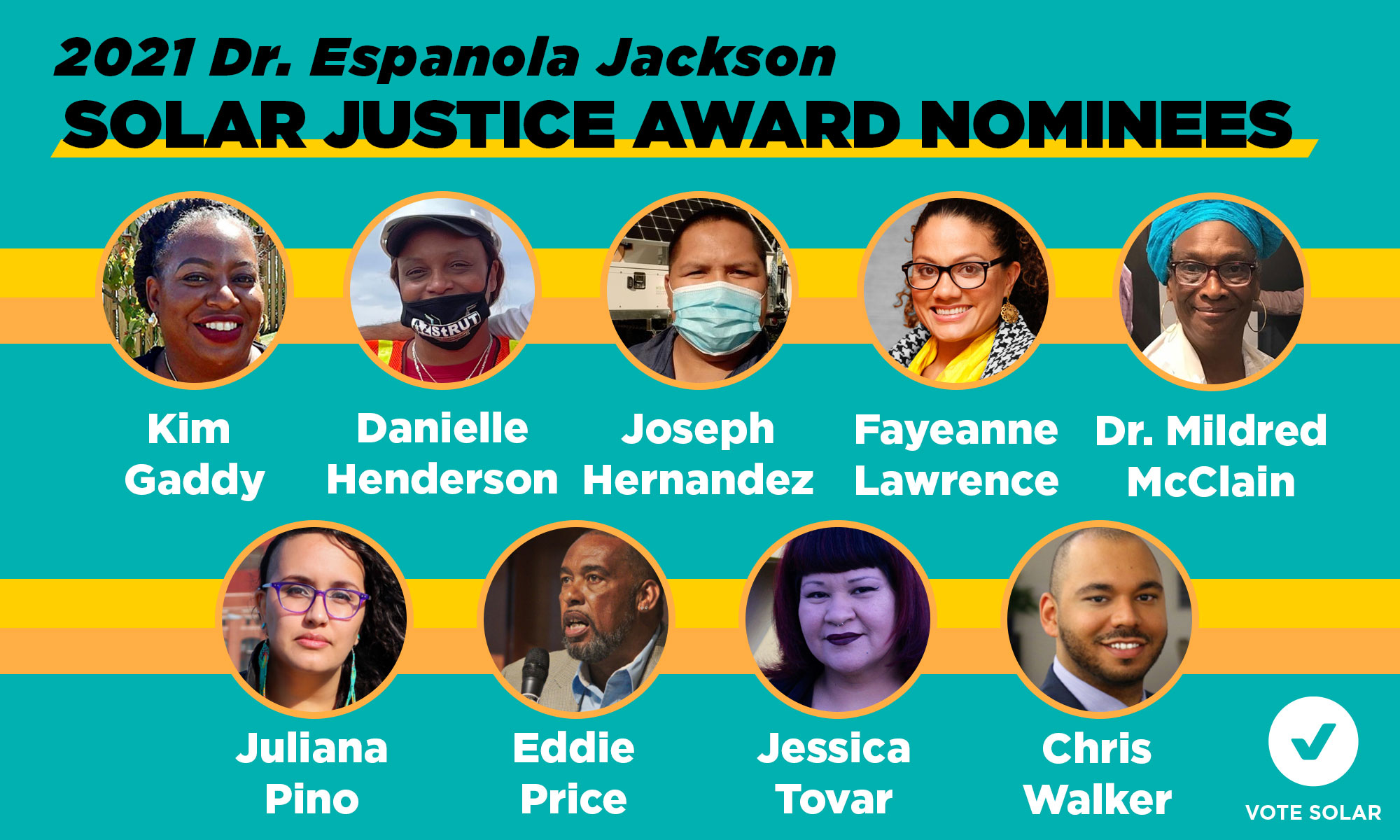 Celebrating the 2021 Nominees
Vote Solar aims to honor the critically important role of community-based activism by people of color in driving environmental progress and to increase visibility for the remarkable work of individual leaders with the Dr. Espanola Jackson Solar Justice Award.
Meet all the 2021 Nominees for the Vote Solar's Dr. Espanola Jackson Solar Justice Award! These changemakers serve as a model of environmental justice leadership and inspire us all to work toward a just clean energy transition.