Applications Closed!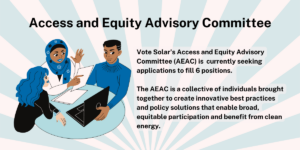 About the Committee
The Access and Equity Advisory Committee (AEAC) was created to bring together a collective of individuals to create innovative best practices and policy solutions that enable equitable participation and benefit from clean energy. With an emphasis on Solar. Each year, the AEAC will rotate and meet to explore and provide recommendations to address the most pressing barriers to clean energy access.
The AEAC is currently seeking applications to fill 6 positions. Preference will be given to applicants with experience in frontline, low-income and energy burden communities.
What's in it for you? 
Selected committee members will receive a $500.00 honorarium (sent to the individual or the individual's organization) for their participation, along with an opportunity to share out their expertise to those in the clean energy space.
Application Deadline 
Applications are now closed.