Tell the CPUC: No new gas generation in any of California's communities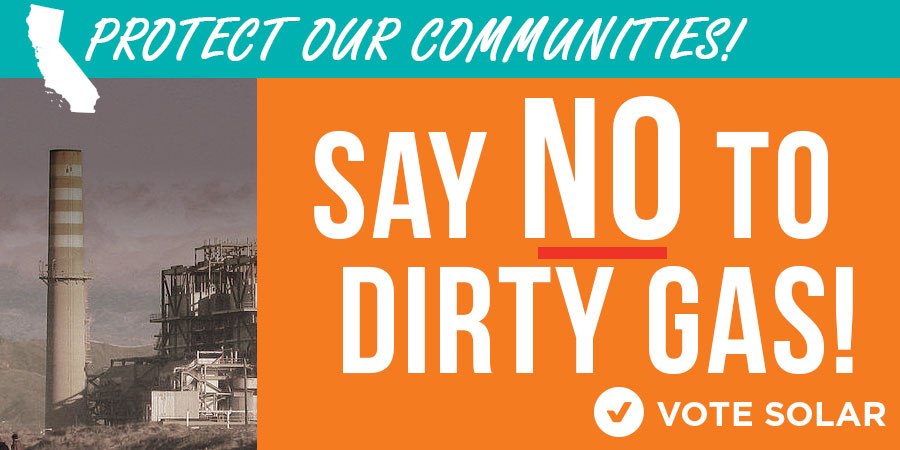 On June 24th, our energy regulators at the California Public Utilities Commission (CPUC) will make a huge decision affecting the health of our communities. Commissioners at the CPUC are about to decide what kind of energy our power providers are required to buy for years to come, which is a key element of how our state responds to the climate crisis.
Good news: The CPUC is proposing massive new investments in large-scale clean energy and battery storage. But here's the bad news: The CPUC is also considering new investments in fossil fuels, adding MORE polluting gas-fired power generation  that will harm our health and hold us back on a carbon-free energy future.
Californians – Tell the CPUC: No New Gas Generation in Any of California's Communities!
Important: The CPUC is voting on June 24! Send your comment by Mon June 21 to ensure your views are heard.
Gas-fired power plants emit dangerous greenhouse gases and air pollutants, often in communities already overburdened by pollution. We need bold and decisive leadership on climate to address the impacts of extreme weather on our communities. The only way our grid will be truly resilient and reliable is with more clean and renewable energy.
Together with our partners at Center for Community Action and Environmental Justice, we're mobilizing to ensure that the CPUC hears loud and clear from Californians: Stop wasting money on fossil fuels. We need major investments in renewable clean energy in our communities.
Take action now. Send a personalized message to the CPUC and tell them: No New Gas!
Learn More:
Get the details on the CPUC's proposed decision on Integrated Resource Procurement and how it connects to California's landmark SB 100 bill, which set a target of 100% clean electricity by 2045.
And in case you missed the big news, we successfully defeated AB 1139 which would have devastated rooftop solar in California! Thank you again to all our members who took action. We heard in Sacramento that the voices of solar supporters made the difference in stopping this bill.