Honoring Joseph Hernandez at the 2021 Dr. Espanola Jackson Solar Justice Award Virtual Celebration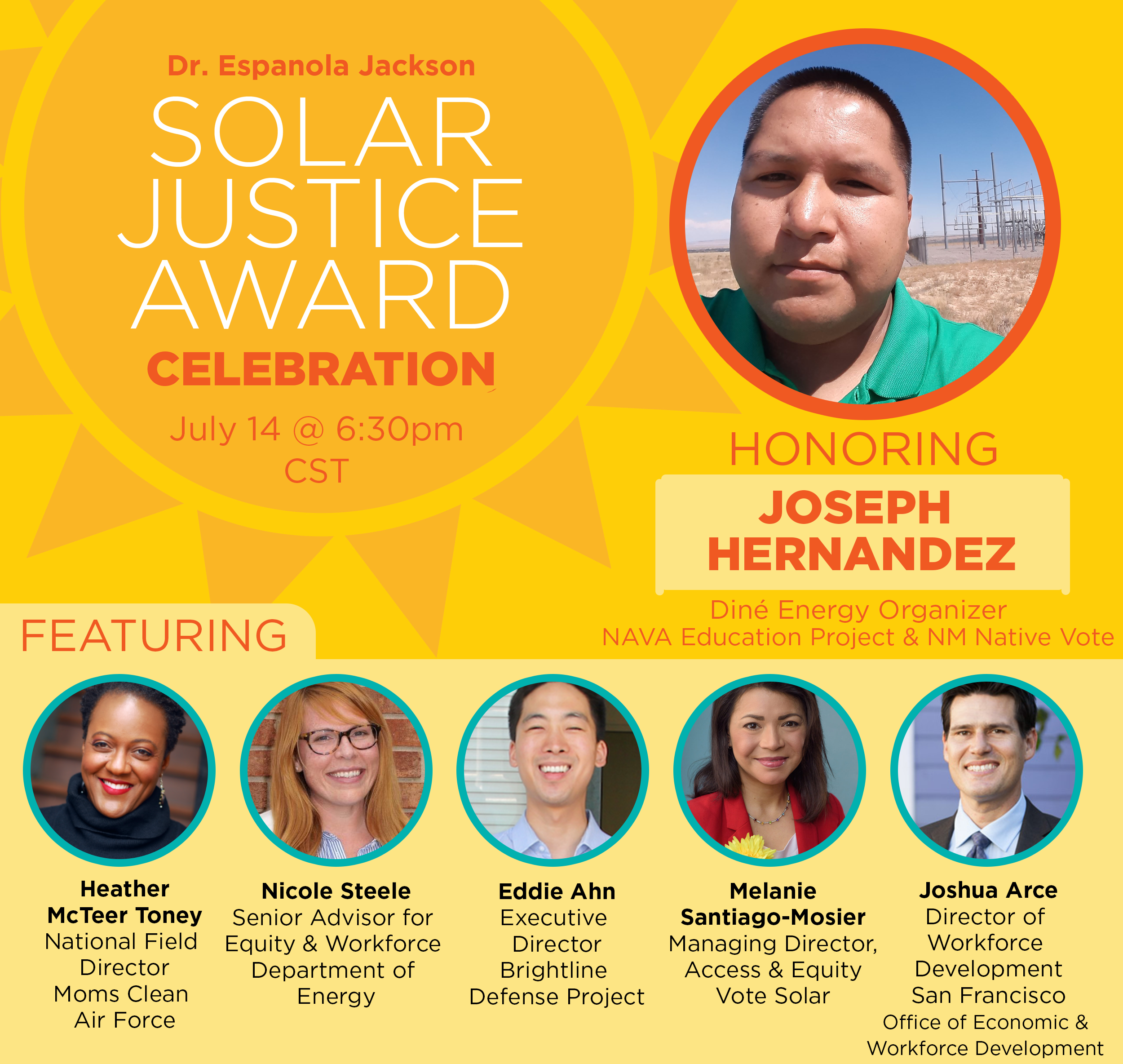 Vote Solar was proud to honor Joseph Franklin Hernandez of NAVA Education Project and NM Native Vote with the Dr. Espanola Jackson Solar Justice Award at a virtual celebration on July 14.
The Dr. Espanola Jackson Solar Justice Award Celebration featured the award presentation with remarks from Joseph and recognition of his leadership, a panel conversation with solar and environmental justice champions, and time for networking.
Joseph Hernandez is a tireless organizer for energy justice whose work has been instrumental to expanding solar energy opportunity in New Mexico and opening up pathways to energy sovereignty for Native American communities. As the Diné Energy Organizer for NAVA Education Project (NAVAEP) and NM Native Vote, Joseph organizes in the Navajo Nation, working on issues that impact Indigenous and small communities that otherwise wouldn't have a voice.
Introduction:
Honoring Dr. Espanola Jackson:
Eddie Ahn, Executive Director, Brightline Defense Project (9:25)
Joshua Arce, Director of Workforce Development at San Francisco Office of Economic and Workforce Development (12:36)
Joseph's Introduction: 
Mayane Barudin, formerly Vote Solar's Interior West Regional Director and Tribal Liaison and currently Tribal and Community Liaison with Affordable Solar (17:11)
Remarks from 2021 Honoree Joseph Franklin Hernandez (21:14)
Environmental Justice Panel (40:36)
Joseph Hernandez
Heather McTeer Toney, National Field Director, Moms Clean Air Force & Member of Vote Solar Board of Directors
Melanie Santiago-Mosier, Managing Director of Access & Equity, Vote Solar
Nicole Steele, Senior Advisor for Equity & Workforce, U.S. Department of Energy
Watch the panel for answers to these questions and more:
What does solar justice mean to you and the communities you are a part of?
With each panelist playing a different role in the realm of solar justice, how do you work to ensure connectivity across sectors and expertise in your work? What best practices have you seen or implemented?
What does your vision for a just energy future look like? How will we know we have done the necessary work in 10 years?
How do you celebrate the small victories to maintain your motivation and mental energy?
Read about Joseph's organizing in the Najavo Nation to bring community solar to all New Mexicans. Joseph is an inspiration to all in his dedication to energy democracy & inclusive decision-making.
Meet all the inspiring 2021 #SolarJusticeAward Nominees, winners of past years, and learn more about Dr. Espanola Jackson, a tireless advocate for environmental justice.
Thank you to the entire team at NAVAEP and NM Native Vote, all the 2021 Solar Justice Award Nominees, and the broad network of environmental justice leaders and organizers who are building a more regenerative world right now.
Check out the gallery from the virtual photo booth!