Taking on the utilities, engaging communities, while growing and protecting affordable solar across the U.S.
Imagine your life in a world with 100% clean energy for everyone. What will it feel like to wake up in the morning and breathe in clean air? How will the sunshine and wind reach you when you flip on the lights? What will your neighborhood look like when you step out the door?
How will your life and work and community change as we build towards a regenerative future?
We know what a dirty energy system looks like and feels like today. It feels like the sweltering heat in domes from the Pacific Northwest to the Gulf Coast. It smells like burning forests throughout Oregon, California and more western states, clouding the sky all the way to New York. But as the climate crisis envelops the U.S. this summer, big utilities are still trying in every way they can to keep dirty energy alive and pollute our communities to cling to their profits.
Read on for how we're taking on the utilities, educating and engaging communities, while growing and protecting affordable solar across the U.S. Solar combined with storage is already powering a brighter, more resilient energy system with 3 million installations across the country to date, saving families money on their bills and building green careers. We're building that clean energy world, right now.
And get inspired by our 2021 Dr. Espanola Jackson Solar Justice Award Honoree Joseph Hernandez and more leaders on what solar justice means, and what a vision for a just energy future for all can look like.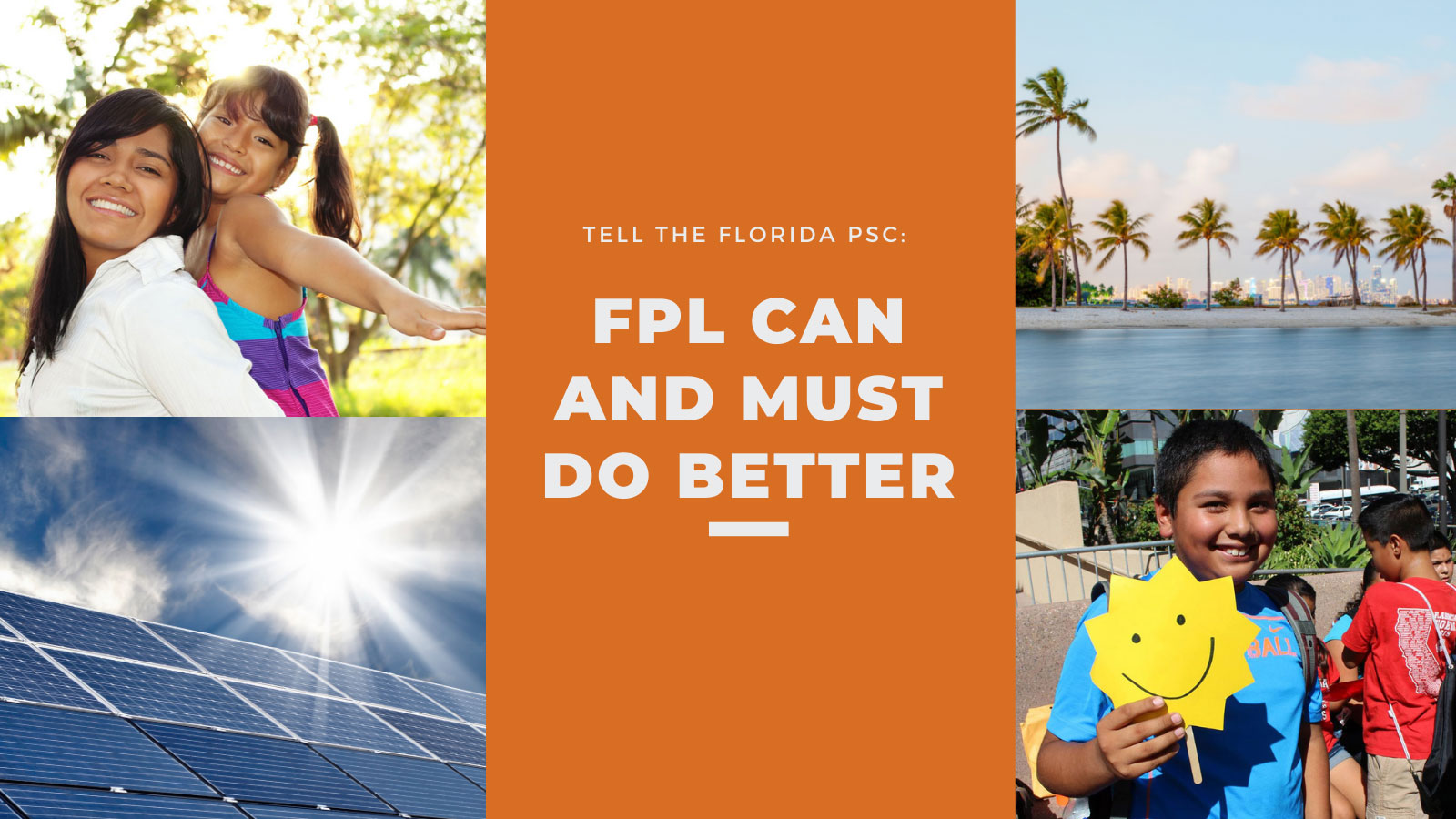 Between the coronavirus pandemic, historic economic downturn, and a record hurricane season worsened by climate change, Florida families have faced an incredibly difficult year. While many utilities continue to protect customers from disconnections during the pandemic, big utility Florida Power & Light (FPL) resumed shutoffs last fall, and has since disconnected over 550,000 Floridians from power.
Now, FPL is proposing to hike bills by nearly 20%, the largest rate increase in Florida's history. On top of that, FPL plans to ignore cost-effective clean energy solutions, worsen the climate crisis and put customers on the hook for new polluting gas plants over the next 50 years.
We're mobilizing our members and calling on the Florida Public Service Commission to do their job to protect Floridians. FPL needs to invest in low-cost clean energy solutions, support its most vulnerable customers, and help Florida families keep the lights on.
Floridians: Take action and speak out against FPL's rate hike!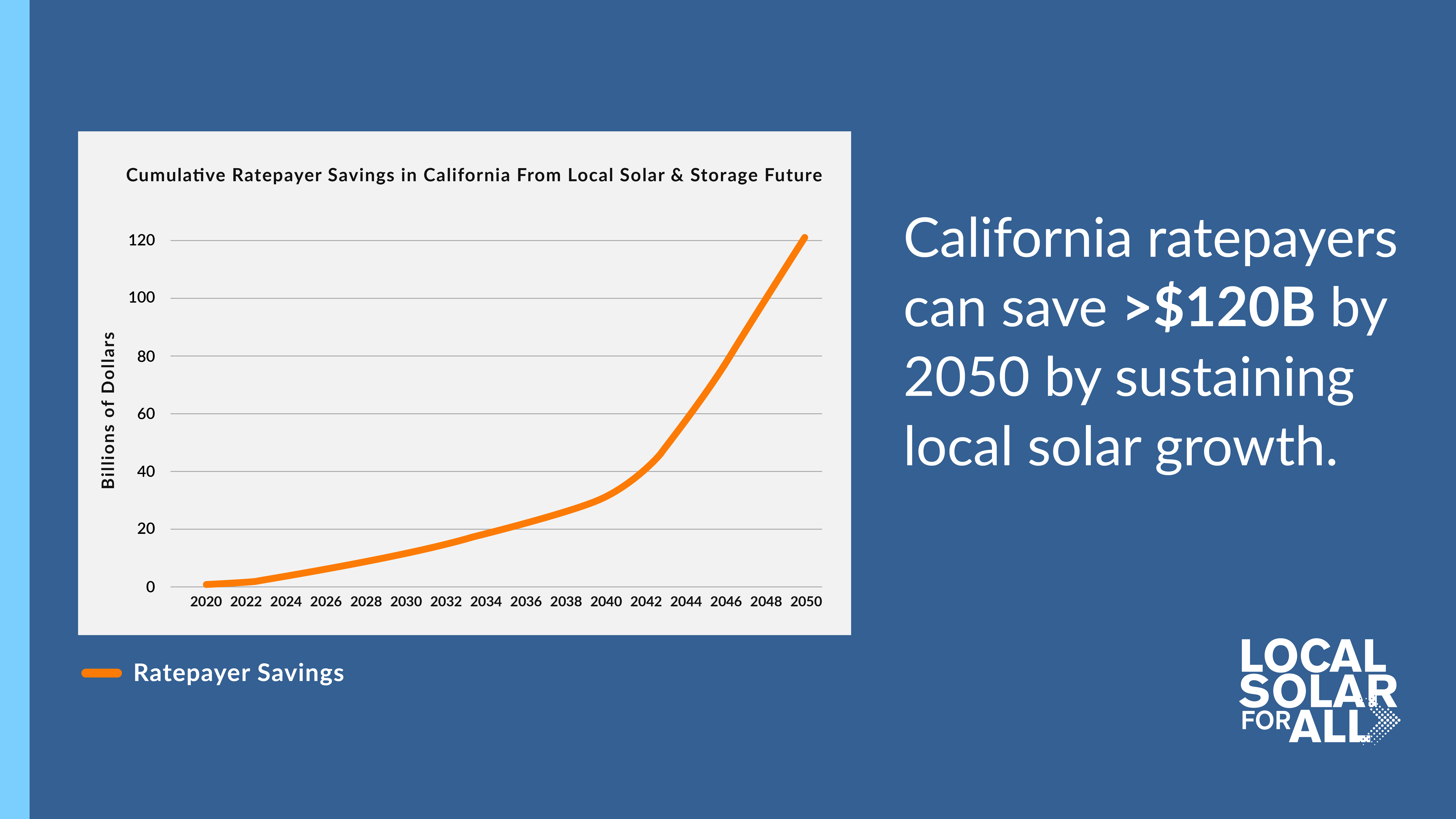 As we live through fire season once again, it is clear that climate action cannot wait. California must make local solar and storage even more affordable and accessible, particularly to vulnerable communities and low-income communities.
The California Public Utilities Commission (CPUC) is considering updates to the popular solar net metering program that credits rooftop solar customers with bill savings for the valuable clean energy they send back to the grid. The big utilities' proposals would not come close to providing a fair credit. And the CPUC has failed to properly account for the benefits of local clean energy, putting California's just transition at risk.
With our partners in the Local Solar for All coalition, we used a new cutting-edge model to determine that Californians could save $120 billion by 2050 through local clean energy investments. We're pushing back against the CPUC to protect rooftop solar and storage for millions of current and future customers.
Take action to protect rooftop solar and storage for millions of Californians!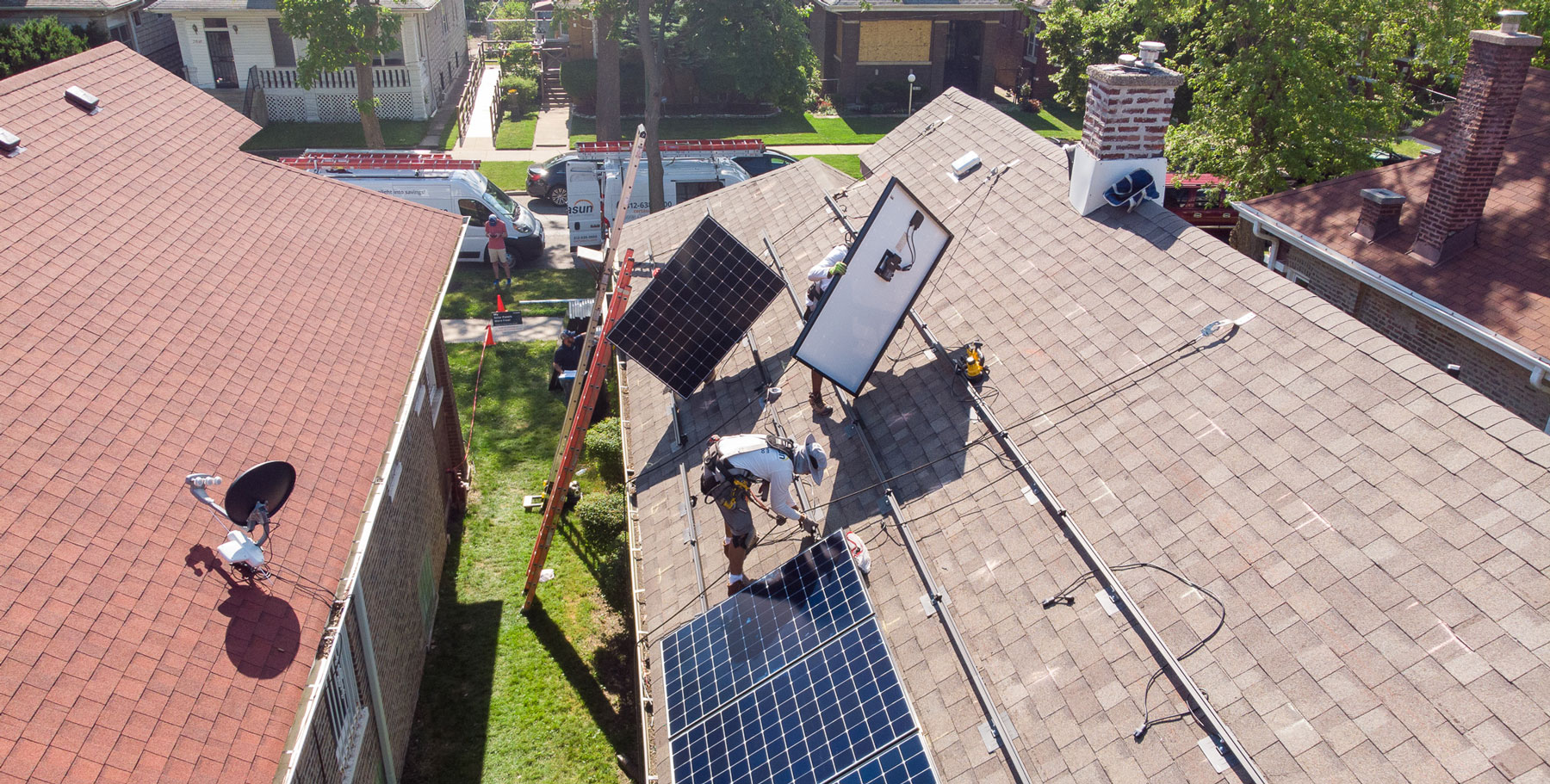 Energy Justice Legislative & Regulatory Roundup
This year, Vote Solar and our partners have achieved major legislative and regulatory victories in states including New Mexico, Minnesota, and South Carolina that are the next building blocks for a just transition. With you and our members by our side, we're driving onward to engage communities and take energy justice to the next level in more states across the U.S.:
Watch and learn from recent and upcoming webinars from Vote Solar and partners: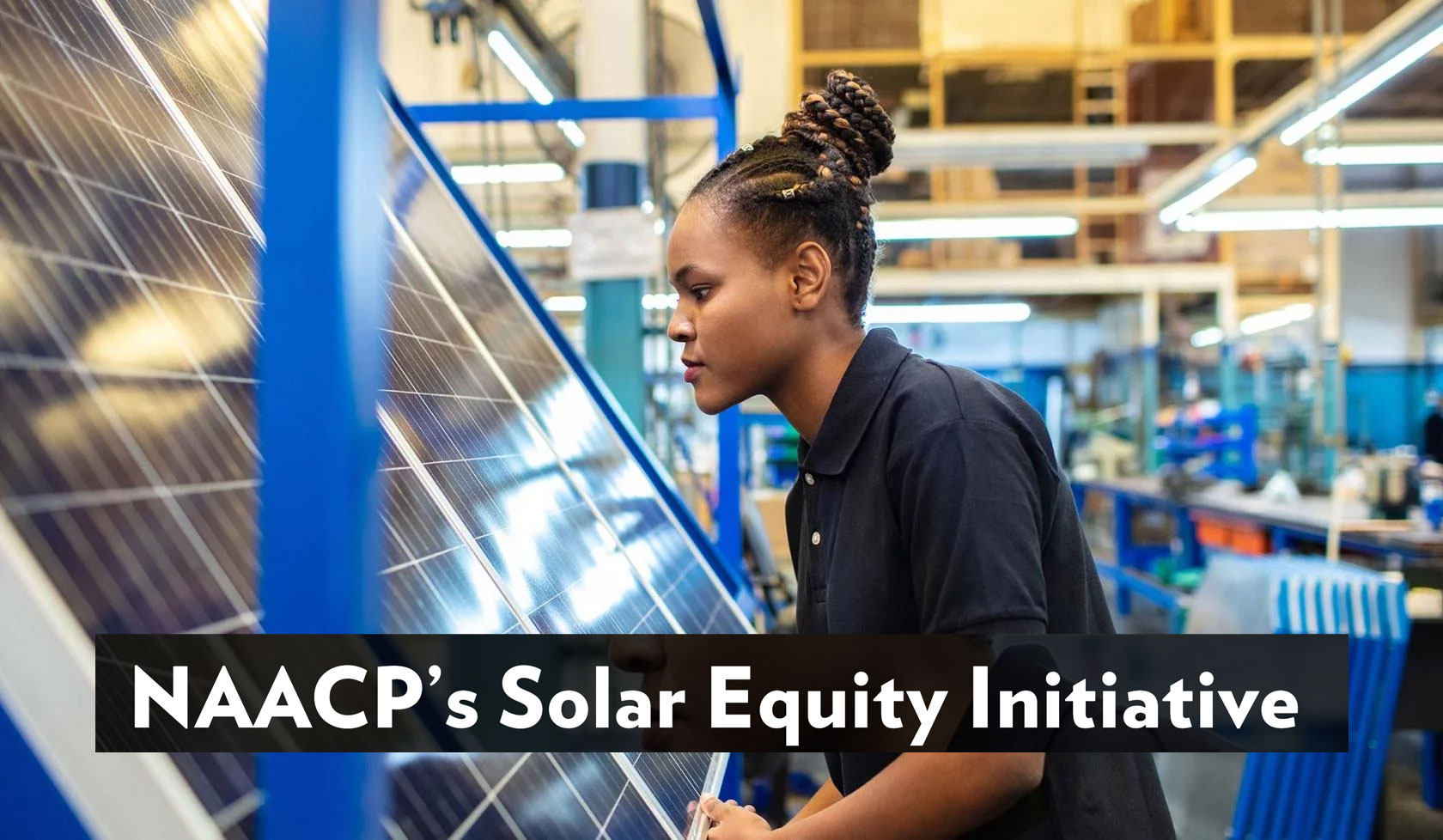 How can we help ensure that Black, Indigenous and People of Color (BIPOC) communities and frontline communities benefit from all that solar has to offer? We're proud partners in the NAACP's Solar Equity Initiative, which recently released the Equitable Solar Policy Principles. These principles can assist advocates and policymakers at the local, state, and federal level to craft holistic solar policy solutions that address the impacts of pollution on BIPOC and other frontline communities, and ensure benefits flow to these communities to advance a more resilient and just future.
From Denise Abdul-Rahman, National Field Organizer of the NAACP Environmental and Climate Justice Program: "Low-income and communities of color have suffered disproportionate harm from the fossil fuel economy. The new clean energy economy is an opportunity to address past injustices, but only with intentional policy decisions such as those outlined in the Equitable Solar Policy Principles. We envision a solar-powered future that invests in under-resourced communities, creates local, sustainable wealth, and adds to community resilience and a healthier future for all."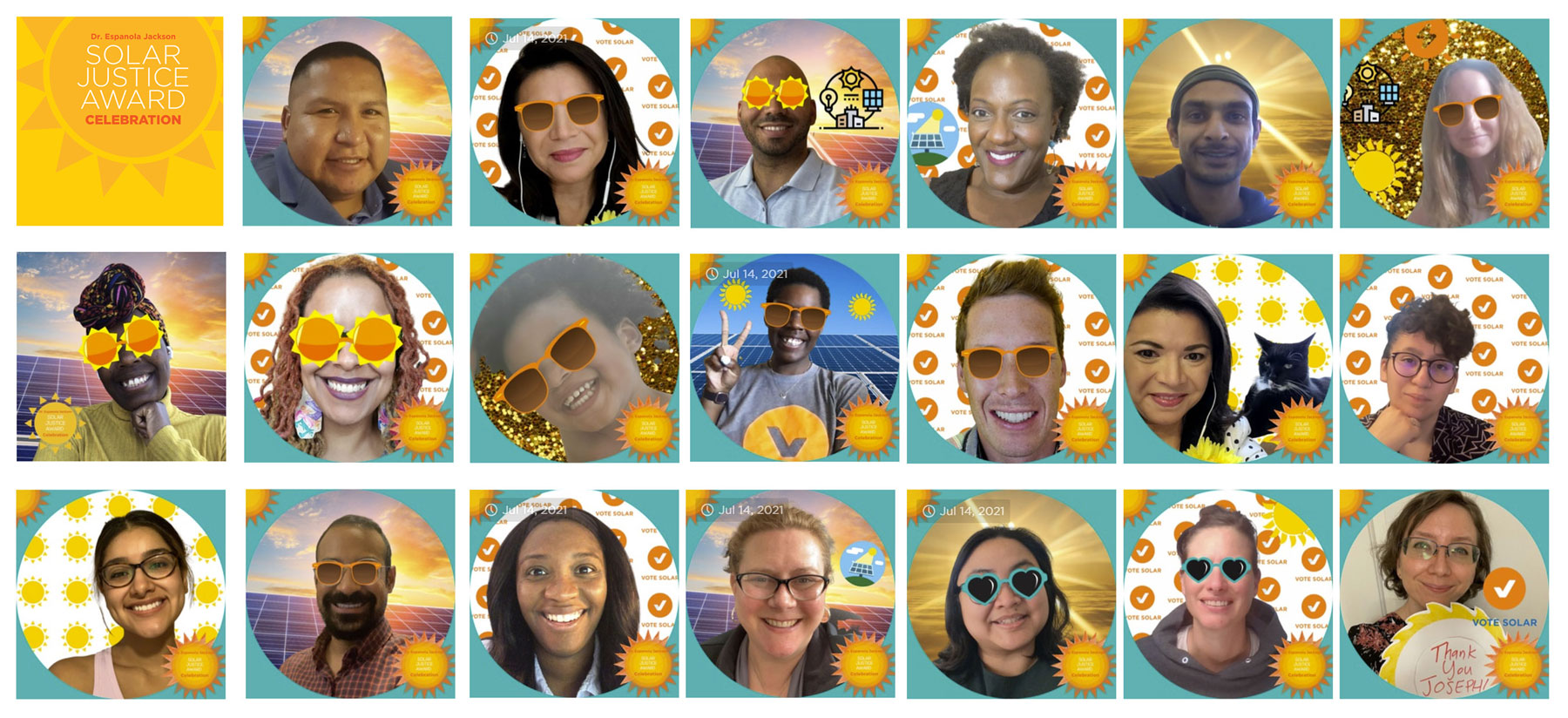 Attendees and panelists joined Joseph (top left) in our sunny virtual photobooth
Watch Vote Solar's virtual celebration of Joseph Hernandez, our 2021 Dr. Espanola Jackson Solar Justice Award Honoree. Joseph is the Diné Energy Organizer for NAVA Education Project & NM Native Vote. We honored Joseph for his environmental justice leadership, and invited reflections and remarks from Joseph and an expert panel. Together we recognized Joseph's powerful organizing, and honored Dr. Espanola Jackson's legacy.
Listen to reflect on the work to build an energy system rooted in equity as our panelists share:
What does solar justice mean to you and the communities you are a part of?
What are some of the best practices and how do you work to connect across sectors and expertise?
What does your vision for a just energy future look like? How will we know we have done the necessary work in 10 years?
How do you celebrate the small victories to maintain your motivation and mental energy?
Donor Spotlight: Monthly Donors
This month we're thrilled to spotlight Vote Solar's monthly donors. This incredible group of individuals helps to ensure Vote Solar can respond quickly and purposefully as new threats to a clean energy future emerge. 
This sort of predictable, steady funding also helps cut down overhead costs, ensuring that even more dollars are put immediately to work pushing for solid, sound, and just solar policy.
Thanks again to our monthly donors! 
Donate today to help us fight for effective solar policy, and ensure that everyone has the ability to participate in and benefit from a just transition to 100% clean energy.
Listen & Learn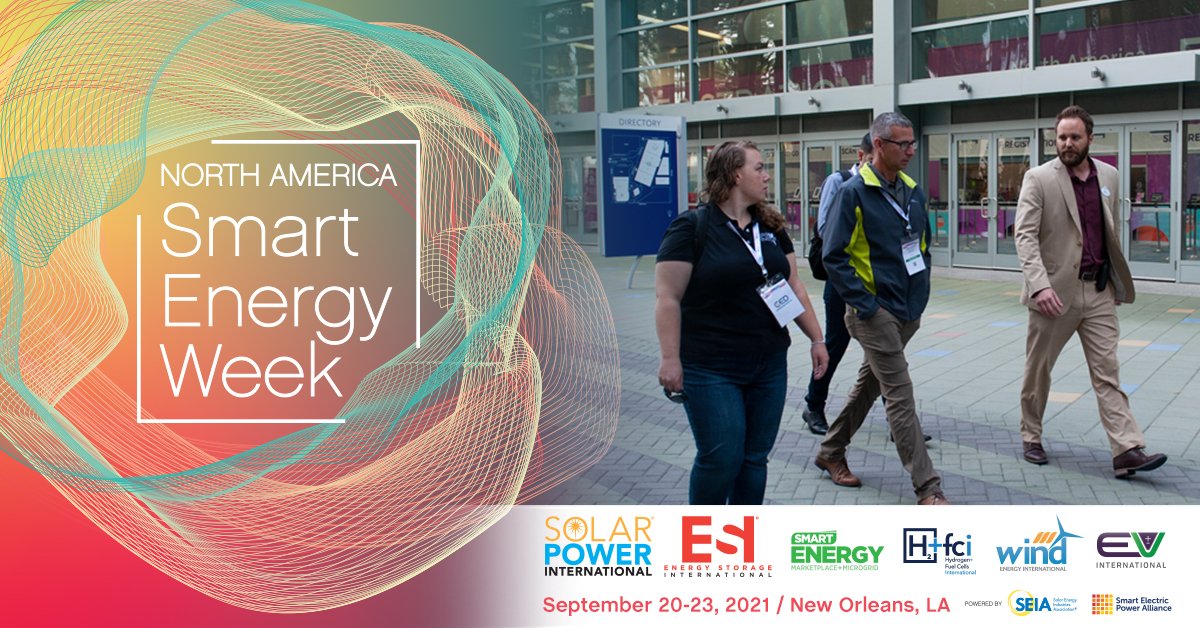 Join Solar Power International in New Orleans, Sept. 20-23 to connect to the solar industry for networking, the return of the in-person exhibit hall, and industry education in solar, energy storage, and more. SPI is the anchor of North America Smart Energy Week by the Solar Energy Industries Association and Smart Electric Power Alliance, with both in-person and digital offerings.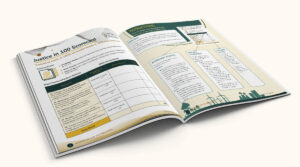 Renewable energy standards are central to a just clean energy transition. The Justice in 100 Scorecard from the Initiative for Energy Justice helps advocates, policymakers and community-based practitioners compare state standards across the U.S. Get the scorecard and watch the webinar.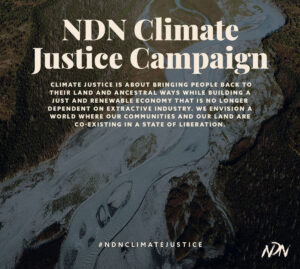 What if the best times are ahead of us? Watch Dreaming the Indigenous Dream: Climate justice defined by Indigenous dreaming from the NDN Collective Climate Justice Campaign, which builds power throughout Indigenous communities in order to tackle the climate crisis and build a safe, just, and liberated future for everyone. Learn more about #NDNClimateJustice from the new In Our Power podcast.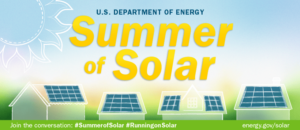 Celebrate the solar boom with the Department of Energy's #SummerofSolar. Affordable, healthy solar energy is on the rise, and the U.S. has reached over 3 million solar installations — with 1 million built in the last 2 years. Explore the DOE's new tool to fast-track local solar adoption.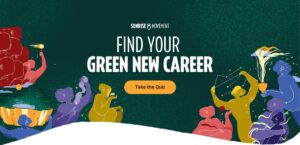 Seeking a green career move in the better world we're building? Check out #GreenNewCareers from the Sunrise Movement: a personality test and peek at our future if we invested in people, not corporations and fossil fuel CEOs.