A new 100% clean economy rooted in equity & justice
The choices we make about energy today will define our nation and our world for generations to come. Who benefits from affordable, healthy solar and clean energy, and who is left out? At Vote Solar, we believe everyone should be included.
That's why we work to transform every aspect of our energy system and build a new 100% clean economy rooted in equity and justice, with solar for all. To end the systemic harms of over a century of fossil fuels, energy policy must center the wisdom and leadership of communities most impacted by pollution and the climate crisis. Check out spotlights below from our work and partnership across the U.S.
And happy LGBTQIA+ Pride to all who are celebrating! I'm proud to be part of the intertwined movements for climate justice and queer & trans justice. Together we're building a regenerative world where everyone can thrive.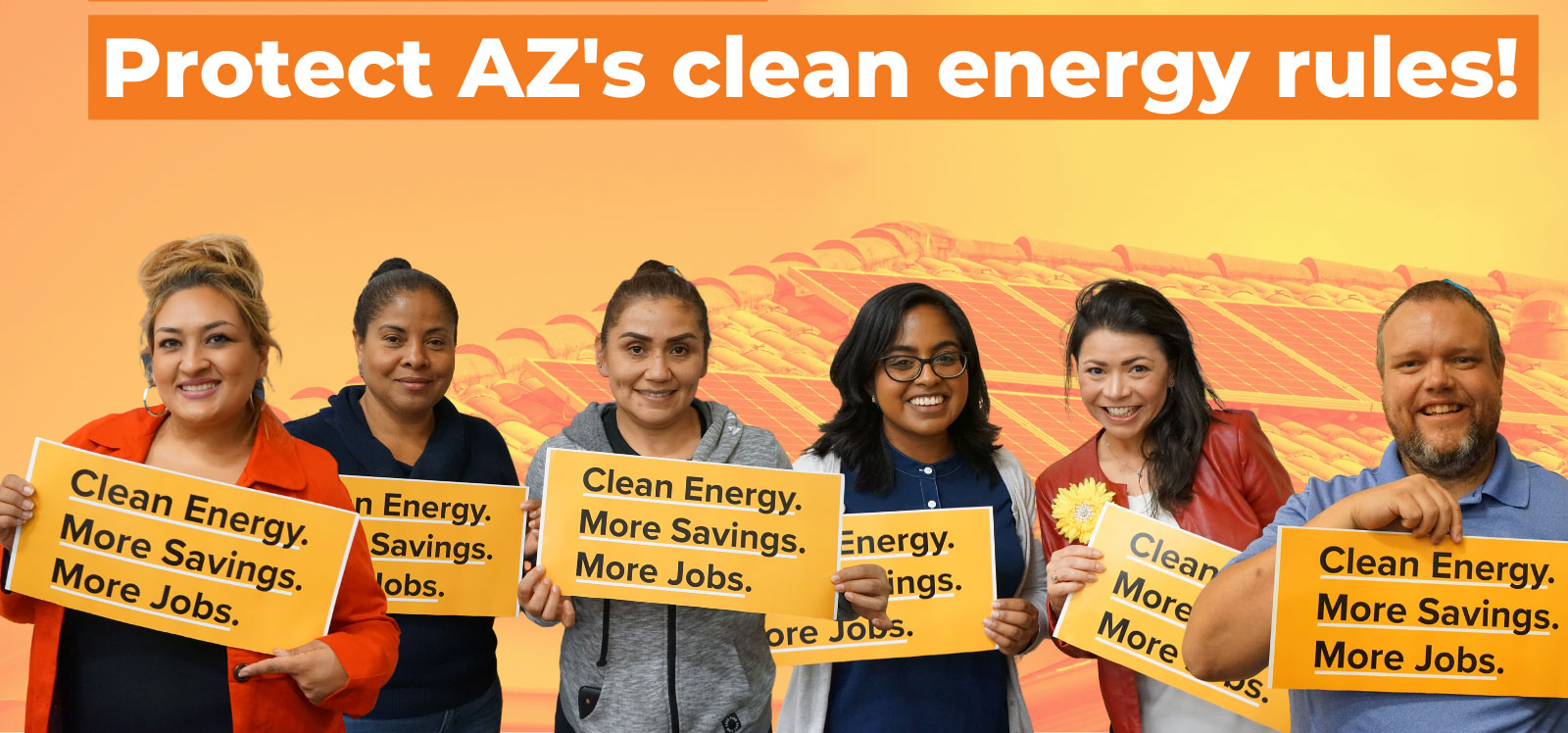 In Arizona, we've fought tirelessly over years to achieve 100% clean energy rules for the state. In a nail-biting saga where energy regulators nearly killed the rules, they finally agreed to move forward with 50% clean energy by 2032, with longer-term targets to get to 100%. Their proposal comes with a first-of-its-kind distributed storage standard, benefits for communities impacted by fossil fuel plant closures, an enhanced energy efficiency standard and reforms to the utility planning process.
This huge victory couldn't have happened without your support! Over 750 Vote Solar members have participated so far in this years-long campaign, along with many of our hardworking staff experts and partners. If you've been following this years-long campaign, you know this still isn't a done deal. This key vote kicks off another public comment period before the final vote to enact the rules. Our expert team of Ronny Sandoval, Claudine Custodio, Mayane Barudin, Marta Tomic, and our new Interior West Director Yara Marin won't stop till the sun shines for all in Arizona.
Donate to Vote Solar to support our work for clean energy progress in Arizona and across the U.S.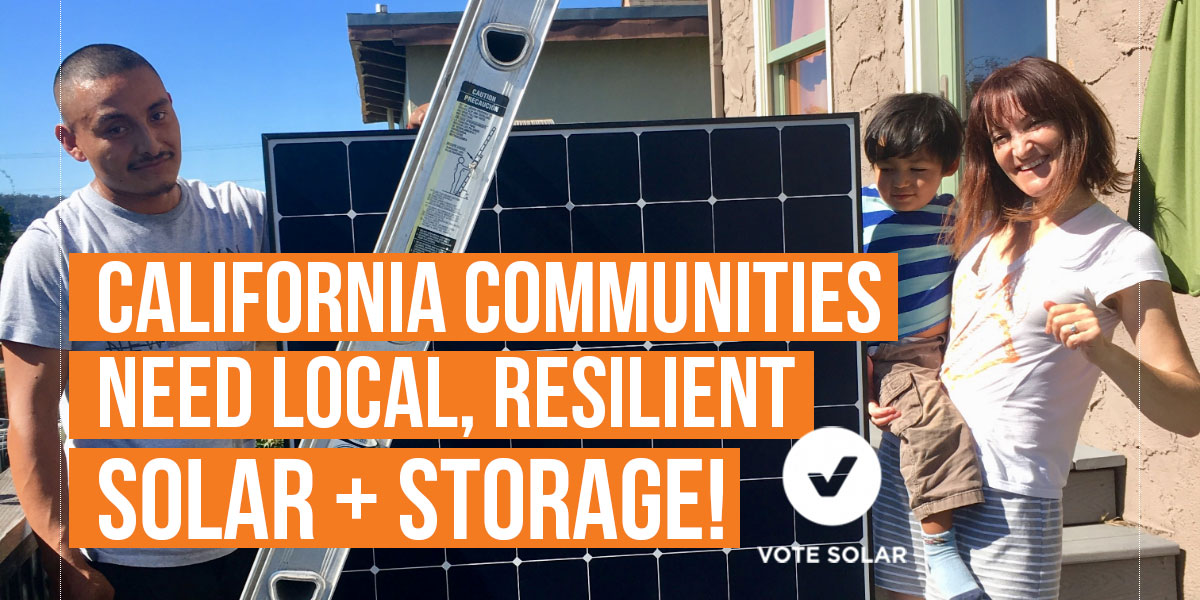 Fighting New Gas and Growing Rooftop Solar + Storage in California
Three years ago, Vote Solar members helped to pass a landmark bill for 100% clean energy by 2045, which led a wave of similar bills across the U.S. Now the state's energy regulators at the California Public Utilities Commission (CPUC) have demonstrated a real commitment to achieving that goal in a proposal that would procure massive amounts of large-scale solar and other renewables. That's great for fostering resilient, because solar energy paired with storage is reliable and ready to serve California's energy needs. Yet the CPUC plans to keep new fossil fuels in the energy mix.
Organizers on the ground at the Center for Community Action and Environmental Justice (CCAEJ) know the cost of fossil fuels firsthand. They've been fighting to shut down gas plants burdening the health of their communities, and just won a big victory on cleaning up toxic air pollution from mega-warehouses. Our California team Susannah Churchill and Ed Smeloff are partnering with the CCAEJ team as they mobilize local community members. We're telling the CPUC: No New Gas in any of California's communities!
And there's much more going on in California: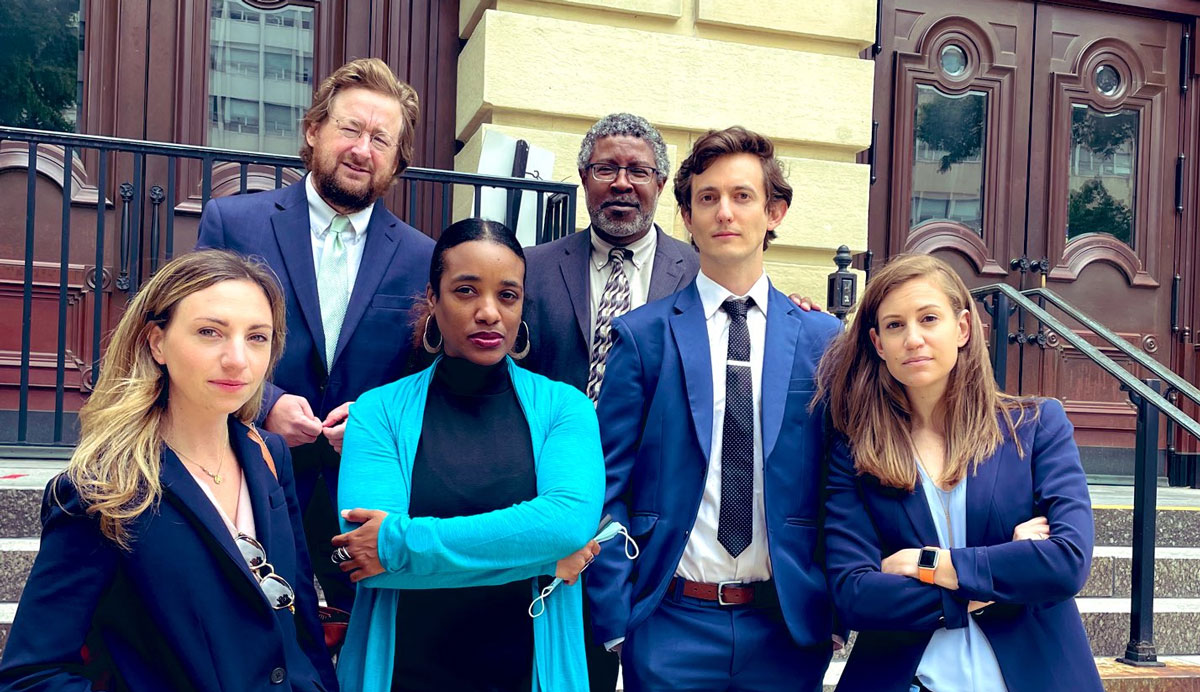 Energy Justice Legislative & Regulatory Roundup
Without policy and regulation that holds utilities, lawmakers, and state governments accountable to equity commitments, we will not achieve the regenerative world we want to build. We deliver technical expertise and partnership following our Just Partnership Principles to advance climate solutions across the U.S. Here's the latest: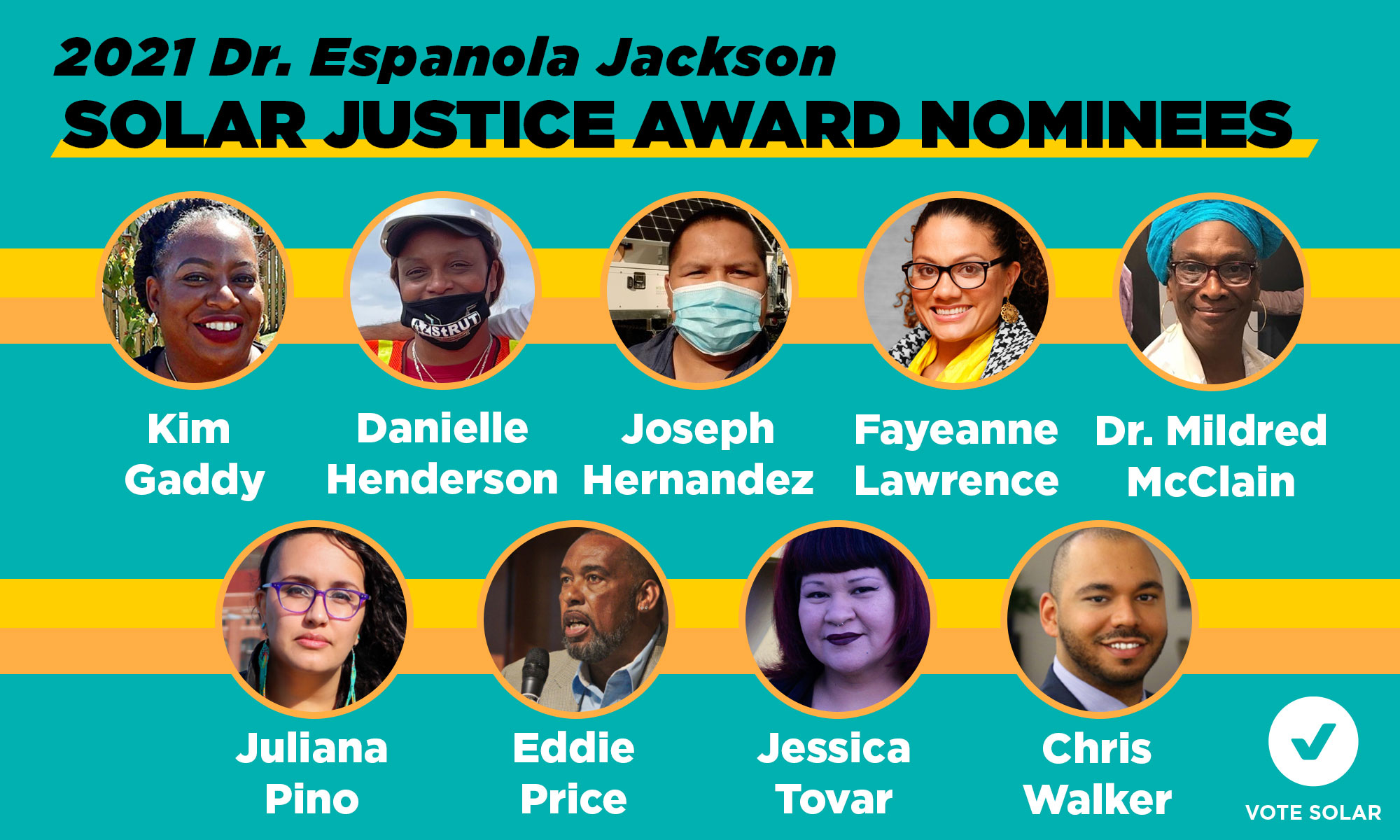 Meet the 2021 Nominees for the Vote Solar's Dr. Espanola Jackson Solar Justice Award! These changemakers serve as a model of environmental justice leadership and inspire us all to work toward a just clean energy transition. The award celebrates the legacy of a tireless environmental justice leader with a gift of $5,000 to the awardee's organization.
Save the date: July 14 We will celebrate this year's winner at a virtual event! Registration to come. 2021 nominations are currently under review by the award committee. Thank you to all who nominated this year's inspiring nominees.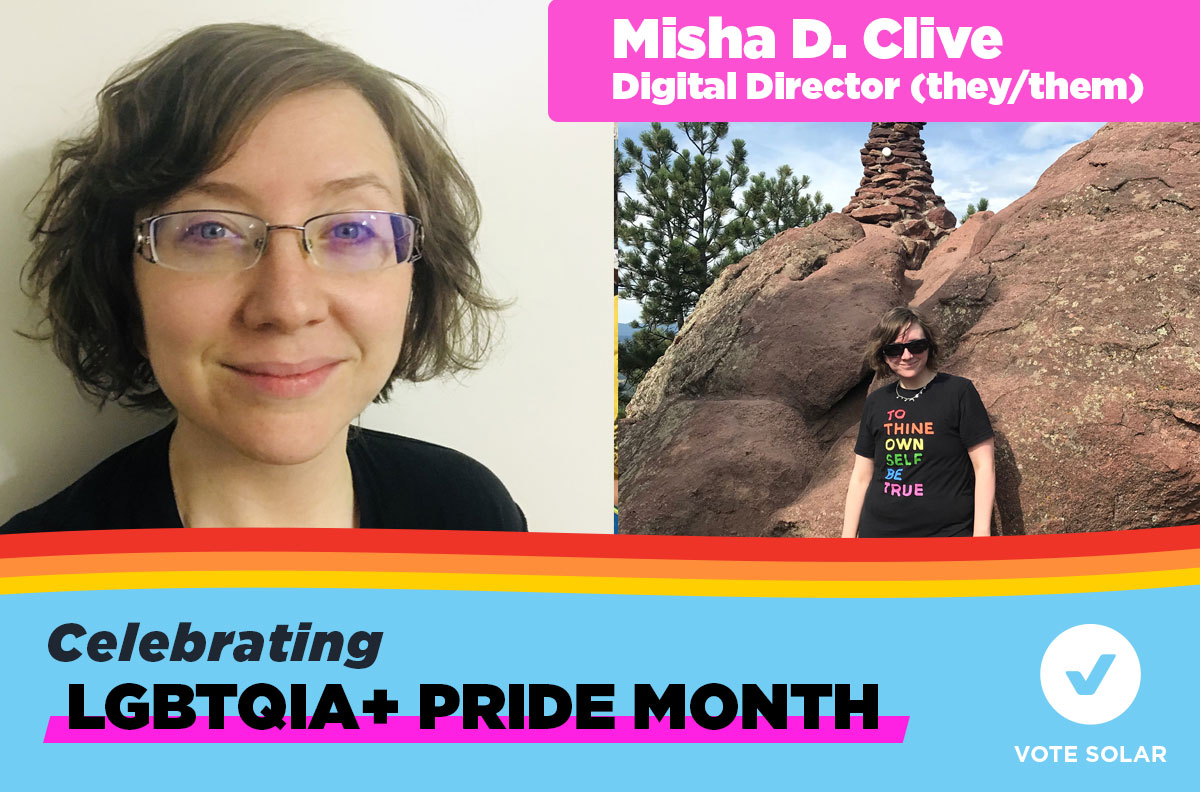 Re-imagining how we want to live and thrive in a just energy world is a journey I walk full of queer energy. Hi, I'm Vote Solar's Digital Director, and I'm proud to be in community with my LGBTQIA+ squad on our team, and all who are celebrating this month.
Our queer power is essential in this time of transformation, and many in our community are on the frontlines of climate change. We envision and build chosen communities of care, where we can be who we are and love who we love. I live with chronic illness pushed to the extremes by our toxic environment, and I wouldn't survive this without queer resilience and creativity. Here's how my gender and disability journey shapes why I do my part to transform this extractive world into one that is restorative, healthy and just.
Also, read my colleague Sean Garren's 2021 Staff Voices blog: Pride is a Protest, Stonewall was a Riot

DONOR SPOTLIGHT: Vote Solar Partners with Grouphug
Grouphug is an innovative new company which has designed a portable solar charger that hangs right on your window. They pledged to donate 10% of their Earth Day weekend profits to Vote Solar—resulting in a $2,000 gift!
Founder Krystal Persaud told us: "We wanted to partner with Vote Solar because we believe in transformation of the industry at all levels. We are very excited about the hard work Vote Solar is doing and we love building community around our common goals!"
You can join Grouphug and take another step toward a 100% clean energy future by making a gift to Vote Solar today.
If you think your company would like to help advance a clean energy future by supporting Vote Solar, please reach out to Daniel Flynt at daniel@votesolar.org.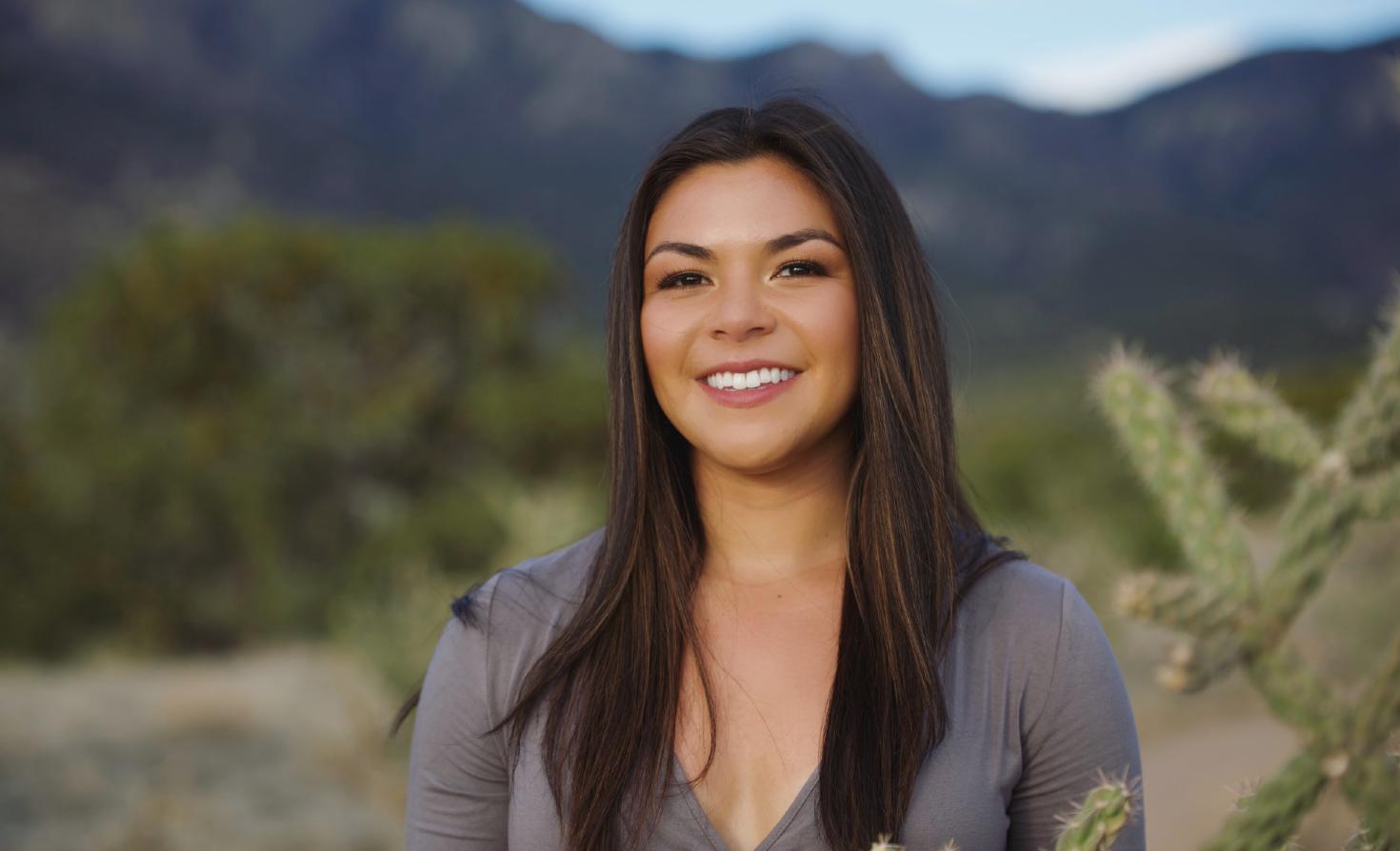 Congratulations, Mayane!
Celebrating!! Green Biz recognized our Interior West Director & Tribal Liaison Mayane Barudin as one of this year's 30 Under 30. Mayane's leadership on equitable clean energy policy and close Tribal consultation is helping more Tribes & Pueblos benefit from renewable energy.
Upcoming: